Google 'Maps' launches SL project to show people shops, where they live
View(s):

Google's 'Street View' project which was launched in Sri Lanka on Thursday and due to start in Jaffna, Matara and Arugam Bay, is undertaken free of charge in all countries, according to Sana Rahman, Communications Manager – Google Southeast Asia.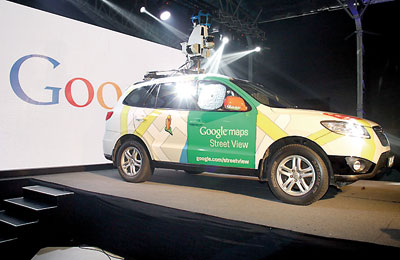 Ms. Rahman, responding to a set of email questions soon after the project was launched at a gala event in Colombo with the 'Street View' specially fitted car displayed to the media, told the Business Times that "Street View projects around the world such as the one in Sri Lanka are undertaken, operated and provided without charge by Google'.
She said while Google 'Maps' aims to provide the most accurate, useful and comprehensive map of the world, "Introducing Street View technology to Sri Lanka brings us one step closer to this goal. Street View imagery allows people to visually explore and navigate a neighbourhood through panoramic street-level photographs. You can move up and down streets, or look around through 360 degree imagery," she added.
The Google spokesperson, asked to respond on whether this would impact on the privacy of citizens particularly in a country like Sri Lanka where a culture of intimidation and harassment exists, said: "While the Street View feature enables people to easily find, discover, and plan activities relevant to a location, we respect the fact that people may not want certain types of images featured on the service".
She said there is state-of-the-art technology provided to automatically blur people's faces and vehicle license plates. "We provide easily accessible tools for flagging inappropriate or sensitive imagery for review and removal.
Each Street View image contains a link to our 'Report a problem' tool where users can report objectionable images. We routinely review these requests," she added.
The project is fully undertaken and operated by Google, she noted, when asked whether Government agencies are involved and given the suspicion and fear that would arise in people-sensitive areas like Jaffna for instance when a camera-fitted vehicle moves around capturing images at will.
She said that once the project is completed, "Sri Lankans can use the new online panoramas to check out a shop fronts before arriving, figure out driving directions, arrange meeting points, or get to know their own country better. Sri Lankan businesses can also benefit from Street View technology by embedding Google Maps directly into their site. Hotels, for example, can easily show their guests what the building looks like on the street and also a sense of the surrounding neighborhood. Travellers to Sri Lanka can also use Street View to plan their vacations or virtually explore the country before arriving".