Evening of Jazzy goodness of the 40s and 50s
By Duvindi Illankoon
View(s):
Martin Taylor and Alison Burns had known each other for years before they began performing together. This familiarity was evident at last Wednesday's concert when the duo performed for an intimate audience at the Hilton Residencies. Bouncing off each other's energy, easily moving from one tune to another, they kept their audience captive with jazzy goodness.
Martin who has been described as one of the world's foremost exponents of jazz and finger style guitar playing, has had his albums on the Top 10 lists in both the UK and the US. Alison is a singer with the vintage tunes in her bones. "I should have been born in the 50s you know," she says, when we meet her and Martin on the eve of their Colombo show.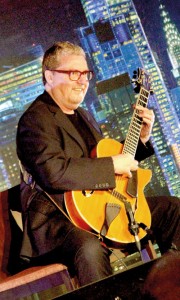 This is not their first trip to the island as the duo performed at a 2009 concert for the Sunera Foundation. Martin shares an even longer acquaintance with the country – he first came here as a guest of the British Council, and since then has returned many times to holiday and perform. He has made plenty of friends over those years, and is the patron of the My Wish Foundation in Sri Lanka.
Their Colombo concert is stop number two on their Asia tour, which will see the duo perform in Tokyo, Shanghai and Bangkok next. Off the back of a sold-out audience in Singapore, they had high hopes for their Sri Lankan audience; and on Wednesday, that audience didn't disappoint.
Martin eased into popular numbers, introducing them sometimes because "I'm a jazz guitarist and I've probably changed this so much you probably wouldn't recognise it at all-even I don't on occasion!" while Alison was the consummate vintage crooner in a spangled white gown, with her auburn hair piled high and jewels at her throat and ears. Her evocative vocals glided over numbers like 'He's a Tramp' and 'Good Life'. Some minor sound system issues they dismissed quipping "this is life!"
At the concert the focus was on the music of the 40s and the 50s, when jazz was at its prime. Both artists say that when they perform it's a matter of knowing what the audience wants and then responding to it. Their chosen genre is not exactly mainstream, yet they've been surprised by the
reception at some venues. Martin remembers 'surprising' an unsuspecting audience in the States with an impromptu performance. "All these young kids," he remembers now. "They loved it." His favourite kind of audience is the unprepared one. "If you come into our shows with a preconception of what to expect, then you're never going to enjoy it as much as you would if you had just walked in and waited to be taken by surprise!"
The event was organised by the Charity Committee to raise funds for children affected by cancer.