Ancient tale of a prince's spiritual odyssey comes alive
View(s):

"Prince Siddhartha is a story book for children," says the author Ranjan Perera.

In simple language, and lucid, flowing narrative, he tells the story of Prince Siddhartha's spiritual odyssey from birth in the Sakya Kingdom, Kapilavasthu through six long years of seeking the true nature of life, and a way out of suffering for all living beings; the triumphant breakthrough into Samma Sambudhahood at Bodh Gaya; 45 years of teaching His liberating Dhamma throughout the land and onto the final peaceful end (Parinibbana) at Kusinara.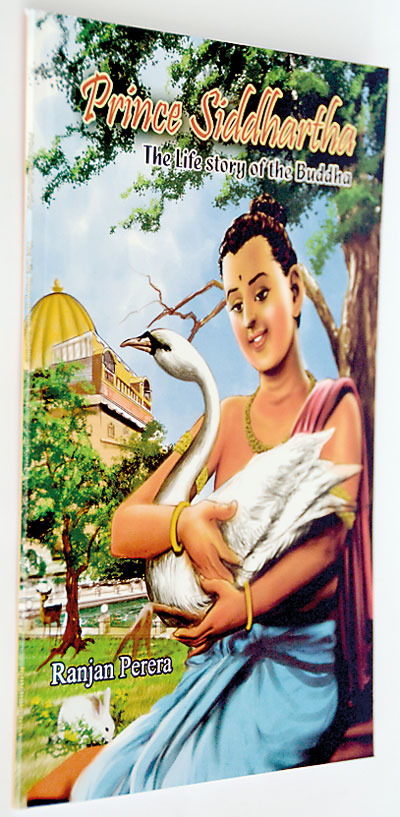 The ancient tale comes alive in this book, which visually attractive, and rich in content. It is indeed a magic carpet ride through time for a young reader.
Biographical material has been carefully selected and is soberly presented to children of this modern, scientific, and technological age. Yet it is a comprehensive, and authentic account of the life of the Buddha.
Children's books in Buddhism are a rarity in the English language. The author should be warmly commended for his publication which meets a long-felt need for a Buddha Charithaya like this, lavishly illustrated, and imaginatively retold.
Given the level of English language ability of our children, this book should be within the range of G.C.E. O'L and A'L students, and young school leavers. Prince Siddhartha is an ideal text for international schools.
Though an accountant by profession, Ranjan Perera has written many books, among them, 'Beyond the Words',' Lives of Great Men' (Sinhala) and 'Aesop's Fables'.
This is not only a life story of the Buddha, salient features of the Dhamma are deftly woven into the narrative. A noteworthy feature is the tabular presentation, easy to read and remember, of the Four Noble Truths, the essence of His Teaching. The neat balance of story and Dhamma is designed to engage both hearts and minds of children.
The inclusion of some Pali terms in the text would have greatly enhanced the knowledge base of young students.
The writer expresses his confidence that the noble qualities of the Buddha, highlighted by him will inspire children to acquire good Buddhist values, and grow up into useful members of society. The spiritually evocative paintings enhance the text.
As a retired Dhamma teacher at CMS Ladies College and Vajiraramaya Daham Pasala I would like to recommend this publication to teachers of Buddhism in English, both in schools and temples.
For parents who wish to introduce their offspring to the Buddha, and His benign Dhamma, I can think of no better book than this. Reading aloud to little ones who cannot read for themselves will surely be a happy experience for parent and child.
Prince Siddhartha, is printed on high quality paper with glossy colour illustrations.
Book facts
Prince Siddhartha (The Life Story of the Buddha) by Ranjan Perera.
Price Rs: 250
Reviewed by Wishwaranee Nagahawatte