Rugby in mud-larkers paradise
View(s):

Two mud-raked venues, Welisara and Ratmalana, reminded me of a Denzel Washington quote. "You pray for rain, you got to deal with the mud too. That's a part of it". Those who were able to deal with the mud won their game this week.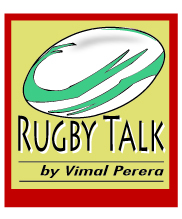 At Welisara the soggy conditions never allowed the Navy to spread the ball and run. Navy were a bit flummoxed as the wet conditions were a hindrance. With all teams losing a match the annexing of a bonus point was important. Navy will be disappointed that they were unable to get the additional points which are important as three teams who have only one loss so far are vying for the top spot. If one expected the CH&FC to be doormats to be run over that did not happen.
CH, a team that was at the bottom last year and without big names came out well in the damp conditions and gave Navy some anxious moments before going down by 24 points to 8. CH, who has been erratic in their performances, must remember that a game is not one half of forty minutes. It could be first or second, they have always done well in one half.
On Saturday, Havelocks ploughed well in another mud-laden park and made hay while raking sludge to beat Air Force by 45 points to 16.Havelocks did try to run despite the difficult conditions for their game of run and pass. Air Force played foreigners in this match. Possibly these who were somewhat out of sorts probably due to jet lag will add more spice to the game and we may expect more competition from the flying boys. Havelocks are yet a team that has a chance of breathing down the neck of those in front and may be able to pip the post if they have what it takes to last the next 11 matches.
The conditions on Saturday at Longden Place were a dry green waiting to be run on. Despite the weather the grounds were dry and good for rugby the crowds were not what was seen in a CR-Police match of the past but was a good attendance for current times. CR probably thought that this game was in their hands. Ultimately they had to leave rubbing their hands with disappointment as the anticipated sail through turned to be a mirage. CR were unable to capitalize on the mistakes of the cops who were penalized a number of times. Once Apisai did a run almost from the CR goal line it was Police other for a small respite when they came back to narrow the scores to 24-17 in favour of Police. They did not have the legs to take them past the 80 minutes and lost 41 points to 22. Police depended heavily on their Fijian Apisai who was willing to run down and around the park whenever he got an opportunity. He also did some good offloads as always there was support to the ball carrier. Kandy had the better of the Hambantota Sharks on Sunday scoring five tries and getting a bonus point which gives them the luxury to stay ahead.
This year each team in the league has eight games in each round which will test the staying power of most teams. At the end of five matches there seems to be tired eyes that find it difficult to focus. Recycling and rest will be important for teams to survive. With more matches the anxiety will continue and there can be many a guess on who will be champs. The only question I have is whether the competition will get diluted as those at the bottom will find it difficult to give a fight in the second round.
Unforced errors are a plenty that have made victory for some difficult. The number of passes that are dropped and the number of penalties at the breakdown dampens continuity and thus rugby is not exciting despites some big names of the world on the parks. I believe there is little one rugby genius can do on the field when the rest are not his equals. Among equals he may do well as rugby is a team game where support means a lot.
Recently a worried follower said that school rugby is more exciting and there is more skill and asked why that skill does not fill through to club rugby. I believe the excitement of school rugby is a result of the passion of the boys who play for the school. It is also about the passion of the spectators who are parents or ardent old boys. We love to say that the skill and the talent are there. The benchmark is our performance in the Asian Junior tournament where we are in the 2nd Division and kept our position as number two virtually by default. Penny for your thoughts!!!
-Vimal Perera is a former Rugby Referee, coach and Accredited Referees Evaluator IRB