Celebrating the Right to Play
Pic and story by Amila Gamage
View(s):
The Lankan and the English cricketers took time off their busy schedule to celebrate the right to play and coached around 40 children at the R.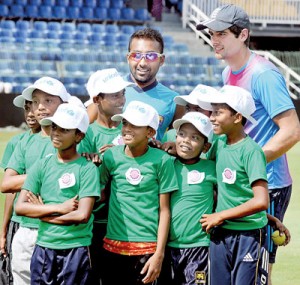 Premadasa International cricket Stadium last morning.
This was done on the occasion of the 25th Anniversary of the Convention on the Rights of the Child (CRC) a UNICEF programme.
"We are delighted to be able to dedicate time between our practice sessions for these kids. Cricket can be used as a force for good, a force for change. Bringing healing and building teams and nations," said the Lankan skipper Angelo Mathews.
The English skipper Alastair Cook said "We are delighted to support UNICEF in the 25th of the convention on the Rights of the Child".
The picture shows Sri Lanka's Mahela Jayawardena and the England captain Alastair Cook with some of the young cricketers who underwent the training session.