Police inaction despite evidence spirals attacks on Opposition supporters
View(s):

The Election Complaints Centre at the Election Secretariat said it has received 46 complaints to date, with 11 of them categorised as serious violations, a senior Elections Department official said.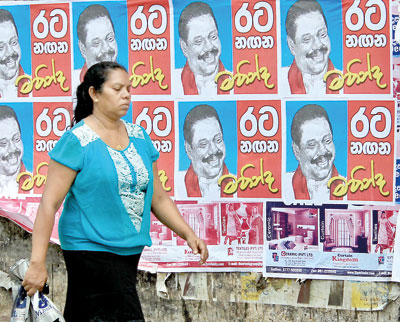 The rest of them are regarding use of State property for election campaigning, State employees being used for campaigning activities and transfers, illegal posters and banners.
Among the serious incidents are five cases in which firearms were used. The incident where a UNP supporter was shot and seriously injured in Maggona, and an attack on two persons for objecting to put up a cutout of President Mahinda Rajapaksa, are among them.
Meanwhile, police have arrested 10 persons including the chairman and deputy chairman of Divulapitiya Pradeshiya Sabha (PS), following a complaint regarding the assault on three persons who objected to putting up cutouts of the President.
The attack was carried out by a group led by Divulapitiya PS Chairman Indika Anuruddha, when they objected to put up a cutout of President Mahinda Rajapaksa, opposite his house.
They were initially admitted to Divulapitiya hospital but later, following threats to their lives, they were transferred to Dambadeniya hospital.
Meanwhile, police have yet to arrest the perpetrators of a shooting attack on former UNP local government member Chamila Ranasinghe who was shot twice in the head while lighting crackers after the defection of Opposition candidate Maithripala Sirisena on November 21, a senior police officer said.
Colombo National Hospital Director Dr. Anil Jasinghe said that Mr. Ranasinghe is recovering slowly and has been transferred to the High Dependence Unit (HDU).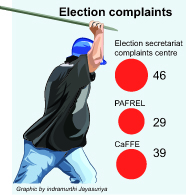 The independent election monitors are claiming that, unlike past elections, there is a rapid increase in the spread of election violence throughout the country, in the pre-nomination period for the election.
On another occasion, Wennappuwa local councilor Shiron Fernando who expressed his support for the common Opposition candidate, has been assaulted.
He claimed in his police complaint that a supporter of a senior minister assaulted him. The suspect has been identified but not arrested as yet.
Campaign For Free and Fair Elections (CaFFE) Executive Director Keerthi Tennakoon said even though concrete evidence such as CCTV footages and eye witnesses are available, the police have failed to take actions against the alleged perpetrators.
"To date, we have received 39 complaints, of which five concern use of firearms, but no arrests yet made regarding serious violence such as the Maggona incident. The suspects are still roaming free in our society," Mr. Tennakoon said.