Have a green Christmas
Young designer Lonali Rodrigo expands her creativity to include environmentally-friendly festive decorations
View(s):
Christmas is a few weeks away! It is almost time to put up your Christmas tree and fish out the Christmas decorations from storage. If you wish to break away from the shiny plastic baubles or the conventional LED light strings, in other words, if you want to add an environmentally friendly twist to your Christmas, check out the House of Lonali.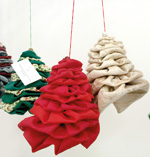 Christmas decorations are the latest introduction at the House of Lonali. Designer Lonali Rodrigo's stall at the Good Market ( on Saturdays at the Race Course) is choc-full of creativity and inspiration. The wooden shelves hold mini Christmas trees made using discarded clothing labels, wine bottle covers made out of shirt sleeves and baubles made from woven strips of discarded fabric.
Lonali has in her short career managed to make quite an impact on the fashion scene. A student of Visakha Vidyalaya, Lonali graduated from the Academy of Design in 2012. The winner of the Ethical Fashion Award at AoD, she was a finalist at Venture Engine (a competition organised by Venture Capital to identify potential business ideas) and received funding to launch her own brand. Thus was born the "House of Lonali." She has also won the Emerging Designer and Sustainable Designer awards at the 2013 Sri Lanka Fashion and Apparel Awards.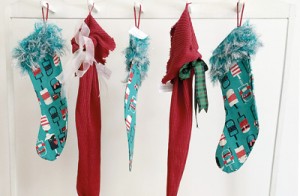 Lonali's brand is concerned with environmental sustainability. So under the novel concept of "up-cycling", she tries to bridge the existing gap between waste production and waste management.  Up- cycling is the process of collecting waste and creating a new product out of it by simply adding value to the waste that would otherwise be discarded. Unlike in recycling, up-cycling does not bring the waste back to fibre form. This approach to waste management is a trend in western countries but is not so in eastern markets.
The products designed by Lonali are made using industrial waste; mainly factory rejects from the apparel sector. A popular pick is the pocket book; a note book which has been covered using half a shirt in such a way that the shirt's pocket aligns in the centre of the book's front cover. The pocket acts as a multi-functional holder which can carry your phone, purse etc.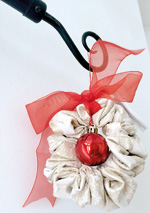 Currently, Lonali's customer base mainly includes tourists and expatriates. Her primary target is the young fashionistas for whom she makes various products ranging from gunny sack sandals to bags made out of rejected leg pants. "Fashion is a statement. You need to have the confidence to wear what you want and speak openly about it. Through the House of Lonali, I wish to combine fashion and sustainability. I wish to be a friend to Mother Earth while maintaining sophistication in my designs," she says. 
Initially focused only on fashion designing, Lonali decided to expand into accessories and decorations to increase her clientele and her Christmas decorations are her latest venture. Lonali hopes to make up-cycled items for other festivities in the future.
She is pleased that she is able to connect low-tech cottage industries to high-tech markets and communities. Lonali's designs are brought to life by small-scale entrepreneurs, housewives and self-employed women from Jaffna and Gampaha.
Her casual wear products range from Rs. 3000 to Rs. 8000, accessories from Rs. 1500 to Rs. 3000 and her Christmas decorations from Rs. 100 to Rs. 1000. In the near future, she hopes to promote her products in the international market and also online.