a daughter's search for true identity
View(s):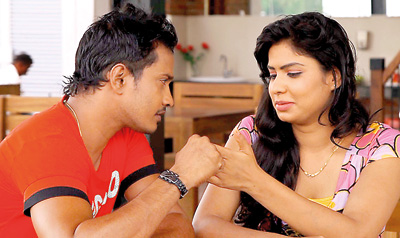 Hirushi is the daughter of Mahendra and Jayani Maliyadda. She studies western music. Vishwa who hails from a poor backdrop in a rural village is a final year undergraduate. In order to make a living he sings in a number of hotels in the city. He lives in an annex with Anuja and Krish who works for a private FM radio station and a private university.
Vishwa is knocked down by Hirushi's vehicle and is hopitalised. This unexpected meeting leads to a friendship between the young couple.
In the meantime Vishaka who was doomed to a life sentence returns after receiving a special pardon. She goes to Tissa, her brother. From the day she is freed she tells her brother her need to see her daughter. Her daughter is Hirushi. Vishaka on several occasions comes to see Hirushi and Mahendra comes to know about this. This puzzles Hirushi too. Mahendra's wife Jayani too comes to know about Vishaka's search for her daughter. Hirushi's real mother is Vishaka.
Twenty years earlier Mahendra who was working as a banking officer in Kandy had an affair with Vishaka and Hirushi was born following this affair. While Vishaka tries to claim her right to Hirushi, Mahendra's present wife Jayani tries to get Hirushi married to a son of her rich friend. But Hirushi is already in love with Vishwa. But Vishwa suddenly disappears. What happens to him? Mahendra says he is killed but Hirushi is not convinced. Hirushi goes in search of her mother. But Vishaka has left home. Will the mother and daughter reunite? What really happened to Vishwa? What will happen to Mahendra and Jayani, his present wife? All this will be revealed at the end of 'Ridi Pahan'.
Story and screenplay by Lakshman Puchpakumara the teledrama stars Amila Abeysekara, Udayanthi Kulathunga, Nayana Kumari and a number of young and up and coming actors and actresses.  Started on December 1, it is being telecast everyday at 7 pm on Derana TV.