Buddies, bloom and beyond
View(s):

My Dear Sajith and Navin,
I thought of writing to both of you after seeing Navin return to the Green camp after a few years on the Blue side. That this happened just before an election means that the reasons for the crossover may not be what you say they are. Anyway, the people will deliver the verdict on that.
Navin, I think the decision to return to the Greens was the correct one simply because of your father's legacy in that party. You couldn't have forgotten the fact that your father is not with us today because he ran as a candidate for the Greens and paid with his life for that.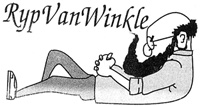 You may have also realised during the time you spent in the Blue camp that you were taken in to that side not because they wanted to give you any real responsibility. They just wanted to make up the numbers, so that they had a two-thirds majority in Parliament.
Of course, Navin, we heard Mahinda maama say that he had 'files' on those who crossed over but that he would not use those against them. We heard you challenge him on that, asking him to produce any files he had about you, but we haven't heard anything thereafter.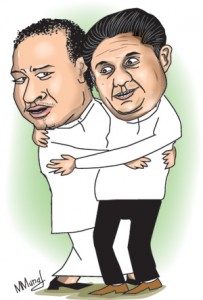 Mahinda maama now says that what he was referring to when he was talking of 'files' were the cabinet papers submitted by those who crossed over! That doesn't make much sense so even someone as seasoned as Mahinda maama can get it wrong because people say funny things at election time!
In fact, I was thinking whether all those who were 'Mahinda' were saying strange things during the election. First, we had that Minister Mahinda saying we should continue to vote for the Blues because they had already earned enough, so if they were re-elected, they wouldn't need to earn anymore!
Then there was that sporting chap Mahindananda who got all hot under the collar when someone made allegations over the telephone during a television talk show. The allegations were not made specifically against him but I guess if the cap fits, it is difficult to resist the urge to put it on!
Anyway, Navin, we heard you claim that you were offered millions to stay with the Blues but that you refused and wanted to serve your motherland instead. So, being a politician during election time is like being a cricketer in the IPL now — but at least, you are not doing what Lasith Malinga did!
Why I thought I should also write to you, Sajith, was to tell you that it was very encouraging to see you warmly welcoming Navin to Sirikotha on his return. I hope it was not only for the benefit of the cameras and that you genuinely felt that way.
As we all know, there were what might be called 'differences of opinion', to put it rather mildly, between your fathers. As a result, one of them left the Greens and tried to form his own party, only to return to it after the other had passed away.
More importantly though, both your fathers were assassinated by the Tigers because they obviously believed that they were formidable leaders. The Greens are still suffering as a result and maybe it is time for the next generation to now try and make the Greens a winning combination once again.
Sajith, it is time for you to also forget the disagreements you had with the Green Man during the past few years. I am not sure whether you realise it, but the way you fought with him publicly through the newspapers and on television did considerable damage to the Greens.
The Green Man may have many faults but to his credit, he never criticised you personally or publicly. I am sure you would also remember that when your father was in trouble and many in his own party were deserting him during the impeachment, it was the Green Man who stood by him.
You also have a lot to learn from the Green Man, Sajith. Some think that you wanted him to contest this time because you thought he would lose and you could become the boss of the Greens. I am not sure whether that was your motive, but the Green Man has once again proved to be quite smart.
He masterminded the move to bring Maithri into the contest and got together with Satellite, who treated him so shabbily when he was Prime Minister. The moral of the story is that there are no permanent enemies in politics, only permanent interests and he knows that better than you!
So, Sajith and Navin, I hope both of you will do your best for the Greens and Maithri during the campaign, instead of confining yourselves to Hambantota or Nuwara Eliya. And that is because, regardless of who wins the race, we would like to see a clean and close contest.
Yours truly,
Punchi Putha
PS: Speaking of Maithri, we heard that the state media has re-named the 'Maithree bhaavanava' programme and they call it something else now. Maybe they will come up with a new name for Maithree buduhaamudurwo next!