WNPS lecture: 'Living with bird flocks in Sinharaja'
View(s):

Prof. Sarath Kotagama will present the Wildlife and Nature Protection Society's monthly lecture on 'Living with bird flocks in Sinharaja' on Thursday, November 20 at 6.15 p.m. at the Department of Metereology auditorium on Bauddhaloka Mawatha, Colombo 7.Prof. Kotagama is Professor of Environmental Science, Department of Zoology, University of Colombo.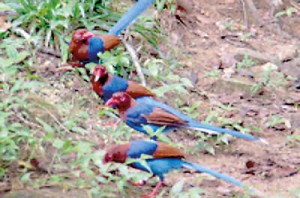 His academic contribution spans across the globe as an Adjunct Professor of Brandeis University (USA), Visiting Lecturer, Konan University, Japan. He is also a Visiting Lecturer at the University of Moratuwa, University of Sri Jayawardenapura, University of Sabaragamuwa and University of Rajarata and the recipient of many national and international awards for scientific research and outstanding contribution to environmental conservation
Prof. Kotagama's main research interest has been in mixed species flocks in rainforests. He has been studying the flocks in the Sinharaja rainforest for the past 25 years.