Sri Lankan chefs head to the Culinary World Cup
By Vinusha Paulraj
View(s):
Early next Sunday, a team of 18 chefs will leave Sri Lanka "with about 1000 kilos of excess baggage. Following their winning streak at the
Culinary Olympics in 2012 that saw the team of 26 bring home 15 gold medals, this year too their bags are packed – ready for another challenge. Carrying everything from show pieces, dismantled wedding cakes to utensils and specialised carving knives, the 18 chefs will be heading for Expoghast- the Culinary World Cup 2014 in Luxembourg next week.
"It isn't an easy job" Chairman of the Chefs Guild of Lanka and Team Manager, Gerard Mendis says of the effort to put together a competition team. For the senior chefs — both part of the team and those involved with training — the festive season is quite hectic. But commitment is undoubtedly the fuel behind the team's previous successes and this team's confidence. Grateful for the sponsors who have been supportive from a very early stage, he says putting Sri Lanka on the map in terms of culinary skill has long been a collective effort of those in hospitality business. "Even our practice kitchens were provided by the John Keells Group and Aitken Spence."
Chef Gerard says Sri Lankan chefs while exposed to a global standard of food are not privy to a global standard in terms of ingredients. The heavy taxes imposed on some imported ingredients means "youngsters don't generally get to work with them." There has over the years, despite strong potential in the industry, been very little state support, he notes.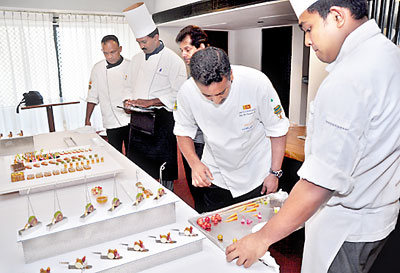 Getting "the boys" as he calls the squad of 18 into shape, President of the Chefs Guild of Lanka and Team Captain, Chef Dimuthu Kumarasinghe's work on the team began about a year ago. Currently running training sessions between two kitchens, petitions have been made to relevant authorities to set-up a training kitchen to encourage participation in competitions, he says. "The previous 15 gold medals seem to have no effect on this request, perhaps this year's success will inspire some change," he hopes.
Thrilled that contestants as young as 24 are a part of his team, Chef Dimuthu says it wasn't until both he and Chef Gerard were much older that they were given a chance to compete on an international level. Anticipating tough competition he says "about 110 regional teams are to take part." Having been through the process and excelled, he feels it is a duty to pass on their expertise to the budding talent. Intending to maintain the reputation Sri Lanka has secured for culinary finesse, his team will be competing in technically tricky categories like Plated Desserts, Tapas and Buffet Platters.
Looked on fondly by his team mates as the baby of the bunch, this, though is not 24-year-old Manoj Peiris's first international appearance. "I was a part of the Olympic team in 2012," he smiles. Currently a staff member of the kitchen at Heritance Ahungalla, cooking he says has been a childhood interest. "I got a bronze last time," he smiles. This year however he is aiming high-the gold.
Kodikarage Athula too is no novice when it comes to international competition. In the Olympic team of 2012, he won two gold medals and a silver and feels confident of a solid performance this year as well. Completely self-taught, his area of expertise, fruit carving won him two golds while the silver was for a live buffet set-up. Art has always come naturally for this staff member of EAP Hotels with "about 18 years of experience" under his belt. Carving was just expanding his medium of expression for Athula, who has been painting since school days.
Also with two gold medals in the Olympics, Nandaka Weeraman says "I'm an artist." He will be entering the same category this time too- Pastry Showpieces and Bakery Showpieces. Putting together a show piece he tells us is a little different from ordinary presentation, "but it isn't difficult." Finding time to create his spectacular pieces despite his busy schedule at Cinnamon Grand where he is currently employed is all down to experience, he says. Nandaka started working on his current creations about three months ago.
The team will be in action from November 22-26 at the Culinary Olympics.