Letters
View(s):

Those days and names of our racing heydays

This letter has been prompted by the article, Turf Club robbery and murder in 1949 that appeared in the Sunday Times 2 of October 19.
My intention in writing is to fill in the gaps with dates, names, locations and circumstances.

The writer has not mentioned the first Selvaratnam who trained horses in Sri Lanka. Arunachalam Selvaratnam was a race horse trainer as far back as in the late 1930s. His children were Renga, Raja, Visva and Dhanalakshmi.

When racing was temporarily suspended in Sri Lanka from 1940 to 1947 during World War II A. Selvaratnam began training in Bombay (Mumbai) and in Poona (Pune). Some of his patrons were the Maharajah of Baroda and the Maharajah of Gwalior. One only had to see the trophies and other gifts given by the royal owners to believe tales of the racing circle that Selvaratnam moved in.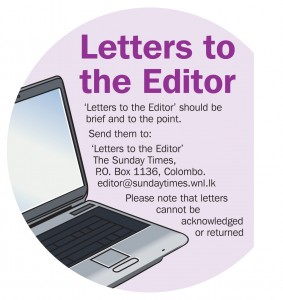 Sons Renga, Raja, and Visva were in the boarding school at S. Thomas' College in Mount Lavinia. It was in 1944 that Renga captained the college first eleven cricket team with Raja proudly playing under the older brother.
When racing resumed in Sri Lanka after the war, A.Selvaratnam returned to the country of his birth and continued to be a leading trainer.
It was towards the late 1940s that Renga began training and he too did very well. It was usually a contest between the father and the son to see who would lead whether the season was in Colombo, Nuwara Eliya, or Boossa.
A definite highlight in Renga's racing career must have been winning the prestigious Queen's Cup and receiving the trophy from Queen Elizabeth herself when she visited Sri Lanka.
To complete the race day scene here are some random items: Cotton Hall's trainer was Mehdi Hussein.
Kunj Lata, another horse that became almost a household name was trained by Renga. Top hats and Tails were very difficult to come by but Sir Razik Fareed always looked so distinguished in his red Fez and fresh orchid on the lapel of his coat.
Now, for the locations of the stables. Before the war, in the 30s and early 40s, A. Selvaratnam had his stables on Thimbirigasyaya Road, fairly close to the Jawatte Road junction. After the war these stables changed hands and wereknown as the Bogala Stables.
The new Selvaratnam Stables were on Ascot Avenue also off Thimbirigasyaya Road. This property was owned by Maj. E.C. de Fonseka who had a fascination for names connected with horse racing in England. So he named the streets on his property Ascot Avenue, Epsom Streeet, and Aintree Street.
The very big Wallace establishment was always where it had been on Thimbirigasyaya Road. Renga Selvaratnam's stables were on Jawatte Road very close to Thimbirigasyaya Road, and next to a church. I believe the church is still there.
The concentration of racing stables within close proximity to each other meant that my sister and I would be woken up by the "clip clop" sounds of the horses being walked to the race course for their gallops every morning around 4 a.m. This was in preparation for the actual races.
As for Vajira Road, any Visakhian of that era would vouch for the fact that there was a riding school by the Vajiraramaya Temple with just about two or three horses. It was never a racing establishment.
Mr. Edward J. Fordyce (Ted) – Not only was he known for his prowess at riding horses, but his natural willingness to help others earned him a huge following. He went to India in the late fifties and continued to ride. He and his wife bought a beautiful home in Bangalore and lived there with their daughter.
End of story? Not yet.
The third generation of Selvaratnam trainers is busy in other parts of the world and doing very well. Some are even enjoying the patronage of the rulers of the land.
After all, horseracing is a sport of royalty.
How did I come by all this information, you might wonder. I lived with my parents and sister at the corner of Fife Road and Thimbirigasyaya Road for more than 20 years. The address was 156, Thimbirigasyaya Road.
I attended Visakha Vidyalaya from kindergarten until the Advanced Level Grade.
My father was the official timekeeper of the Ceylon Turf Club and also wrote to the Associated Newspapers of Ceylon under the name of Captain Cuttle. His real job though, was at Walker Sons and Co., Ltd. His sister was Mrs. A. Selvaratnam, my aunt.
Annalakshmi Sanmugam
Wignarajah
The 'sound' of 'Buddhism': Why has it become so loud?
I doff my hat to the Sunday Times for its sustained campaign against noise pollution, which has reached deafening proportions, thanks to the liberal use of formidable loudspeakers in this "Land like no other".
Loudspeakers or the "yakada kata", to use an indigenous term aptly coined, show no mercy on an absolutely serene environment, and their insensitive handlers careless about the old, sick and infirm, whose ailments and disabilities demand bed rest or on the other hand, mothers-to-be, infants and school-going children for whom it's a battle to concentrate amidst the din and rattling windowpanes.
It is an open secret that the main perpetrators are Buddhist temples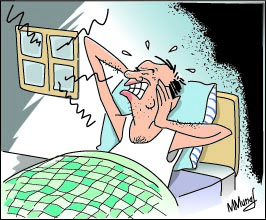 They seem to have unhindered access to loud speakers and the specific times, as determined by law, don't seem to apply to them.
Let me cite a case in point. For almost two weeks, the Sambodhi Viharaya at Soysapura continued to deliver its Dhamma lessons through a string of loudspeakers strung on lampposts even a good mile away from the temple itself.
Soysapura is a heavily built up area and the distance between two blocks of flats is limited. The temple itself emerged from small beginnings on crown land where a Bo tree stood. Be that as it may. What I want to drive home is that with the avalanche of loudspeakers distributed across many parts of this enormous housing scheme and outside (covering even Angulana Station Road, which is further away from the temple), the preaching that's relayed at its highest decibels had a sonic-boom effect on this built up area, which of course reflected on its suffering residents.
The area has many temples. When one finishes, the other takes over. The Samanpura temple had thankfully finished its share with loudspeakers disturbing people miles away, when Sambodhi Viharaya took over! From early evening to late night.
As a Buddhist, the question I would like to pose is whether the teachings of the Noble One survived for 2,500 plus years because the Dhamma was propagated through loudspeakers? Is there a desperate need in this blessed land of ours to forcibly push down our faith and beliefs down the throat of others?
There is another critical question which demands an answer: How is it that the Mount Lavinia Police granted such sweeping unregulated access to the indiscriminate use of loudspeakers to the Buddhist clergy, when it's a firm 'no' to many others?
The Muslims' call to prayer in mosques was considered a disturbance, but in comparison to a couple of minutes there, how is it that indiscriminate use is ignored by the police as the 'source' is a temple? I am not trying to push in a religious connotation to a simple case of peaceful surroundings but what if a church or a mosque did this? How would the BBS respond?
The government should move in to ensure that the use of loudspeakers is strictly regulated, if banning them altogether is not considered feasible for whatever reason.
In these days when stress, hypertension and related conditions have emerged as killers in the non-contagious diseases segment, relaxation and peace of mind are important to the citizenry.
What we need is concrete action, not excuses.
Pro Bono Publico
Soysapura
As the saying goes,the law is an ass
As we know, a ten-judge bench of the Supreme Court has given its considered opinion that the incumbent president can seek re-election as the president for a third term in accordance with the constitutional amendment.
Although some legal experts had argued that the president could not do so because the amendment had omitted the inclusion of the incumbent president as those eligible to seek such re-election, a layman to the field of law may ask why it should be so included, for it is simply superfluous.
The problem with the Law is that it is not scientific as it is with Economics. Perhaps, this led John Kenneth Galbraith, the reputed economist and diplomat to say, 'Economics is extremely useful as a form of employment for economists.'
Just imagine the number of innocent men who had been executed after hearings in courts of law in the US, the self-proclaimed guardian of democracy and freedom. To say sorry after the statutory murder only adds insult to injury. Some of those who follow the Sathasivam murder now being serialised in the Sunday Times do feel that a similar fate would have fallen on Sathasivam, if not for the summing up of the learned judge following the arguments of Dr. Colvin R. De Silva, Prof. Sydney Smith among others.
Thilak Gunaratne
via email
Remarkable conduct that needs to be commended
I write this letter to warmly acknowledge and commend the Welikada Police for an invaluable act of service they rendered to me as a member of the general public when I found myself caught up in a very distressing situation recently.
On Saturday, October 25, my husband and I were standing outside the gate of my brother's house in Nawala on a visit when within a matter of just about two seconds a young man snatched my gold chain and (blessed) cross off my neck from behind me and sped down the road in a three wheeler that appeared exactly on time to pick him up. My husband gave chase to the vehicle and noted its registration number. My sister-in-law immediately telephoned the number to the Welikada Police, who acted so promptly and efficiently that within minutes they apprehended the three-wheeler and summoned my husband and me to the police station to make a formal complaint.
The several police officers we met were not only impeccably courteous, they showed great concern, also kindness to us, anonymous members of the ordinary public, over our predicament. And when they found out that I was leaving the country on the Saturday following, they enthusiastically redoubled their efforts to complete their investigations as speedily as they could with a view to ensuring that I might be able to collect the stolen property before I left. By as early as Wednesday the police officers involved had completed all the hard work under the able supervision and support of the OIC of Welikada Police Station, Chief Inspector Kamal Amarasinghe, who took considerable personal interest in the case.
Accordingly, I was summoned to the Magistrate's Courts the next day, Thursday, for possible identification of the culprit, and on Friday, when the case was eventually heard, the Magistrate gave a ruling that my chain, which had been recovered from a well-known pawn broker (the cross was never recovered) be released to me before I left the country the next day.
It is a pleasure, as well as a duty, to put on record and call attention to the remarkable conduct of the Welikada Police on this occasion. Their professionalism, efficiency and purposeful actions going beyond just the call of duty reflected a genuine pride in their work and an inspired dedication to their calls of service. The OIC of the Crimes Division, Sub Inspector Priyantha, who was in immediate charge of the investigation, was exemplary in the very efficient and effective way he set about his tasks, and in this he was superbly supported by Sub-Inspectors Samaranayake and Rathnayake, whose wholehearted devotion to their duties was infectiously evident. The contributions of PCs Bandara (83902), Bandaranayake (85176), Amarakoon (81127), Sudeera (83774) and Vignesh (60288) to the arrest were also very noteworthy. PC Irunika (9613) showed both patience and conscientiousness, as well as commendable speed, in typing the report for submission to the Courts.
All of them helped, despite them not knowing us as anything more than simply senior citizens, and put our minds at rest at this moment of stress and anxiety. In this respect, I need to make particular mention of Senior PC Sisira Kumara (14530) who stayed around all of Friday in what was to me the very unfamiliar and even forbidding environment of the courtroom, advising and reassuring me not only until the judge had given her ruling but even beyond his normal stint of duty to ensure that things would be smoothly followed up. On Saturday morning, PC Sirivimala (78517) finally released the recovered gold chain after I signed a document. He too was most kind and polite dispensing his duties.
It would, perhaps, be of some practical value if I add some observations relating to police funding that we made during the considerable period of time we spent in the police station and the courtroom. We gathered that the efficiency of the discharge of the duties of the Police could be considerably improved if more vehicles were made available to them for the purpose of moving around more quickly while on duty. Further, since some of the court requirements involve the production of photographs of the exhibits in a case, it would be useful if equipment, such as cameras, are provided to the Police. The general public would certainly benefit if more and better toilet facilities were available, both at the station and in the courts!
Indranee Kandiah
via email from Perth
At last a long needed association
I read with great interest in last week's Sunday Times that an Association of Geriatric Medicine has been inaugurated. This was a long-felt need as I found that there are hardly any specialists for age-related diseases like Alzheimer's/Dementia.
I had the horrible experience of having to admit my husband to Mulleriyawa when he showed signs of dementia, which got worse as time went on as he refused to take treatment. Legally, I believe that Mulleriyawa was the only hospital where you can take a patient by force. I succeeded in admitting him there.
I expected that there would be a separate ward for dementia patients – but to my surprise, he was admitted to a ward for rehabilitating drug addicts.
Due to some stroke of luck he got another ailment which needed surgery, and was discharged from hospital after the surgery.
Thereafter, for more than 1 1/2 years I nursed my husband single handed at home. I had the additional burden of his physical debility after surgery as well. He passed away recently.
I wish the Association of Geriatric Medicine all success.
A Dementia Patient Caregiver
Paving the way to better understanding the elderly population here
The Sri Lanka Association of Geriatric Medicine (SLAGM) held its inaugural academic sessions on November 12 and 13 at the Sri Lanka Foundation Institute, under the theme "Towards achieving a healthier and brighter silver age'.
Sri Lanka has one of the fastest ageing populations; yet we are not prepared to face this impending crisis. Most of the elders have many health as well as social and financial problems.
Ageing of the world population itself is an achievement; but with its own challenges. As this is an inevitable process, the World Health Organisation has crafted the term active ageing which should be the entitlement of every living human being. Active ageing encompasses optimizing opportunities for health, security and participation. Out of these three salient factors , health is the most important factor.
Sri Lanka is ranked as a country with a rapidly ageing population. Life expectancy which was 43 years in 1946 has now risen to 80 in females and 78 in males. In Sri Lanka by location about 84% of the elderly population is living in rural areas. As the population ages, the majority of the very old elderly will be women, among whom the poverty level will be very high.
If ageing is to be a positive experience, longer life must essentially be accompanied by continuing opportunities for health, participation and security. The wellbeing of the elderly person is the summative effect of the impacts of many factors.
It is heartening to realize that the Sri Lanka Association of Geriatric Medicine with its inaugural academic sessions, will pave the way to better understanding of the elderly population of Sri Lanka in order to create better living conditions for them and also to enhance their health status.
I congratulate the people behind this graceful action of helping the elderly of this country; who have sweated to make this country a better place for all of us, to achieve a healthier and brighter silver age.
Prof Chandrika Jayasinghe
Professor in Medicine
Peradeniya