Canvas of discovery while 'on the road'
By Vinusha Paulraj
Painting is like appeasing his hunger for food, says Anup Vega whose latest exhibition is now on
View(s):
For an artist who can pack you off on a journey with his paintings, Anup Vega's biggest difficulty is describing his work. Talking of his newest pictures adorning the walls of the Barefoot Gallery, he says they are a collection of both busy musings and scenery that he feels lucky enough to be inspired by. "Maybe I'm lazy," he smiles, with a nod towards the decorated walls.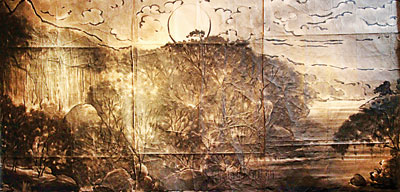 Feeling that the need to explain himself sometimes reduces the pleasure of creating a painting, Anup says, the phrase 'light-watching' puts his pieces in perspective. A collection of distinct brush strokes, depicting no precise form yet coming together to tell the story of the effects light has on the environment, his newest exhibition of about 45 works is titled, 'Anjanam'.
Little in life Anup recalls, has been about anything but a journey of self-discovery. Growing up with a father who was a professional photographer and older siblings who were already immersed in painting, he says few things came close to the pleasure he felt when playing with their supplies. Although from Kurunegala he says, "I'm more of a gypsy," returning home to his wife and two children when he feels the need to "recharge". At other times, Anup drives around in his van, stopping to paint whenever he feels the urge to.
In his journey of deconstructing and deciphering himself, taming his passion is something he could never imagine doing; whenever the urge to paint surfaces and he feels able to devote his energy to it, it simply must be done- "like having a meal when you are hungry."
'Anjanam'- Light Watching, an exhibition
of paintings by Anup Vega will be on
until November 25 at
the Barefoot Gallery, Colombo 3.
Particularly enjoying working on a massive piece, easily mistaken for tapestry of a moonlight-bathed wilderness he says, "everything I do I enjoy." From painting to even "sweeping my house" if it doesn't bring him joy, Anup feels it's a wasted effort. Commanding attention the masterful, dark painting on sheets of flimsier material than the rest of his collection sparks a peculiar interest. "I painted it on paper," Anup smiles. He "didn't have a paper big enough" for the picture unravelling in his imagination, pushing him to improvise – yet another skill the journey of self-discovery has taught him.
The journey he says is far from complete. Still unsure of "who I really am" Anup says a few paintings look like self-portraits but are not necessarily so.
Much of the collection is inspired by the scenic heights of Haputale, Poonagala and Koslanda. A combination of both on-scene interpretations and those conceived in his studio, with the slight influences of an ego riddled with "my memories, desires, passion" is what the 'Anjanam' collection is.