Waffle heaven
By Smriti Daniel
View(s):
At just 21 years old, Dunilsha Hewage is the owner of her own business. The Waffle Corporation, with its promising motto of 'Belgique Celeste' or 'Belgium heaven' is one of the newest eateries in town and it specialises in golden brown waffles, made to a crisp-on-the-outside-soft-on-the-inside perfection.
On Duplication Road, the small restaurant's entrance is set apart by a cheery red canopy and a row of hanging flower pots. Inside there's room for just 10 people. Having opened in September, they're still in the experimentation phase and this includes their menu.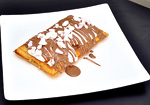 As the glorious smell of a waffle toasting fills the space, Dunilsha tells the Sunday Times that the first thing she wanted to master was the chocolate sauce. Her fridge at home is packed full with various trial sauces, but now her signature topping is a thick chocolate sauce made simply by melting a whole bar down. Then there are the coolies and berry compotes, caramel, Nutella and maple sauces, fresh cream and a range of fruits. For those inclined to the savoury, there's a chicken and cheese option as well as a cheese, egg and sambol version.
There's another option, the intriguing Liege waffle which Dunilsha explains is much breadier in texture since it's made with dough and not a batter. "The liege is the more popular one in Europe. I eat it with my hand, that makes life so much easier," she says. (Unfortunately, it's often sold out since they make only small quantities of the dough.) The Waffle Corporation make their Brussels waffles without any sugar, making toppings a necessity.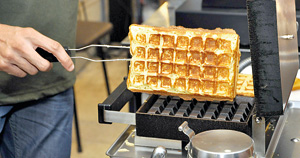 With her interests neatly divided between fashion and food, she says smiling: "I thought I'd just stick to the waffle thing because we need waffles." In the meantime, her new business is tapping skills she didn't know she had.  Having returned from the UK, a marketing graduate, Dunilsha says she's excited to see how she can apply all she's learned to nurturing her budding business. She's determined to make use of local ingredients and has hopes that her business will eventually expand. She can count on financial support from her parents (her early work experience included time in the family's freight business), but being a young woman setting up a business hasn't been without its challenges. "I assumed that I knew quite a lot of it, but I didn't. I did come down to reality quite a bit," she says, ruefully. Five weeks in, she's very hands on and says the Waffle Corporation has all but spelled the death of her social life.
Not that she seems to mind. Looking around her little restaurant, Dunilsha is full of plans, many of which prominently feature melted chocolate. She'd like to start offering her diners more options such as bagels and éclairs.  With so many changes planned, Dunilsha has resigned herself to being tied to the Waffle Corporation for months to come. "I know food companies take a long time to establish themselves, right now we're covering all our costs, and that's just for the first month, so I'm happy," she says.
Find Waffle Corporation online at https://www.facebook.com/WaffleCorporation