'The Wedding Way' for proper guidence
View(s):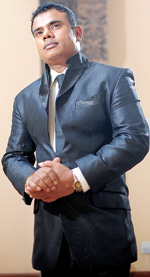 For the very first time in Sri Lankan wedding history, a guide book on entire wedding arrangements, 'Wedding Way' will be launched on 22 November at the Nelum Pokuna Mahinda Rajapaksa Theatre. 'Wedding Way', written and compiled by a veteran photographer Thanuj Hemantha Kalugalla, is a total hand book on wedding ceremonies from the planning stage to the 'Home Coming' to plan a dream wedding.
This extraordinary launching ceremony will also feature live wedding ceremonies and will demonstrate a total package of wedding arrangements to actual 1200 brides and grooms to be.
'Wedding Way' is a professionally written poem to assist individual experience an enchanting wedding.
'I have compiled this book on the experience of my entire life as a photographer. The difficulties faced by young people at the planning stage, wedding arrangements, ceremonies, hotels, photography, cards, hotels catering, jewellery, dresses and costumes are brought as a package. I believe that the most exiting creations in the world are priceless due to the qualities of matching and mismatching of their content. Wedded life also become perfect or imperfect due to the same match and mismatch ideas between the two people.
Call 0722003300 for more details