Alles plays double game: Arranges meeting between President and Ven. Sobitha
By Our Political Editor
View(s):
Questions now over whether the NayakaThera will take part in tomorrow's signing ceremony for a common programme
Mangala decides to remain with UNP, gets front row seat at opposition rally and won't take calls from Temple Trees
Decision on common candidate after proclamation of election; JHU, JVP also defer decisions
The dinner at the Moratuwa residence by the Bolgoda Lake of Mangala Samaraweera on November 3 was something both special and significant. The guests were President Mahinda Rajapaksa and son, HambantotaDistrict parliamentarian Namal.
It was special because it was the first time since being sacked as a Minister seven years ago from the Rajapaksa Government; that Mangala Samaraweera was sitting down to a private dinner with the President. It was significant because that was the culmination of an understanding he had reached on some issues — a prelude to joining the UPFA Government –during talks first with Namal and later with Economic Development Minister Basil Rajapaksa.
As revealed in these columns last week, it was Namal who first visited Samaraweera's two stoeyed house overlooking the Bolgoda Lake at Galkanuwa Road in Gorakana, a part of Moratuwa. He was to convey President Rajapaksa's remorse over what happened to Samaraweera when he served under his Government. He told the former Foreign Minister that his father was sorry to learn of his plight in the United National Party (UNP) where he was being cornered and had invited him to return to the Sri Lanka Freedom Party (SLFP) fold.
That conversation was to pave the way for the entry of Minister Basil Rajapaksa, now Campaign Manager for the presidential poll. Lengthy discussions ensued at the Samaraweera residence. Some of the issues resolved were for Samaraweera to get the portfolio of Minister of External Affairs and Constitutional Reforms. Another was the 'restoration' of his 'seniority' in the Sri Lanka Freedom Party (SLFP) and re-appointment as a Vice President. Issues that were not resolved were requests from Samaraweera for constitutional amendments to, among other matters, re-instate the different independent commissions. He also sought the implementation of the 13th Amendment to the Constitution. Since there was accord on some of the core issues, it was agreed that further discussions could follow. Samaraweera did make it known that he was going to Singapore in the next few days on a private visit. Things were to move forward further only after his return. As for the UPFA, preparations had been made to accommodate Samaraweera in the Cabinet of ministers by asking External Affairs Minister G.L. Peiris to make way. He was to be given another portfolio and Namal undertook the task of talking to Minister Peiris to give up his ministry.
At the dinner that lasted almost three hours, both Rajapaksa and Samaraweera went down memory lane. They were recalling their early days in politics with each relating different encounters much to the amusement of Namal. It was on that occasion that Samaraweera discovered the elder Rajapaksa was now a vegetarian. Not a word was said about his negotiations with Minister Rajapaksa when reminiscing the past. With the dinner and conversations over, President Rajapaksa rose to leave. Just then he made a casual remark to Samaraweera that Minister Basil had briefed him over the dialogue and that was okay with him. Those were the parting words.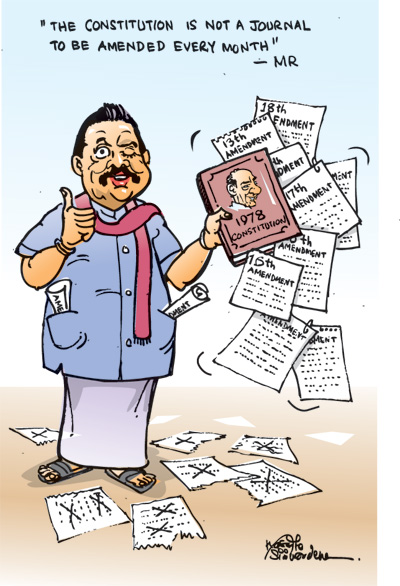 So, when Samaraweera emplaned to Singapore on November 5, UPFA leaders were waiting eagerly for his return. One source said they had even set November 15 (yesterday), the day after the Committee stage vote on the External Affairs Ministry in Parliament, for Samaraweera to take his oaths. Also waiting anxiously for his return was the UNP leadership. Samaraweera who spoke to them earlier complained about a litany of woes. That included how a close aide of General Secretary TissaAttanayake had relegated him to the second row at the rally of party polling agents at Hyde Park on October 28. The move prompted an Attanayake emissary to telephone Samaraweera in Singapore to ascertain whether the UNP General Secretary could come over there and explain matters. He did not favour the idea. Samaraweera was also livid that his efforts to form a 'common front' with opposition groups and formulate a 'Common Programme' were also stymied. Those encounters prompted UNP leaders to assure they would redouble efforts to forge a 'Common Front' before Samaraweera returned. That was done and now a 'Common Programme' is to be signed at noon tomorrow. Their final goal is to back a 'common candidate.'
Samaraweera returned to Sri Lanka on Tuesday, a few days later than expected. The next day (Wednesday) he was in the front row of a meeting arranged by JHU parliamentarian Ven. Athureliye Rathana Thera's Pivithuru Hetak (Better Tomorrow). The theme of the event at Muttiah Park near the Gangaramaya Temple was "the mass movement to abolish executive powers of the presidency and prevent corruption." Many were unaware that by sitting there, Samaraweera was in effect sending a message to UPFA leaders that he was not accepting their invitation to join the Government. His mobile phone rang at least eleven times during the meeting. The calls were from 'Temple Trees'. When he answered the last call, the operator said that the President wished to speak to him. Samaraweera replied that the telephone operator should convey that he is at the meeting at Muttiah Park, which can easily be seen across the Beira Lake from 'Temple Trees'. He said he would speak to the President later. When Samaraweera returned home that night, there were messages on his home phone that the President wished to speak to him.
On Thursday, however, Samaraweera answered a call only to realize it was Minister Basil Rajapaksa who sought an immediate meeting. Samaraweera was livid this time. He alleged that some forces within the UPFA Government were frightened of reforms. He charged that Minister Dullas Allahapperuma, was not in favour of his return to the SLFP and was spreading "wild rumours." He also charged that that some UPFA leaders had got Tiran Alles, the Democratic Party MP who has figured in brokering many political deals, to attack him. At least one UPFA leader was behind the move by Alles to carry out misinformation against him when he was in Singapore, Samaraweera alleged. "Let us keep our understanding and conduct a peaceful election," he declared. Minister Rajapaksa was to say that "if you have time even after the polls are declared, we can meet up and talk." A UPFA response to Samaraweera's accusations was not available. Minister Rajapaksa could not be contacted forcomment.
However, the Samaraweera saga figured at a meeting of UPFA party leaders after the weekly ministerial meeting on Wednesday evening. President Rajapaksa was to first take note of the ongoing polls preparations. He said the next phase would begin once the ongoing budget debate in Parliament was over. He then made reference to the Muttiah Park meeting and noted that those making arrangements for that event included the son of Fisheries Minister Rajitha Senaratne. Rajapaksa was to observe that "we reclaimed a large extent of land and developed it in Rajagiriya for the use of Ven. Athuruleliye Rathana Thera's Sadaham Arana." It was pointed out that Minister Senaratne's son was a Dayakaya (or a lay custodian) there. Minister Wimal Weerawansa was to remark that Samaraweera was on the stage at Muttiah Park. Rajapaksa said "Yes, yes, he asked us for the External Affairs Ministry portfolio. I said I could not give that to him. I told him I would consider giving him a portfolio with some subjects I am dealing with." There was also a discussion on Weerawansa's Jathika Sangvidana Ekamuthuwa (Coalition of National Organisations) programme, a counter to Pivithuru Hetak.
Samaraweera told the Sunday Times, "Taking part in the 26th budget debate I said that the most potent weapon for the national problem is a political solution. Proposals for devolution of power failed because they did not have a strong foundation. I sought a commitment for democratic reforms. I did not get any signals that the Government is moving towards such reforms. Based on that, I did not want to sacrifice my political principles. I also did not want to let down my leader Ranil Wickremesinghe. He accepted me when I was forced out. Doing so would be an act of betrayal. The Rajapaksas are really straightforward in their dealings with me. However, it has still caused panic in a very small section of the media and because of a wheeler dealer's misinformation campaign."
Besides his convictions and commitment to UNP national leader Wickremesinghe, which Samaraweera claims were reasons for him to remain in the UNP,there is another factor that remains unsaid. Samaraweera was also heavily influenced by his friend and former leader Chandrika Bandaranaike Kumaratunga. She joined hands with former UNP Chairman and Wickremesinghe confidant Malik Samarawickrema in behind-the-scene initiatives to prevent Samaraweera leaving and forge a 'common front.'
Though less than formidable, the 'Common Front' does raise some interesting questions. First to its composition — Ven. Maduluwawe Sobitha Thera (National Movement for Social Justice) was the convener. He declared their objective was to abolish the executive presidency. Others were Ranil Wickremesinghe (UNP), Sarath Fonseka (Democratic Party), Arjuna Ranatunga (Democratic National Alliance), Mano Ganeshan (Democratic People's Front), Azad Sally (National Unity Alliance), Hemakumara Nanayakkara (Mawbima Janatha Party), Aruna Soysa (Ruhunu Janatha Party), Lal Wijenayake (LSSP Central Committee member), Raja Uswetikeiyawa (Central Committee member of the Communist Party), Sarath Manamendra (Nava Sihala Urumaya) and Sirimasiri Hapuarachchi (EksathJanathaPeramuna).
Most of the political parties mentioned above are little known and will find it difficult to obtain votes that would be in four or five digits. In that sense, it does not behove well on an established political organisation like the UNP to have teamed up with such "three wheeler" (on which all members of the party could travel) or "bar stool" (only one could sit) groups. It is indeed a scathing indictment. However, what is of significance is the invitation to former President Kumaratunga to the "Common Front" fold and to sign the "Common Programme" on "behalf of the Sri Lanka Freedom Party." She is at present a patron of the SLFP and her formal involvement is sure to raise issue with the UPFA leadership.
The venue for the signing of the 'Common Programme' tomorrow was to be the main hall at Park Street Mews in Hyde Park. After the booking was accepted, it has now been cancelled at the last minute by the management there. Organisers have now shifted the venue to the Galadari Hotel.
The 'Common Programme' is to contain three objectives — Abolition of the Executive Presidency, the re-instatement of all Independent Commissions and a new electoral system which will be based on the British style first-past-the-post that existed earlier. The UNP leaders invited the Tamil National Alliance (TNA) for tomorrow's signing but a source in the alliance said they would not take part. At the inaugural meeting of the 'Common Front' on Monday at a Reception Hall in Kotte, the prime mover, Ven. Maduluwawe Sobitha Thera declared, "Sri Lanka's Constitution has been rejected by the whole country. Even President Mahinda Rajapaksa has raised strong objections to this Constitution earlier. He even walked to Kataragama to plead with the gods to get the Constitution changed. Thereafter, he entered into an agreement with the JVP in 2005 pledging to abolish the Executive Presidency. Left party leaders, the UNP, the Maha Nayake Theras have all been against the Constitution. Therefore, we cannot find any person who agrees with the existing Constitution. Which is the country which has a Constitution that is not acceptable to the whole country? Under these circumstances we wish to tell the President to abolish the Executive Presidency within the next two years of his term…."
Barely 48 hours later, there was a hurried change of events for Ven. Maduluwawe Sobitha Thera, who is the Chief Incumbent of the Naga Vihare in Kotte. Democratic National Alliance (DNA) parliamentarian Tiran Alles who successfully supported the enthronement of Sajith Premadasa as the Deputy Leader of the UNP, had carried out another political feat. If one thought he was serving the interests of the UNP earlier, this time, however, it became clear that he was serving the interests of the UPFA even more. He arranged a meeting for Ven. Sobitha Thera with President Mahinda Rajapaksa, Defence Secretary Gotabaya Rajapaksa and Minister Nimal Siripala de Silva. It was on Wednesday night at 345/33, Kuruppu Lane, Colombo 8. The venue is the house of Tiran Alles' father, the late R.I.T. Alles.
There, President Rajapaksa explained to the prelate that the issues he had raised over constitutional changes were already receiving the attention of the Government. A Parliamentary Select Committee (PSC) chaired by Minister Nimal Siripala de Silva was addressing issues related to the national question and also going intoproposed constitutional changes. Hence, Rajapaksa explained, there was no need for such a campaign ahead of the presidential election. Rajapaksa also called upon Minister de Silva to explain the work of the PSC and how it would tackle constitutional amendments. He too urged Ven. Sobitha Thera not to engage in a campaign now since the issues he was raising would definitely be addressed once the polls are over.
After this meeting with the President, Ven. Sobitha Thera has not taken part in any activities together with the UNP or other groups that he liaised with. On Friday, he was escorted by Dr. Neville Fernando, a staunch backer of the Government, to his private Teaching Hospital in Malabe. He was admitted there to undergo medical checks reportedly for a heart condition. This was whilst four MSD officers and a radio car were posted to his temple. Palitha Lihiniyakumara, an aide to Ven. Sobitha Thera in the National Movement for Social Justice, said the prelate was unhappy that different UNP leaders were coming to meet him at different times with different views. They were not united. Similarly, he said, the Jathika Hela Urumaya (JHU) has also not taken up a position, the prelate has lamented, he added. Thus, questions have arisen whether Ven. Sobitha Thera would attend tomorrow's signing. The UNP leadership believes he would. This is after Assistant Leader Ravi Karunanayake paid a visit to him at the private hospital in Malabe. Karunanayake has told the leadership that Ven. Sobitha has assured him that "no one had threatened" him or told him not to take part in the events tomorrow. Hence, he had said he expected to be there.
With the setting up of a 'Common Front' and the signing of a 'Common Programme,' the focus will shift to who would emerge as the 'common candidate.' Though former President Kumaratunga has said she has no plans to come forward as a presidential candidate, she has not made any public statement. Yet, her foray at the eleventh hour cannot be ruled out. In a statement last Monday read out at the formation of the 'common front,' she said,"I wholeheartedly welcome the Alliance of several political parties, groups and citizens organisations that have come together today with common objective of bringing about a radical change in the political culture and governance structures of Sri Lanka. The breakdown of the Rule of Law, denial of Fundamental Rights of citizens, the assault on the independence of institutions essential for democratic governance, such as the Judiciary, Police, Public service, as well as the denial of Media Freedom, have caused severe damage to Freedom, Democracy and Good Governance. The Executive Presidency, with its excessive powers, has been a major cause of above.The style of Governance of the incumbent Chief Executive has exacerbated this situation…." She expressed her full support for the initiative.
The campaign manager for the main opposition is to be Niraj Wickremesinghe, a brother of the UNP leader. Though not formally declared, almost all constituents of the front, on the other hand, are in favour of Ranil Wickremesinghe's candidature.There are also sections of the party who are in favour of nominating former Deputy Leader KaruJayasuriya. The party wants to hold back any announcement until a proclamation is issued. The idea is to prevent the candidate being targeted for an adverse publicity campaign.
In what has so far been the most categorical statement, UNP national leader Wickremesinghe declared at the Muttiah Park meeting that he was for abolishing the Executive Presidency.Some of his remarks highlight the current position of the UNP. Here are excerpts: "Among those who brought the Executive Presidency only I am in politics. The other person alive is former Minister Ronnie de Mel. The system was introduced to achieve rapid development. Thereafter, since there were shortcomings, the 17th Amendment was introduced to reduce the powers of the Executive Presidency. However, after the war ended President Mahinda Rajapaksa introduced an amendment where he can contest for the third term. A huge monster has been created by passing the 18thAmendment. When the constitution was introduced it was planned to achieve the development of the country, but after 2010 the amendments were aimed at gaining personal development.
"President Rajapaksa had sought an opinion from the Supreme Court. Minister Nimal Siripala de Silva read out from a piece of paper in Parliament saying it was the opinion, but it should be tabled in Parliament. Therefore, Parliament has been disregarded in this instance. Today it has turned to be a family affair. A Rajapaksa regime has been created. One per cent has gained everything and 99 per cent has got nothing. Therefore, the Executive Presidency should be abolished. I wish to say what has been promised will be done. We have gathered here to carry out what has been promised. We have agreed on abolishing the Executive Presidency, implement the 17th Amendment and introduceelectoral reforms after scrapping the preferential vote system.
"The 19th Amendment has been proposed by a partner within the government. If the 19thAmendment can be passed in Parliament we are ready to extend our support. We can pass this if all parties agree upon this. In the next few days we will provide our fullest support to get the 19th Amendment passed." A draft 19th Amendment prepared by the Pivithuru Hetak and backed by the Jathika Hela Urumaya has become the subject of discussion by the JHU with a committee headed by Economic Development Minister Basil Rajapaksa. The JHU is pressing the Government to introduce constitutional amendments before the presidential polls — a position which the Government has rejected. JHU Minister Champika Ranawaka told the Sunday Times, "If our demands are not implemented, we will take a final decision next Sunday. That does not mean that we are joining the opposition or supporting their candidate. We may field our own candidate or back a third in the fray acceptable to us."
He told a news conference earlier"We have two posts in this Government, one in the Cabinet and one in the Western Provincial Council. We think we need to clear the air about some rumors being spread about our party. We presented our policy proposals to the Government in October but it was not done to scare anyone or threaten anyone or to push them to the wall.
"We decided in 2005 to support the President.That was based on certain policy decisions and after an MOU was signed. Now we need to look back .We have to overcome future challenges. We have to think of ways that will suit today's society and to build the future. This is what our proposals are based on and not to get ministerial posts or maintain them. There are several problems for the future. While there is a good side to the economy there are also negative features. There are also many environmental challenges we have to overcome. We cannot tackle this in a haphazard manner. We also need to build a more decent society. We are more interested in how we can take our policies forward than hanging onto power."
Unlike the JHU, the Janatha Vimukthi Peramuna (JVP) which did not heed UNP overtures for the 'common front' is taking its own course. Its leader Anura Kumara Dissanayake told the Sunday Times, "There is a need for a common front only when we know what the final goal is. At present such a thing is not clear." He said the party would make a series of decisions once the proclamation on a presidential election is issued. By Thursday next week the race for the presidency will become official. All stakeholders rehearsing behind the scene would have to not only come out in the open to make their stances known but also their allegiances. Thus, a presidential poll just two years before the present incumbent ends his term, will get under way. Primarily such an exercise is based on astrological considerations. A nation awaits what the stars would foretell.