Who shot bin Laden?
By Martin Gould
Former Navy SEALS brand Rob O'Neill a liar after he claims he was the shooter who fired three bullets into al Qaeda leader's head
View(s):
The SEAL Team Six member who was named as the man who shot Osama bin Laden dead is facing a whispering campaign from other SEALs claiming that his account of the killing is not truthful.
MailOnline yesterday revealed that Rob O'Neill, a retired 16-year veteran of the elite squad is the man who says he shot bin Laden in the head to kill him.
His identity had been a closely-guarded secret but he is due to reveal his account in an interview with Fox News next week.
Today it became clear that other SEALs are about to accuse him of lying – although there is agreement that he was on the raid.
A SEAL source told MailOnline: 'The real shooter would never discuss it publicly.
'Members of SEAL Team Six haven't discussed it publicly so there's a reasonable chance he's not being truthful.
'There is no way O'Neill could really prove it was he who took the fatal shot on Osama bin Laden unless his comrades all attested to it.
'But again, the code of secrecy with these special operators would preclude that.'
A second source told MailOnline that other SEALs were expected to speak out anonymously against O'Neill.
When a previous SEAL went public, the then head of U.S. Special Operations took the personal steps of asking members of SEAL Team Six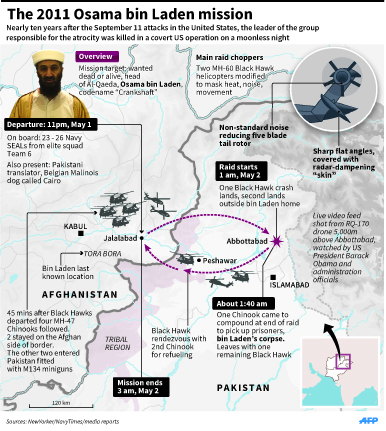 whether that account was accurate.
CNN's Pentagon reporter said that military officials concluded the account was inaccurate.
Although it is not known if a similar operation is planned by the military, a SEAL Team Six 'operator' spoke to CNN in March 2013 to contradict the version of events O'Neill had then given anonymously to Esquire magazine.
One other SEAL has previously gone public – Matt Bissonnette. His version of events is different.
He told NBC News: 'Two different people telling two different stories for two different reasons.
'Whatever he says, he says. I don't want to touch that.'
The decision of O'Neill to go public and speak at length will prompt fresh examination of that version of events, in which the SEAL said that 'The Shooter', now known to be O'Neill, had fired the first,non-fatal shot at bin Laden and that other SEALs finished him off.
The reason for O'Neill going public – which was to happen next week until MailOnline revealed his identiy – has yet to become clear.
One account emerged today claiming that he had decided to go public after meeting relatives of the victims of the September 11 2001 terror attack.
The Washington Post said that it had planned to reveal his identity along with Fox News later this month. Fox News had not disclosed the newspaper's involvement when it announced the two-part interview last week.
The newspaper reported that he had become convinced his identity was about to emerge anyway and at the meeting – before the opening of the memorial to the victims in New York – decided spontaneously that he should go public.
'The families told me it helped bring them some closure,' he told the paper.
But his decision has been greeted with fury by the SEAL establishment.
He is one of the most distinguished members ever of the elite force – but now faces being frozen out of its circles for revealing its most closely-held secrets.
O'Neill was personally congratulated for killing bin Laden – in his account at close range with three shots to his forehead – during the SEAL raid on Abbottobad, in Pakistan, on 2 May 2011.
Questions have previously been raised over the exact narrative of how bin Laden came to die.
But the row is now set to become ugly and high-profile.
The only other account by a named SEAL was given by Matthew Bissonnette, who wrote an inside account of the mission.
Bissonnette released his controversial book No Easy Day in 2012 – under the pen-name Mark Owen – and immediately faced the ire of the Pentagon and fellow SEALs.
In his book Bissonnette said that bin Laden was on the floor having already been shot when he and other SEALs entered his room, having been fired upon by another SEAL when he craned his head into the hall as the team approached.
Bissonnette's book claims that when he entered the room bin Laden's body was already lying at the foot of the bed, twitching and convulsing and that the SEALs, including Bissonnette shot him in the chest until he was motionless.
Because this version of events differs from the account that the White House and other U.S. officials have given, Adm. William McRaven, the head of U.S. Special Operations Command personally went back to the head of Team Six to examine the contradicting claims.
Following this, senior Pentagon officials told CNN that the conclusions they reached were that Bissonnette was wrong in his version of events.
They re-confirmed that the al-Qaeda leader was standing in his room when the SEALs entered and they shot him then, as he was able to access weapons that were already in the room.
Despite the facts that bin Laden was unarmed, the SEALS had come under heavy fire as they made their way through the house to reach him and bin Laden showed no signs of surrendering.
O'Neill first made his version of events in anonymous form, in an interview with Esquire magazine.
In that interview, published in March 2013, he said that he burst into bin Laden's bedroom, saw a gun within bin Laden's reach, and shot him in the forehead.
He was one of three SEALs – the other two being Bissonette and 'the point man', whose identity remains secret – to make it to the top floor.
O'Neill's decision to speak out was prompted by losing some of his military benefits by quitting the SEALs after 16 years rather than staying for a full 20 years of service.
But he has been heavily criticized for speaking out.
In a letter to past and present SEALs, Force Master Chief Michael. Magaraci and commander Rear Adm. Brian Losey, made it clear that the vow of silence remains one of the most important tenets of SEAL life.
'A critical tenant (sic) of our Ethos is 'I do not advertise the nature of my work, nor seek recognition for my actions.' Magaraci and Losey wrote.
The two leaders made it clear that O'Neill's decision to go public translates into shame among former SEALs, and that he could even face legal action.
'Classified information is protected by law,' they wrote.
'All members exposed to classified information have a duty obligation to protect this information, regardless of what may be reflected in the media, accurately or otherwise.
'We will actively seek judicial consequence for members who willfully violate the law, and place our Teammates, our Families, and potential future operations at risk.'
O'Neill grew up in Butte, Montana, a former copper mining boomtown that has now fallen on hard times.
O'Neill has said the basic reason he became a SEAL was a teenage romance gone wrong. At 19 he went to a Navy recruiter's office in an attempt to get over his lost love.
In total he was deployed on more than a dozen tours of duty in active combat, in four different warzones, including Iraq and Afghanistan.
Details of three of his missions have been turned into Hollywood action hits.
He was the lead jumper on the Maersk Alabama, the ship taken over by Somali pirates, whose rescue turned into the Oscar-winning movie Captain Phillips.
He helped save SEAL Marcus Luttrell, the one man who lived to tell of a failed mission to capture a Taliban leader in Afghanistan. That made it to the big screen as 'Lone Survivor.'
And then there was 'Zero Dark Thirty,' the Oscar-nominated story of bin Laden's killing.
He will speak fully of his role in that action later in November in the first part of a two-part Fox News interview.
O'Neill's father says he cannot understand the fuss. 'He is not allowed to talk, yet they are using this big bullhorn to shut him up,' he said.
'I support him in everything he is doing,' said the twice-divorced older man.
'What are you supposed to do when you come out of the military after such service – become a greeter at Walmart?'
He added: 'People are asking if we are worried that ISIS will come and get us because Rob is going public. I say I'll paint a big target on my front door and say come and get us.
© Daily Mail, London