Champika blows hot over coal
- No consignment imported in a proper manner in past 5 years -First tender awarded in 2009 using flawed procedure -Delay in unloading shipment in 2012 when thermal power was vital due to long drought
View(s):
In the last five years, the Government has failed to procure even one shipment of coal according to proper procedure and in a manner beneficial to the country, said Champika Ranawaka, Minister of Technology, Research and Atomic Energy in an interview with the Sunday Times. He also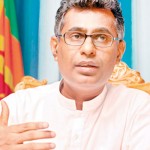 responded to allegations by Power and Energy Minister Pavithra Wanniarachchi that the Ceylon Electricity Board had sustained losses due to an irregular procurement that had occurred when he was heading that Ministry.
n When did coal purchases for the Lakvijaya Coal Power Plant begin?
The boiler of the Lakvijaya Coal Power Plant was fired in September 2010. As a result, the Ceylon Electricity Board (CEB) needed coal supplies from about May that year. A special procurement arm called the Lanka Coal Company (LCC) had been set up that I was not involved in. Its board had representatives of the CEB, Finance Ministry, the Ceylon Shipping Corporation (CSC) and Ports Authority. It was a semi-Government institution with the CEB as the major shareholder. It was chaired by Tissa Herath, an experienced engineer who was earlier CEB Additional General Manager and the project director of Lakvijaya.
The first coal tender was advertised internationally in 2009. There were four bidders—Holcim Trading (Pvt) Ltd, Senok Bhatia Coal Company Ltd, Coal of Africa and Noble Resources International (Pvt) Ltd. The tender went to Noble under dubious circumstances. It was evaluated several times using various methodologies. In my opinion, a completely flawed procedure was followed. Everything, including process, calculations, discussions, and decisions of the Technical Evaluation Committee and the Procurement Appeal Board, was questionable. Still, the contract was given and Noble International started bringing coal.
- What were the company's contractual obligations?
Noble was contracted to bring in 650,000 tons of coal per year, with a calorific value of between 5,800 and 6,200. The agreement was between LCC and Noble. In the meantime, Cabinet tasked the CSC with transporting coal. Noble agreed with CSC to bring coal to Indonesian ports on specified days. The CEB provides a schedule according to which the Corporation must unload coal at Puttalam. One of the reasons for this is that coal is unloaded to barges half a kilometre away, at sea. During the south-west monsoon, the seas are rough and there is risk of barges capsizing. The norm was that coal would not be unloaded between April 14 and September 14 due to rough seas. The Corporation knew this well. The second reason is that there must be at least a 15-day gap between ships because you need time for unloading.
- Where did the problems begin?
In 2012, it did not rain for five months and the coal power plant became essential to avoid power cuts. Two coal shipments arrived on May 1 and May 3, 2012. Shipment 16, as it was called, had on board 69,350 tons of coal; Shipment 17 had 73,000 tons. The total was around 142,000 tons. But they were able to unload just 46,796 tons from the first ship and 9,663 tons from the second. The total quantity of unloaded coal was 85,891 tons. They said it was due to inclement weather but the shipments came just when the inter-monsoon period started, and the CSC must take responsibility for this failure to unload the entire consignment in time.
Letters of Credit had already been opened by the CEB so the coal was paid for. The Corporation had an obligation to bring the supplies. The ships waited at sea, they say, for 35 days. We usually send such vessels to Trincomalee; they dock there and return when the weather improves. But the Corporation said it couldn't bear that cost. So it proposed to LCC that it would sell the two shiploads of coal and replace it with similar stocks later.
Neither I nor my ministry was informed. The Corporation did this together with LCC. In the meantime, CSC also proposed to bring in three more shiploads of coal, ostensibly to "cover up for their losses". Therefore, there would be two shiploads of 85,000 tons of coal and an additional three shiploads of 65,000 tons of coal.
A back-to-back agreement was then signed with Taurian Iron and Steel Company (Pvt) Ltd to procure the extra 65,000 tons of coal. The Power and Energy Ministry had nothing to do with this. The Shipping Corporation did not, at any time, inform me of the agreement. It is also registered in the minutes of the LCC that the CEB Chairman or Vice Chairman did not consent to this arrangement.
- What are the irregularities that your successor, Power and EnergyMinister Pavithra Wanniarachchi,told Parliament about?
In November, two shipments of coal came—numbers 18 and 19. While these were at sea, a controversy broke out saying they contained substandard coal. The Ministry had no idea what was going on. We summoned CEB and LCC officials at which I came to know of the ad hoc agreement that had been signed. I told them (LCC) not to involve our Ministry in such ad hoc business and to take full responsibility as we had not been informed. I issued a letter saying don't bring coal to Sri Lanka in this manner and that it must be procured from the supplier. I also told them not to blackmail us by manufacturing a coal shortage and insisted on getting the full 85,000 tons due to us, that we had paid for. The Shipping Corporation said they had brought the two ships and needed to unload them. They sought the AG's opinion and he instructed us to allow the shipments to be unloaded, which we did. From the first ship, 55,995 tons of coal was unloaded.
- Was the coal, in fact,substandard?
We checked the coal in Sri Lanka and found that it lacked the required calorific value. But the supplier's laboratory report showed the right value. We wrote to the Indonesian Embassy asking whether the lab was locally accredited. According to the agreement, if there was a dispute, samples would be tested in a third lab acceptable to both parties. So an Australian lab report was obtained that showed the calorific value to be low. But I must say the variation was not big. There was no problem in the burning of coal but we cannot pay the price of the better coal. There was no damage tothe power plant from burning the coal. However, the substandard coal did not produce the same energy per kilogram.
- Did the full consignmentof coal arrive?
In November, a shipment of 32,827 tons came. LCC informed me in a letter that this and earlier consignments of 55,995 tons amounted to 88,822 tons. This meant the quantity we had paid for earlier had been settled. There was no loss. But they did one more thing. The LCC wanted a payment of Rs. 450 million for this last shipment of 32,827 tons. They said they wanted to encash the usance letter of credit (deferred payment of credit) and would deliver the coal later. I said very clearly that we cannot give even a cent. We had paid for this and we cannot enter into any more ad hoc arrangements. The CEB had not made any direct financial loss at this point.
When I asked LCC Chairman for his explanation on all that had happened, his replies were not satisfactory. I told him that I am going to probe this and asked him to leave as it would hinder my investigation if he stayed. I constituted a new board and asked them to investigate. On January 29, 2013, I lost my Power and Energy portfolio. The LCC Chairman was then brought back to CEB as its Vice Chairman. In June 2013, they paid the money for the 32,827 tons of coal. I was not the Minister of Power and Energy then
Then, in June, 2013, they paid the money for the 32,837 tons of coal. The relevant document says that, "The Board, after discussion, granted concurrence to settle and to pay the usance LC as agreed upon at the meeting chaired by Secretary Ministry of Power and Energy held on May 9, 2013, at the Ministry of Power and Energy." I was not the Minister of Power and Energy. LCC Chairman had said to settle the amount for now and that he will get the coal delivered. What the Minister must do now is to ensure that the coal is delivered, not go to the CID and Parliament about it.