ISO Award for ' Swarna Solutions'
View(s):

Swarna Solutions Limited, a member of Swarnavahini and the EAP Holdings Limited was recently awarded with the ISO 9001:2008 Quality Management System Certification by SGS Lanka (Pvt) Ltd. This certification was awarded in recognition of its total compliance with the required international norms and practices.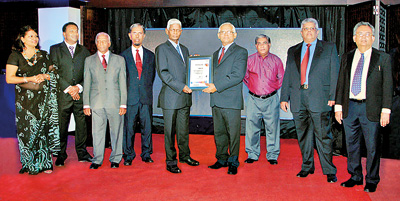 The ISO 9001:2008 Quality Management System Certification is the highest and the most recognized Quality Related Certification in the world that confers Swarna Solutions Limited with the stamp of international recognition, within one year of its operation. Swarna Solution Limited operates as a BPO which is powered by SAP, performs all back-office functions of the EAP Group. Swarna Solution Limited basically provides the following shared services to the EAP Group. Financial services, Treasury Management, Procurement & Materiel Management, Marketing, IT Services, Legal Services, HR including Payroll, Quality Assurance, Compliances & Risk Management and Project Management.
In his address Group Chairman, Mano Tittawella stated that "The ISO 9001:2008 certification received by Swarna Solutions is only the start of rolling quality service standards across the EAP Group. We look forward to further our quest for better quality and standards and look forward to having this and other relevant ISO certifications across our businesses in the near future"
Ramesh Shanmuganathan, Executive Vice President / Group CIO, John Keells Holdings PLC at a function held recently also stated that "I wish to take this opportunity to congratulate Swarna Solutions Limited on gaining ISO 9001: 2008 Certification – another feather in their cap.  It was not too long ago that we had deployed SAP's Enterprise Resource Planning – Business Suite and implemented same across the EAP Holdings Limited, ingraining world-class, best practices which included the group-wide shared service as well.
This indeed has had a very positive and significant impact in streamlining and consolidating their processes across the Group which has helped them to realize a greater degree of effectiveness and efficiency across the group of companies and leading to gaining the ISO9000:2008 Certification. I am sure that this will hold Swarna Solutions Limited and the EAP Holdings Limited in good stead and wish them well in their future endeavours".
Furthermore, with this ISO 9001:2008 Quality Management System Certification Swarna Solutions Limited will be able to provide further confidence to their customers and stakeholders.