Cooking something different!
By Smriti Daniel
She has no set menu, but Yashasvi Kannangara with her Travelling Food Tuk will deliver a range of delectables to suit any palate
View(s):
Yashasvi Kannangara's title on Facebook now reads: Foodie/Chef, Self-Employed. Yashasvi used to be a journalist before she gave up reporting for her dream job – chef and baker extraodinaire. Now, she sells her signature chocolate cake through her Facebook page Chocolicious and delivers delicious lunches across the city via the Travelling Food Tuk. She even teaches cooking on weekends, walking batches of students through the mysteries of all things culinary in her small kitchen.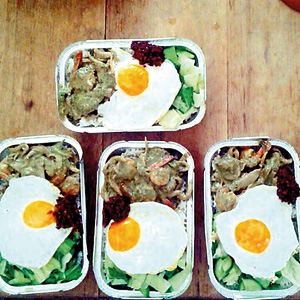 Yashasvi is a big fan of bold flavours, and she's enjoying the chance to experiment with colour and texture. Working out of her own home, she's cooking up things like crispy lettuce wraps with 'honey-ed' spicy chicken and noodles served with a dressing of soya sauce, fish sauce, chives and ginger. There's no rice and curry here, instead it's all about the coriander chilli fish curry with cucumber and beetroot raita and a fried boiled egg served with mustard and fried onion rice.
There's her sandwich range which includes unusual offerings like roast chicken, rocket and turmeric aioli on brown bread and dishes designed to please vegetarians like the pesto pasta made fresh from scratch with basil, garlic, olive oil and cashew nuts. On average, prices range from about Rs.380 for the sandwiches to Rs.700 for the pastas. Place your order by 4 p.m if you want lunch the next day, and she'll throw in delivery for free to any location in Colombo 3, 7, Borella, Rajagiriya and Etul Kotte.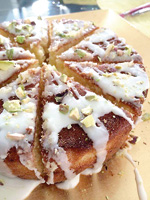 The young entrepreneur says the difference between working for herself and working for somebody else boils down a feeling – she never has to convince herself to get out of bed anymore, work is the most fun she can imagine having. "I don't think I regret leaving corporate life at all," she says. Still, she finds herself eyeing her mounting bills nervously.When she was still toying with the idea of leaving her job to do this full time she remembers telling her husband, 'You're the one who's going to get affected by it.'"The family runs on both our incomes," she says now, explaining that it took his support for her to make her leap of faith.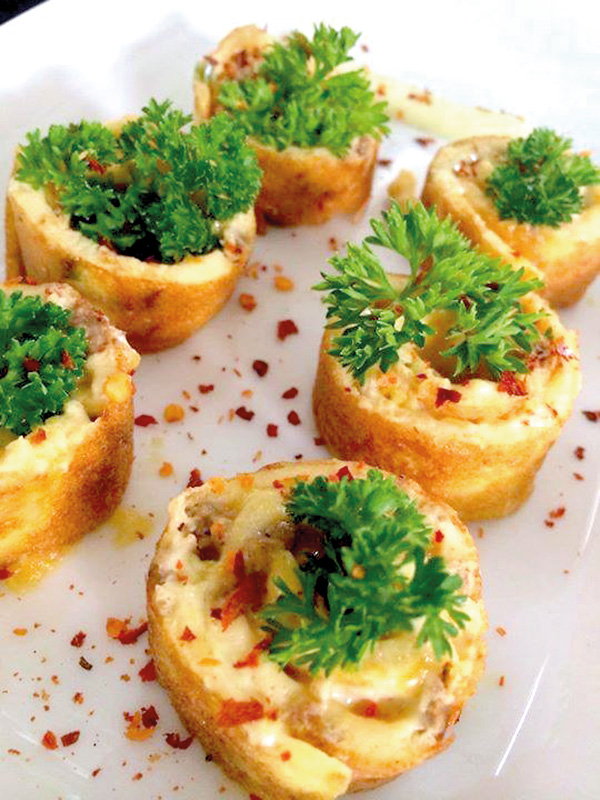 Having decided right at the outset that she wanted to use only the best quality ingredients, in essence to never replace butter with margarine, she's had to dig deep. She's also wanted to ensure her menu stays interesting and varied. She shops for ingredients every single day and says that this approach to fresh, good local produce means there's something new every week. She keeps her bakery humming with orders for her home-style cakes – though her menu includes everything from pavlovas to brownies and cupcakes, a favourite is a rich chocolate cake that she keeps moist for days with a secret ingredient.
Luckily, she still does a spot of writing and has discovered a talent for food photography. She stages her delectable pictures with an eye gained from studying interior design and an appreciation for vibrancy and contrast. When we meet, Yashasvi also talks about the process she goes through to develop her own recipes. It's a big step up from the time when she first began cooking. As someone who had just left school and was looking at living on her own, she found that eating out regularly was far too expensive a habit to cultivate. Instead, she started teaching herself at home.
She brings some of those early lessons to her own classes, teaching newbies how to produce appetizers, handle seafood and chicken, cook for vegetarians, create pasta sauces and biryanis and bake simple cakes. Her goal by the end is to have them be able to produce a four course meal. With her classes, she also emphasises that presentation is key because she believes we eat with our eyes as much as we do with our mouths.
With the Travelling Food Tuk just a few weeks old, Yashasvi is still figuring out her business model, but this an exciting time for her. "I want to explore my boundaries in terms of food," she says, "I still don't know what people are looking for." She knows what she'd like to eat though – "delicious homemade food, that uses ingredients you might expect to be served at a high end restaurant." Right now, she doesn't know what she will be serving from one week to the next, but that suits her fine. "That's why I don't want to have menus. I just don't want to limit myself," she says.