British comedy with Lankan touch
'Sadaya Maarai Salli Hamarai''
View(s):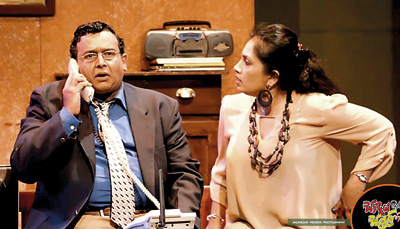 'Sadaya Maarai Salli Hamarai' (While the cash flowed, the party was perfect!) the Sinhala adaptation of British playwright Ray Cooney's 'Funny Money', directed by Dharmapriya Dias will go on the boards at 6.30 pm on November 7 at St Joseph's College, Maradana, Colombo10.
A story revolves around a Sri Lankan couple living in England for the past 30 years. Having undergone many hardships while helping family and friends (Mr. and Mrs. Fernando), an unbelievable fortune unexpectedly falls on to their lap. How much money affects and shapes lives of common folk is revealed through this drama.
The play stars Gihan Fernando, Jayani Senanayake, Giriraj Kaushalya, Anuradha Perera , Dayadewa Edirisinghe, Premjayantha Kapuge, Aloka Sampath and Anuradha Mallawaarachchi.
Translated by Saman Pushpa Liyanage, stagelighting is by Ranga Samarakone and Set designing by Wasantha Ratnayake and Dharmapriya Dias. Stage manager is Aruna Jayasena and costume designer is Gihan Fernando. Make up by Prem Jayantha Kapuge, music by Ruwan Walpola, and the play is produced by Priyankara De Silva.