Extreme adventure with a touch of luxury
Geoffrey Kent, founder of leading travel firm Abercrombie & Kent, talks to Duvindi Illankoon
View(s):
Geoffrey Kent's parents were on safari in Zambia when he was born. It was a suitably exotic and adventurous beginning to the life of a man who, at 72, shows no signs of slowing down.
Kent is the Founder, Chairman and Chief Executive Officer of the Abercrombie & Kent Group, one of the world's top luxury travel agents. These days what excites him is his private jet, and the seaplane that he plans to travel around Sri Lanka in. "We're going to see the whales tomorrow," he enthuses. His knees are sore from climbing Sigiriya that morning but it was fully worth it. "I was amazed," he says simply, gleefully adding that he took a picture with "the ladies on the wall", pointing us in the direction of his Instagram account.
Kent is in Sri Lanka with a group of 50, each of whom have paid a significant amount to travel off the beaten track with him on what he likes to call 'extreme adventure'. "When I suggested it the people at the company were all, 'are you crazy?'" he laughs. "They said it would never sell. Fifteen days. That was all it took for this to be sold out." They took off from Miami, spending three days in the Amazon and then in Easter Island took pictures with the moai, but also made time for horseback riding, and a beautiful village ceremony. In Samoa, where R.L. Stevenson spent his days, it was snorkelling and then on to Papua New Guinea.
This is his first proper visit to Sri Lanka but a much awaited one, especially with the establishment of a local base (Abercrombie & Kent Sri Lanka) last year. "I've been dying to come to Sri Lanka for ages," he shares. "Ceylon tea was something my grandmother spoke very highly of." Is the island living up to his expectations? "Based on what I've seen so far, definitely," he says.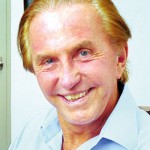 Kent grew up with his parents Valerie and Colonel John Kent in the Aberdare Highlands of colonial Kenya. They owned a thriving farm, and his formative years in the 40's were spent exploring the highlands, wandering forests "full of leopards and monkeys", milking cows, and avoiding the snakes. At 14 he was sent off to boarding school – the Duke of York School in Nairobi. "My father had my life mapped out for me," he remembers. "I was to go to Oxford, then join the Royal Dutch Shell Company."
Young Geoffrey, however, had other plans. At 16 he took on the entrepreneurial challenge of making something useful of elephant tails- elephant hair bracelets!
It was also at this point that he was summarily ordered to leave school and undertook a 3000 mile expedition on his motorbike (a 250cc Daimler Puch he still remembers with starry eyes). He arrived at Cape Town, and then promptly sold his story to a local newspaper. His father then took him to the Mumbai Club and gave him brochures that depicted armoured cars, shooting rifles and polo. Kent was thrilled-"I said 'I want to go here' and my father said 'oh, you'll love it' and next thing I know I had signed up for the Royal Military College in Sandhurst."
His Army postings saw him in many places, including Bahrain, Aden, Oman, Yemen, Cyprus, Libya and Malta. In 1962 his family's farms in Kenya were taken away with the impending end of British rule. With his parents he started Abercrombie & Kent, introducing the concept of luxury safaris and experiential travel to the world. Abercrombie & Kent expanded to set up offices in London and Chicago and in the late 70's won a huge contract with British Airways which changed the scope of his business.
Today the firm has 50 offices worldwide, including in Sri Lanka –the local operation headed by Afghar Mohideen. Kent sees great potential for high end tourism here- in fact, he believes that Sri Lanka must shift its attention away from numbers and towards quality. "Mass tourism drains resources," he says. "The impact on the environment and culture is too much, especially for a small island like this. You've got to have high yield, low impact tourism-smaller numbers bringing in high income."
Their next destination is Madagascar, and then Kent will fly home to Monaco where he has lived for the last eight years with his wife. He hopes to be back in Sri Lanka, "a country that has everything". He ends the interview with an 'Ayubowan'-"that means long life, good health and happiness, doesn't it? That's such a fitting word for this country." Perhaps a fitting word for Geoffrey Kent too.