Reducing neonatal mortality through hand-washing
View(s):

Marking Global Handwashing Day, Unilever Sri Lanka and the Ministry of Health launched a programme to encourage handwashing with soap in the estate sector of the country on Thursday. This behavioural change programme is designed to reduce neonatal mortality within vulnerable communities by encouraging mothers to adopt the habit of washing hands with soap as a simple, effective, and affordable practice to prevent the risk of infections amongst newborns.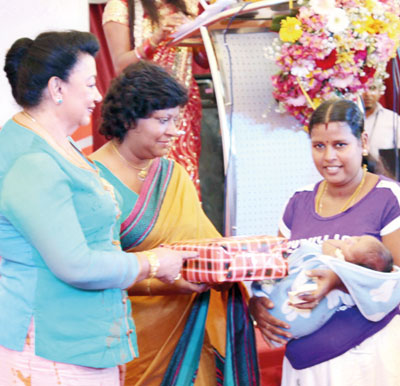 First Lady Shiranthi Rajapaksa, ceremonially launched the programme in the Eladuwa Estate in Dogangoda, Mathugama. This programme aims to reach millions of Sri Lankan mothers, carrying the message of handwashing with soap within the estate sector, to reduce the risk of newborns contracting preventable infections such as pneumonia and diarrhoea.
Director General Health, Dr. Palitha Mahipala, commenting on the programme said, "The Government of Sri Lanka spends more on health sector development in comparison to other South Asian countries. The health sector in Sri Lanka has improved rapidly due to the initiatives taken by the Ministry by way of public health programmes, health education, and investments in health equipment. Ensuring a healthy society is not only the Government's responsibility. As responsible corporate citizens, the private sector can also make a big difference. In this context, we are happy to see the interest shown by Unilever in this public-private partnership."
Unilever's commitment to inculcate improved hygiene habits in Sri Lanka, Country Marketing Director, Siddharth Banerjee, said "It is distressing to know that a large number of newborn infants across the world die from preventable infections every year. We are proud to be working in collaboration with the Ministry of Health to create awareness about the importance of hand hygiene."