Magical melody of Sunil Santha
Sasanka Nanayakkara looks back on the eve of a concert in memory of Sunil Santha on Oct 25 at the Nelum Pokona
View(s):
"Mihikatha nalawala…..maga mal ganwala"
A gem of a song draws music-lovers of two generations together
This is 2014 and the original song was recorded way back in the 50s by maestro Sunil Santha, well over 60 years ago. Why is it still so magical? Is it the pristine voice or Hubert Dissanayake's flowery lyrics describing a Ceylon lost? Could it be the flowing melody backed by minimal instrumentation that evokes memories of a bygone era? Summing up, could a divine hand exist behind the creation?
These are the reactions aired by a modern-day music lover and musician in his own right.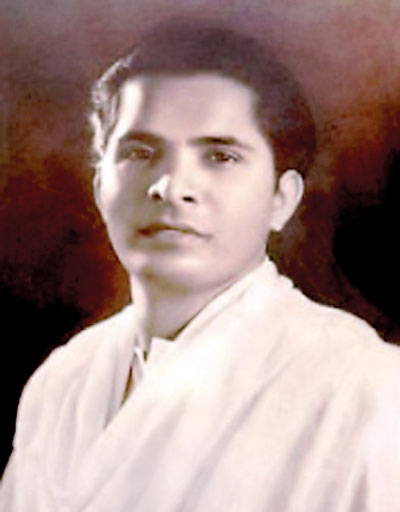 "Have you heard the electric guitar in Sinhala songs before this was recorded?" the keen youngster asks. He knows the song and had pounded the lilting melody on the piano when he was only a child. That was before he and his family took wing to the West.
"Not to my knowledge. I believe it was late Patrick Denipitiya who introduced the electric guitar and the slide guitar to our music. I would be least surprised if he is the one Sunil used for this particular recording. I think it was the very first occasion the Ceylonese heard such a combination of Eastern and Western instruments in an arrangement" I answer drawing from memory.
"This note structure baffles me to the limit, uncle. It is more akin to a Western chord structure than Eastern but I believe it is because it has a lovely 4/4 beat to it. Yet it gives you a rather unusual sense of lightheartedness as if it is an unbound melody soaring in the air. With my limited knowledge in music, I am afraid I can neither label it nor name its genre to any perfection," he goes on.
"It's true. Some learned fellows have told me the same thing. Even the lyrics have an edge and give sort of an eternal feel to it. I mean the song has failed to age," I draw parallels.
"I suppose you must be in a better position to visualise the landscape in the picture since you had seen it all in a different era," he says.
"Of course son and I feel sad that we have lost most of it now, yes, with that remarkable melody Sunil instilled life into Hubert's depiction of unspoiled rural landscape of Ceylon then and drew a fine portrait of a gorgeous school-teacher in the middle of it. He mesmeris ed us with her blooming beauty! The visual of that sweetness I had as a teenager had hardly changed over the years."
"Oh! Uncle, I vaguely remember how happy you were when I played the tune as a child. My mother used to tell me what a Sunil Santha fan you had been in your youth," he smiles.
"Yes, the song always reminds me of my own childhood, the rural south I grew up in, my parents and of course your late mother. Though the melody is a flowing cheerful one what it evokes makes me profoundly sad. It had been the case from day one and it is something I find difficult to understand. But there is one thing common about both of them son, I mean the creator duo of Sunil and Hubert; they were both devout Catholics. "
"Yes, the chord structure has a link to the West for sure but the melody is very Sinhalese and it has distinct traces of not only your tradition but the folk aspect as well. To add to its immortality the pronunciation of Sinhala words are at its best. As I said earlier it is very unique as a creation and perhaps a piece of art that defined Sri Lankan music." he clarifies.
"The only way to pay tribute to that silvery voice is to carry it on the way I did with you; from one generation to another…….." I muse.