Appreciations
View(s):

Ben Eliyathamby P.C.

The end of an exemplary life of an intellectual giant

The recent death of legal luminary, and member of the Royal College cricket team of 1957, Benedict Trevor Eliyathamby P.C., marked the third member of that unbeaten side, to pass on to the Great Beyond, and considered probably as the most outstanding fielder in the team.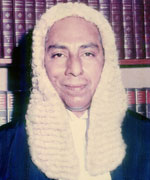 Of course everybody referred to him as Ben, most being not aware of his second name of Trevor! In fact, I had to check this out the other day from his lovely wife Mary, the lady with the lilting laughter waiting for the least opportunity to break into one! She was Ben's bulwark and his marriage brought about yet another dimension to Ben's illustrious life. Mary kept a fabulous garden at "Mentmore", their home at Fifth Lane, a mere stone's throw from Royal College. This was not all. After we had left College, along with Ben, she acted as gracious host at the annual get-together dinner to the class of 1951 at the same venue. This was an occasion when spirituous consumption resulted in decorum being the least of our worries as bawdy and raucous singing led by the likes of 'JC' and 'NDJ' rent the otherwise peaceful night air. Yet we made it all up at the end by religiously singing the school song, a case of an ascent from the ridiculous to the sublime!
Having a recent look at the official cricket team photograph of 1957 I was perturbed to observe that, portentously, Ben was standing on my left while seated in front of me was late Patrick Poulier. A reminder perhaps that my time is nigh? And, proving yet again the eternal truth that life, inter alia, is ephemeral and death awaits us not at our convenience. Ben passed away aged 74 years.
From the tender age of our pre-teen days, when both of us entered Royal College in 1951, Ben was always regarded a model student. Naturally, the apple of the eyes of our teachers, he repeatedly reached the top of the class in every examination. His keen intellect could have enabled him to follow any professional career and reach the top of that particular vocation or calling. However, he chose the legal profession and was much sought after, especially, by the well-established institutions of the country for legal succour, a responsibility he discharged to the entire satisfaction of his clients. Integrity and dignity were his watchwords whether professionally or otherwise. Indeed, referring to Ben as an honourable lawyer smack of an oxymoron! As much as he was a model student at school, he became a prototype of what a proper professional should be in the courts of law. Ben pursued his law career in England and joined the prestigious Gray's Inn and qualified for the English Bar before returning home. This was an institution adorned by such brilliant predecessors, notably F.E.Smith, who added yet another feather to his cap by successfully defending Ethel le Neve, mistress of the notorious 'Dr Crippen' against a charge of murder, and eventually reached the high office of Lord Chancellor as well. However, unlike the Bohemian Smith, Ben led an abstemious life right up to his end.
Unfortunately they do not 'make' them like him anymore and somebody has gone and broken the mould as well. Ben leaves behind wife Mary, their eldest son Deepal, followed by Niresh and daughter Maneshka. May his travails in Samsara be devoid of much suffering and his travels eventually short.
Mahinda Wijesinghe
C.M.B. BOGOLLAGAMA
Our lives won't be the same  without his gentle presence
It is difficult and an ongoing trauma to deal with the loss of one who has been there for me throughout my life. It was long before he became my much loved father-in-law, that I had the privilege of getting to know and in the process, growing to love and respect the late C.M.B. Bogollogama. He was a close friend of my late father; both hailed from Kurunegala, were active members of the YMBA and staunch supporters of the UNP, particularly of the then leader, the late Dudley Senanayake, whose photograph had pride of place in both their homes till they died.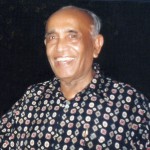 On October 16, it was just three months that he bade his last farewell to us all leaving a void that can never be filled. His loyalty to the UNP was such that he remained faithful to the party all his life and gave all its leaders his utmost support and strength, never shifting in his loyalty through both defeat and victory. His closest friends were the late N.M. Appuhamy who was an UNP Senator and the late D.B. Welagedera, a former UNP MP for Kurunegalla. Another close friend was Tissa Ballalle, the present Governor of the North Western Province. As a schoolgirl, I recall the many occasions and events, including danes, lunches and dinners at which I was honoured to meet these distinguished personalities. Even after the demise of the former senator and MP, our friendship and his with their children have continued through the passage of time.
There are several qualities about my late father-in-law that will always remain as cherished memories. He was a man who never lost his temper, was calm and cool through sadness and traumatic situations. He was a balanced, patient and kind man, reaching out to those from all walks of life in thoughtful generosity. He had time for everyone irrespective of their roles in life and was a commanding presence at all weddings, funerals and other important events in the life of the village, he lived in with pride. He was very proud of his village roots and never moved away from it or lost his head with the several important positions he was honoured with in his life. He did a lot for both Narammala and Nikaweratiya. He built a children's ward and a dental clinic for the Narammala Hospital in his wife's memory.
In retrospect, I recall two occasions which have remained as heartwarming memories. One was when, long before I married his son Janaka,I opened my beauty salon in Kurunegala in 1970. He and his wife were among the few honoured invitees, together with the late Bishop Lakshman Wickremesinghe. They were the cynosure of all eyes as a most distinguished and good-looking couple. Just a few years ago, he was honoured by the Bar Association for his fifty years at the Bar. He insisted that my elder daughter, Sujani, should accompany him at the award ceremony, and insisted that she wear the Kandyan saree and her hair in the traditional konde.
My late husband Janaka and he were close friends as well as being father and son and were each other's close confidantes. Janaka would never fail to visit his parents and later on his father as a widower, once a week. Right through our married life, my father-in-law would bring us a pot of curd whenever he came to Kurunegala and this habit continued even after Janaka's sad demise a few years ago. After my husband's death my father-in-law was both guide, friend and a pillar of strength to me and I had him to turn to; he always lent me a patient ear.
He held many important positions, he was Chairman of the Lotteries Board during the late Dudley Senanayake's tenure of office, Chairman of the Narammala UC, Director of the People's Bank, Chairman of the Sri Lanka Co-operative Society. The thousands who paid their respects to him in death were proof of the respect and love that people had for him. The President, the Leader of the Opposition and the Chief Justice all paid their respects to him in death.
Life for me and my children will never be the same without this most revered and gentle presence in our lives. He would always treat me as a daughter and not a daughter-in-law. I'm thankful to God that I was able to be there for him through both good times and bad.
-Sunetra Bogollagama
SATHIWEL  SOCKALINGAM
Memories of Zambia and much more
I first came to know Sockalingam (Socka) in 1974 when I lived in Kollupitiya at Edward Lane. He lived in an apartment in a house next to ours. At that time he worked at Walkers as the Chief Internal Auditor. I did not move closely with him at that time but both of us knew that each other were Chartered Accountants.
As time went by we used to greet each other while going to work or returning from work. Gradually we used to have longer chats during weekends when we had a bit of free time. He was philosophical and religious and was proud of his Bachelor of Science degree from the University of Colombo. I had only managed to pass my A/Levels. He considered me very playful and advised me to finish my CIMA of which I had three parts (ICWA at that time). Every time he caught me on the road dressed up and going for a cricket or rugby match or a movie he asked me whether I had applied to sit for the ICWA part 4 exam. I regarded him as an elder brother.
Then he suddenly disappeared and I heard that he was in Zambia. He got married in Zambia to a lady from Jaffna whom he had met in Colombo while working. In Zambia he worked for Lever Brothers as the Works Accountant. As fate would have it I married in 1979 and succeeded in getting a job in Zambia and was posted to Lever Brothers to work as the Financial Accountant under him. As soon as my wife and I met him in Zambia he recalled the time we knew each other in Colombo and imagine my shock when he asked me whether I had completed my ICWA!!!
He helped me to get good accommodation and briefed me well on my financial duties as well as Zambian culture. There were strict deadlines at work and whenever we were running late he set an example by working late himself. The cost of refreshments and meals during these late hours were almost always borne by Socka. He made it a habit to apologise to my wife for the late hours that we worked.
Outside of working hours he was a very happy- go-lucky person and he and his wife used to have lavish parties at their residence to which my wife and I were always invited. The Zambian staff at Lever Brothers used to literally worship him because he fought for their rights and always inquired as to how their families were doing. He put his skills as a debater to good use for the welfare of his staff. Socka was a trouble-shooter par excellence. Disputes arising within the Sri Lankan community in Zambia were referred to him for a speedy resolution.
In Zambia in the early 80s, securing a bigger and better job was through word of mouth and personal recommendations. No paper advertisements were placed for senior positions in Finance. Socka's accounting and communication skills were well known and before long he was offered a plum job at the UK subsidiary of a steel refinery as its Finance Director, the first non-white to hold that post hitherto held by Englishmen. We parted ways but still met each other socially as we were still on the Zambian copper belt.
When I moved to Lusaka in 1989 our phone calls and meetings were few and far between and then I heard that he had decided to return to our motherland. I heard he had become the first Technical Director of the Institute which I thought was ideal for him and would bring out the best in him.
In 2005 when I lost my dear wife Socka and his wife were one of the first to visit and offer condolences. Not only that, thereafter when I returned to Sri Lanka in 2007 he and his wife regularly phoned me to check as to how I was getting along. His concern for others was unmatched and I have never heard him utter a derogatory or profane word. Race, caste, creed, religion or colour did not matter to him and he regarded everyone as human beings.
He introduced me to Toastmasters at ICASL in 2007 and I became VP –Education when he was President. I remember how he used to advise me in the drawing up of Agendas and he had a good laugh when I was confused about "ah counters", "timers", "Round Robin" and "Table Topics". He mooted the idea of having a good Installation ceremony befitting the status of the Institute and convinced TM Shirley to have a grand ceremony which we have followed now for five years. He set the ball rolling by offering his advice on how to conduct the ceremony and was the first Chairman of the Organising Committee and thereafter an adviser. Whenever I protested that he was burdening me with too much work on the Installation he would say, "Razik, we must help them, they are young people and need our guidance."
It seems strangely appropriate that he passed away after a very successful ceremony without inconveniencing anybody. I am sure he is smiling down on us. His wife told me that he had resolved 90% of the property disputes they had before his demise.
" Goodbye Socka, at the setting of the sun and in the morning we shall remember you."
May his soul rest in peace.
-Razik Mohamed