A dramatic journey through banned books
View(s):

The library at the British Council has been left open after hours for a photo shoot. Actors cluster around tables near the entrance, debating their choice of costume and using a dark window as a makeshift mirror while they apply make-up.

All the lights are on – illuminating the rows of bookshelves and the listening corner, a nook for the children's section and another devoted to magazines. When the actors move, their bodies are segmented by shelves. With a few steps they move from an adult world into one designated suitable for children; from the space dedicated to a reader already immersed in a language to the seat of a learner. It's all these sharp juxtapositions that make this a very nice library, but an even more interesting performance space.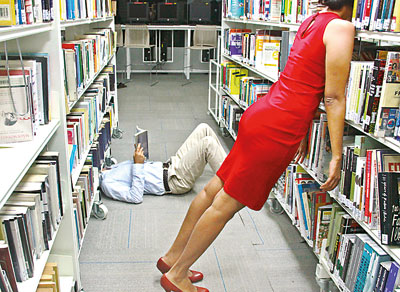 The Floating Space Theatre Company has an affection for unusual, intimate venues, and an interest in creating unique productions that arise from and respond to their surroundings. Now, this large room is to host 'OverWrite,' billed as 'a performed journey through books, exploring challenged literature, bodies, memories and lives.'
Floating Space co-founder and Director of this production, Ruhanie Perera explains that she and Sanjana Hattotuwa, founder and curator of the citizen journalism website Groundviews, conceptualised the production together. They began with a focus on banned books, but were soon interested in the contexts of the banning – what did one era consider obscene or another see as a politically inflammatory piece of writing? How did that change depending on who was in power and where and when it was happening?
It was clear, the banning of these books represented quite directly a rejection of certain lives, memories and spaces, a conflict of context and a challenge to free thought, but the group is equally interested in books that subverted censorship and slipped through the cracks. "It starts with the banned book but then it gets bigger," says Ruhanie, and as if the frame zooms out we can see the political context, the effect of time passing, of landscapes shifting, of memories in conflict.
Audiences can thus expect a particular emphasis on Sri Lankan and regional post-colonial literature (expect writing inspired by The Partition to be included) and in a nod to its collaboration with the British Council, the production will also draw from books in this library.
"There are the obvious choices," says Ruhanie, selecting Salman Rushdie's 'Satanic Verses' as an example but then they weren't particularly interested in the obvious, instead they're approaching writing as "challenged literature." 'Shame' by the same author, for example, provided them with an alternate entry point into a reading that still raised questions of censorship. "Thus, literature, or writers, speaking for times of political upheaval or complexity has become an interesting thread that we've followed," says Ruhanie. "We've also looked at writing that can be considered dangerous; writing that has endangered people."
'OverWrite' will also wade into the sometimes murky waters of children's literature.Walking through the cheerful children's section at the BC library Ruhanie talks about 'Tango Makes Three' – a children's book that was banned on the basis of the two parent penguins in the story being same sex parents. "In some instances the book has been brought back into libraries and bookshops in the 'adult' fiction sections," she says, asking, "What are the adult fears that govern these spaces of fantasy?" (Even the classics weren't always spared: 'Alice in Wonderland' was banned in some countries for anthropomorphism – for the writing of humans and animals with the same complexity.) "The child's space in 'OverWrite' is a space of the speaking of things unspoken, the space of retelling, the space of play. In this sense, we draw on the texts and contexts of banning, to create a new story and reimagine a functional space in the library."
The 50-minute performance will entail some light walking, and with no reserved seating, audiences are encouraged to create their own journey – to make choices as they sit, stand and navigate this space.Though this will not be the first time Floating Space are making adventurous and creatively demanding choices in their staging, Ruhanie says each time still feels like going out on a limb – "one is always concerned about your relationship with the audience," she admits.
-S.D.
About the show
OverWrite will be performed at the British Council Library on October 25, 26 and 27, with up to three shows running daily starting at 6.30 p.m. (*Monday night's first performance starts at 7p.m., with a special post show discussion scheduled for 9 p.m. after the final performance for the evening. Anyone interested is welcome.)The readings will also draw from work that can be considered 'adult literature.'
Directed by Ruhanie Perera and conceptualised by Ruhanie Perera and Sanjana Hattotuwa, Overwrite is performed by Jake Oorloff, Tracy Jayasinghe, Venuri Perera, Ashini Fernando, Tehani Chitty, Dino Corera, Thanuja Jayawardene and Jay Kuru-Utumpala.
Tickets priced at Rs 800 are available at the British Council (Monday – Friday 9.30 a.m. to 4.30 p.m. at the Arts Unit and weekends 10 a.m. – 4p.m. at the Library).