Yala re-opens for 6 hours daily following some rains
By Chathuri Dissanaike
View(s):
Yala National Park is now opened for safari for six hours every day following sporadic showers in the area during the past weeks, Wildlife Department Director General H. D. Ratnayake said.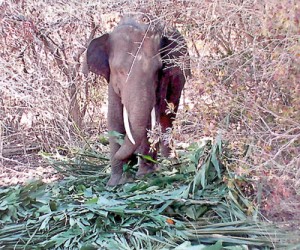 Although the water levels in tanks and water holes in the park are not up to desired levels, the situation in the park has improved after the rains, "We have to look into both aspects. If we keep the park closed any longer the tourism industry will suffer, but we have to consider the welfare of the animals as well, and that is why we keep the park closed after midday," he claimed.
The Wildlife Department will monitor the progress before making the park available for the entire day.
Yala sanctuary is one of the most popular destinations for both local and foreign tourists and tour operators promote it widely. However when the park was experiencing an extended period of drought with all tanks running dry and animals dying, hardly anyone from the
tourism industry contributed to improve the situation.
The Tour Operators Association of Sri Lanka which had its annual general meeting at one of the luxury hotels in Yala two weeks ago said that its members resumed tours to Yala this week.
Association President Mahen Kariyawasam claimed that as there were many people who had come forward with assistance to improve the situation in the park its members focused on delivering aid to communities which were affected by the drought in Polonnaruwa and Anuradapura. However it was only Ven. Mataba Hemarathana Thera, the chief priest of the Sithulpawwa temple, who took the initiative to fill waterholes and set up new feeding points to help the wild animals, when the Wildlife Department was slow to act. According to him, only private individuals and village organisations across the country came forward to help.