PHI's wife (28) of 2 months dies of dengue
By Nadia Fazlulhaq
View(s):
A 28-year-old wife of a Public Health Inspector (PHI) attached to the Colombo Municipal Council's (CMC) Public Health Department (PHD),
died of Dengue on Thursday.
Surrounded by abandoned toilets and buildings in Kotehena, the newly married couple had been residing in staff quarters belonging to the CMC's PHD.
Chathurika Wimansani died from Dengue Haemorrhagic Fever (DHF), a severe form of dengue fever. DHF is characterized by high continuous fever for less than seven days; bleeding from various parts of the body (including nose, mouth and gums or skin bruising); severe continuous abdominal pain, mainly due to enlarged liver and shock, in severe cases.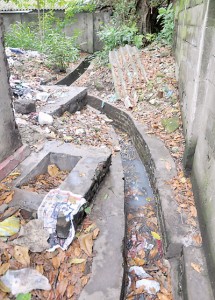 Her husband, who wished to remain anonymous, said that they suspected it to be viral fever and obtained treatment after three days.
"As I had virus fever, a few days before she fell ill, we assumed she too had the same fever. But, as the fever, headache and body ache continued, we took her to a private medical practitioner who advised she be taken to the National Hospital," he said.
When her condition worsened, she was rushed to the Infectious Diseases Hospital (IDH)'s Intensive Care Unit.
The Sunday Times learns that the private medical practitioner who failed to diagnose it as dengue, had not recommended an immediate full blood count, despite three days of fever, and prescribed Ponston (Mefenamic Acid), an anti-flammatory pain killer.
Though she had fallen sick on October 9, she was admitted to the National Hospital in Colombo, on October 12 and immediately rushed to the IDH's specialised ICU. Just two months after marriage, she died on October 14, due to severe complications.
CMC's Chief Medical Officer, Dr Ruwan Wijeyamuni, said all CMC buildings are to be inspected and notice issued if unclean. Similarly, action will be taken against owners of abandoned buildings.