Unveiling YES Home Grown Sessions
View(s):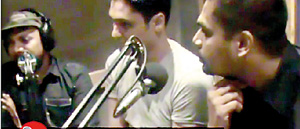 'YES Home Grown', a talent search organised by the YES FM was a total success story last year. Over the years, there has been a rise in local artistes making not just good music, but great English music that has won hearts of over thousands. 
This year in an attempt to introduce, elevate and recognize, YES101 and 100.8 will host 'The YES Home Grown Sessions', an acoustic evening on the 25th of October at the 'Stables at Park Street Mews' from 7.00 pm onwards. Some of the most promising and in the scene artists will be showcasing their original and unique takes.
'The YES Home Grown Sessions' will bring together the names that have made it onto the weekly chart, 'The YES Home Grown Top 15' which airs every Thursday, 8.00pm onwards hosted by Yazmin Yousuf.
'The Rebels', Senani, Huzni, Imaad Majeed, Akram, Nathan Eardly, 'Wagon Park', Shey, Noctua, 'Nishan Daniel & Gehan Samuel', 'Toc Toc Baya & Chris Isacc', 'Adagio Choralle', Larry T Hill Sheaam Deen, Shamistha de Silva, 'The Herb and the Remedy' and 'Elephant Foot' will be showcased at the 'The YES Home Grown Sessions'.
'The YES Home Grown Sessions' is an open invitation to all who love and support original local music. Call the YES101 hotline 115 937 101 for your chance to experience the sub culture.  For more details, log onto www.yesfmonline.com or facebook.com/yesfmsrilanka and on Twitter @YES101SriLanka