Murder On The Orient Express- Dinner Theatre at MLH
View(s):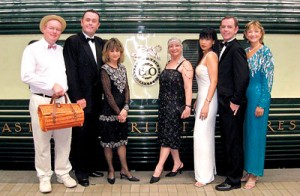 The event will take place on Saturday 29th November at The Empire Ballroom, Mount Lavinia Hotel. The colonial style hotel with its old world charm makes it the perfect setting for this 1920s based dinner theatre – Murder on the Orient Express.
Latika Alok, producer for Colombo VIP Night said "This is a dinner theatre with a difference as it is interactive. The evening offers a unique form of entertainment where the guests are invited to solve the murder by piecing together evidence from a Clue Pack provided and also by interrogating the suspects as they visit their tables during dinner".
It all begins with cocktails, when the guests will be part of the crime scene and action whilst being transported to a world of Royalty, spies, traitors and political intrigue. As you wine and dine, the murder mystery unfolds in the course of the evening. The strangest characters played by experienced overseas actors, are stabbed, shot or poisoned in the most entertaining way. Guests will be greeted to a bubbly reception, hosted by Grape Expectations – Favourite International , followed by a formal sit down Malt-infused pairing Dinner with a liberal portion of intrigue, spiced with jealousy and greed and of course topped with MURDER!
As the theme is 1920s, do take the opportunity to dress up and stand a chance to win a prize for the best dressed couple. Table prizes for the most entertaining solutions will be given. A special drawing room will be created for after dinner beverages to continue the festivities until the early hours including dancing with a live DJ. This evening of intrigue and laughter promises to be a night to remember. This entire mystery is available at just Rs. 8,000 per person.
Exclusive Door Gift provided by TRUNK for each VIP Lady. The official airline for the event is Sri Lankan Airlines.