Magical music from 'Magic Box Mixup'
View(s):

The popular band 'Magic Box Mixup' is on our cover this week for the very first time. The six member outfit comes alive at the 'Long Bar' at Water's Edge on a Friday night and at the Qbaa on Saturday night.
Starting off as a concert band in 2005, playing mainly at school events, then winning the People's Choice Award and Best Musician for founder Shaun Perera at TNL Onstage in 2006, this group has rapidly gained popularity and is now one of the frontrunners in the English music industry in Sri Lanka.
So what about this unusual name 'Magic Box Mixup'? Well, it all started during an episode of the well-loved comedy 'Friends' when Phoebe sang a song called 'Magician's Box Mix-up'. Shaun was so taken with the name that he decided this would be the name he would give his (yet to be formed) band, albeit with a slight alteration. What is interesting is that as the band evolved the name started to make sense, reflecting both the profile and make-up of the group.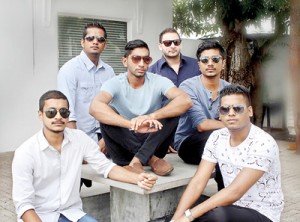 To begin with, the six musicians hail from various backgrounds and do very different day jobs. Shamin de Silva, the band's leader and guitarist, is an Audio Engineer at Dynamic AV Technologies, while vocalist Shaun Perera is a Sports Teacher at Elizabeth Moir School. Working as a Software Quality Control Engineer at Millennium IT is bass guitarist Justice Gnanamuttu, while Drummer Robert Jayatunge is a Director at a BTL advertising company. Guitarist Shivane Wickramasekera is an Art Director at Thompson Associates. The only full-time musician in the group is percussionist Guyrika Weerasinghe, who is also an event management consultant.
Matching this 'mix-up' of musicians is a melodic mix-up of music. Theirs is a set-list that dips into a range of musical genres including pop, adult contemporary, alternative, rock, funk, soul and dance. It is a mix of popular hits and personal favourites.
'We play anything from Imagine Dragons to Jackson Five' said Shaun
Anyone who has heard Magic Box Mix-up knows that they are not your regular run-of-the-mill club/lounge band. While they do specialise in covers, each song is given that special MBM touch. Being one of the few bands in Sri Lanka with only guitars as rhythm instruments and no keyboards, theirs is a raw and natural sound. They also welcome other musicians who are in the audience to jam with them, adding an element of surprise to their performances.
Having released one original, 'Here I Go', which spent three weeks at Number One on the YES FM Home Grown Charts, Magic Box Mix-up aims to put out more of their own tunes in the near future.
One way in which the band has already begun on this quest is through their recording facilities, Mixalot Studio. The group's two qualified Audio Engineers, Shaun and Shamin, are available to offer their expertise to artistes who are looking to record music of pretty much any form, be it covers or acoustic versions.
There is no doubt that Magic Box Mix-up is one of the most successful English bands around at present. And as is the case with most success stories, this band too owes alot to the kindness and support of numerous people. Their Manager, Neville Perera, has been with them from the very inception. The group is also very grateful to veteran musician Aruna Siriwardana for his support, Piyal Perera for his pivotal role in securing their Saturday night gig and to Qbaa for trusting them on as busy a night as Saturday.
MBM (as they are affectionately referred to by friends and fans) marked a special milestone on Saturday, 4th October, celebrating a year since the current line-up began playing at Qbaa. The special concert featured two other equally popular bands, Slipping Chairs and Glory.
For more details, contact the band at (email) magicboxmixup.mbm@gmail.com