'Kalu Sewanella' : Scottish shadows in Lankan teleplay
View(s):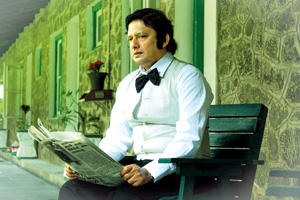 Living in Britain for more than 30 years, its familiar surroundings and experience in British life and history inspired Sri Lankan domicile Sandra Vinodini Hapuarachchi to make her debut production in television, 'Kalu Sewanella'. Starting from October 31, the teledrama is ready to be telecast every Friday from 9 pm to 10 pm on Rupavahini.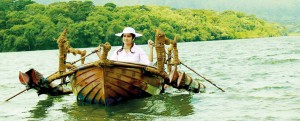 Changed from the stereotype story and setting, 'Kalu Sewanella' is set in the Scottish backdrop and the story takes a shape of a detective thriller. "I love to read Scottish stories and I have read a large number of detective stories during my long stay in England. I wanted to make my first production based on a story set in Scotland," Sandra said speaking about her teledrama. Attracted to art and drama from her school days, 'Kalu Sewanella' is Sandra's dream come true.
"I had the storyline in my mind and while in the UK I was searching for a teledrama director. It was then that I came across Diluka Prasad Gunatillake's direction 'Alu Banduna'," she said.  Sandra and the young director Diluka discussed for months until they finalized the script written by Diluk.
The story revolves around Arthur (Roshan Ranawana) who decides to go to the village of Dormston. The purpose of his journey is to uncover the mysterious death of his wife who committed suicide on the very day of their wedding. Even though a man was arrested over the death, he went scot free due to lack of evidence.
Having arrived Arthur finds that that girls who reaches the age of 25 years die or commit suicide in this part of the Britain. Who takes these young lives? Why girls who reach age 25 years become victims? Is it by a human or inhuman power? Awaits until 'Kalu Sewenella' answers all these.
The cast of the teleplay with number of young stars include Samanalee Fonseka, Senali. Fonseka, Roshan Ranawana, Jeewan Kumaratunga, Maureen Charuni, Himali Siriwardena, Clitus Mendis, Manohar Wimalatunga, Rohani Weerasinghe, Hemantha Prasad, Niroshan Wijesinghe, Malkanthi Jayasinghe and Dinakshi Priyasad.
Behind the screen, Indika Wijeratne did the makeup, Suranjith de Silva the art direction and Brian Gamage camera.  "To get the real geographical effect the entire teledrama was shot in Nuwara Eliya for nearly one month," Sandra explained how her first production was done. "Our art director created sailor boats, horse carriages with lanterns and many other props and sets to suit 1960s Britain," she added.
For director Diluka "Kalu Sewanella" his fourth directorial venture was completely different experince. He has three teledramas 'Gehenu Lamai', 'Alu Banduna' and 'Sayuri' to his credit.
"We created a Scottish background as the story required it," Diluka said. The teledrama is to play as a one hour episode giving it a cinematic presentation.
"The ideas and experiences shared by Sandra, the producer were extremely helpful to write the script," he said. Elated by her first experience, Sandra has plans to continue her role as a producer and her next venture going to be a cinema production. "It will be completely different from 'Kalu Sewanella' for it would take the shape of a Bollywood movie with lot of colour and glamour," she said sharing some thoughts about her debut film plan.