fea"I've never had an audience like you !"
By Duvindi Illankoon
Colombo takes Lionel Richie by surprise as invitees and fans sing-along with the world famous entertainer
View(s):
Lionel Richie is tired of the centrestage. He runs to the right ramp and parks himself in the middle. "This is my new favourite side," he declares, and the audience to the right roars in approval. There's a slight pause and then he's running to the left ramp, positioning himself at approximately the same distance from centrestage. "And this is my other favourite spot!" he grins. The reason soon becomes apparent-"it is unbelievably hot," he shares, face glistening under the bright lights, vying for the perfect spot in front of the air conditioner behind him. "I'm thinking 'All Night Long' could end up being just two minutes long if this air conditioner doesn't start working harder!"
In the end, Richie and his 4000-strong audience at the Sri Lanka Exhibition and Convention Centre (SLECC) settled for a happy medium on Saturday, the 11th -for just over an hour the Soul, RnB and pop singer and his cohorts (guitarist Ben Mauro and Chuckii Booker on the keyboards) thrilled with a selection of his best known hits. 'Easy' kicked off the show, with Richie encouraging his audience to join in because "I get nervous singing by myself,"-this shared laughingly. It's difficult to imagine one of the bestselling artists of all time, with over a 100 million records sold worldwide, "nervous" about anything. Yet he assures us this is so-"because there are people who come to my show and they know every single line. So I'll be singing, and someone in the audience will be shaking their head going 'no no, that's not how that line goes'."
Despite all this Richie managed to get through his set list without noticeable hiccups, singing perennial favourites like 'Stuck on You', 'Dancing on the Ceiling' (at the thunderous reception for this he quipped-"I haven't seen dancing like that since 1984!"), 'Three Times a Lady' and 'Say You Say Me'. The latter was requested many, many times since he landed in Sri Lanka, he shares. The show ends with 'All Night Long'. For Access Group, the company that brought the 65-year old crooner down to Sri Lanka for the first time in celebration of their 25th anniversary, this was perhaps an apt number as any to end an anniversary show with. SLECC that Saturday was a deafening, celebratory place to be.
It's when the singer sits down at the piano for 'Hello' however that the ebullient audience quietens. Richie will have none of this-sing along, he invites. Within seconds SLECC reverberates with voices in the thousands and the singer seems quietly taken aback. "Did you rehearse this before?" he demands, before assuring us that "I've never had an audience like you Colombo."
"Lionel Richie Live in Colombo" was presented by the Access Group on October 11 at the Sri Lanka Exhibition and Convention Centre (SLECC).
Media passes but no seats!
While the organisers were generous in inviting many of their top clients, partners and dignitaries to the packed event at SLECC, there were also a fair number of people who purchased tickets at premium prices (Rs. 20,000) for the chance to catch the legendary singer performing live.
Perhaps due to a lack of diligent organization many of those in the audience were unable to get a proper view of the performer including members of the media for whom special passes were issued but no seating arrangements made.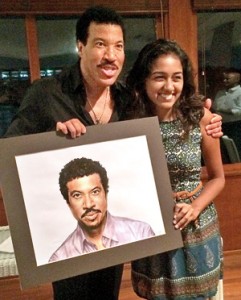 Lionel Richie was thrilled
"Meeting Lionel Richie was one of the greatest experiences so far in my life!" said young fan Rushenka Jayasuriya who presented the star with a painting she had done of him at a private function held at the Cinnamon Lakeside on October 10.
"I'm a great fan of Lionel Richie and I was thrilled to hear he was having a concert in Sri Lanka, so I did a painting of him. Mr. Richie was thrilled to receive my painting from two teens: my brother and I, his facial expressions said it all!" said the excited teenager.