Gearing up for the Sri Lanka Robotics Challenge
View(s):

Sri Lanka Robotics Challenge (SLRC) organized by the Electronic club of the University of Moratuwa has earned a reputation as a sort after event on the technology calendar amongst those in the university community.  iNexus was how it was initially launched, and entrusted with the responsibility of selecting competent Sri Lankan youngsters for the international Robotics Challenge (IRC) annually held in Mumbai.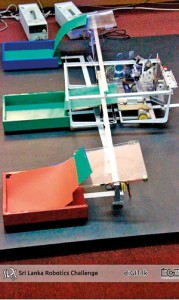 Over the last three years SLRC has grown and improved in quality with the sponsorship of Brandix Lanka Limited. Winners of SLRC went on to win the championship of the IRC in Mumbai and emerged victorious from among teams of different countries, including those of technology giants such as India and Australia. Now the time has arrived to take the next big step and undergraduates are constantly seeking to challenge themselves, organizers of SLRC said in a statement.
The SLRC 2013 challenge came up with the most awaited initiative: an industry category parallel to the school and university category competitions which were the only divisions at the time. This year SLRC is going to evolve further to bring together the school, university and intellectual communities with the all-important business and industry communities with the long term objective of collaborating technology enthusiasts and scholars to contribute in enhancing the nation's development.
An industry category competition, open to any individual who is with an innovative mind and a thirst for technology is going to change the course of the Sri Lankan robotics field. This time, competitors will be competing to provide an innovative solution to apparel industry issues. This competition is not about technical complexity, but about innovation. In order to encourage the participants and to take their inventions to the next level, the sole sponsor of SLRC 2014, Brandix Lanka Limited is gearing up with a brand new prize, the 'Brandix Innovation Award', which is a Rs. 200 000/- cash reward offering an internship opportunity at Brandix to build or refine the robot, plus an employment opportunity after graduation to work on the prototype.
The cash prize will be granted to the most innovative solution of the year for the 1st, 2nd and 3rd place prizes. The competition is open to all Sri Lankans. In years to come SLRC hopes to evolve further into a huge platform for all university and school students as well as other technology enthusiasts become involved in solving real industry issues. This platform will serve to solve long lasting industry issues and increase productivity while giving the opportunity and the required financial support for talented people.
This year's SLRC 2014 Challenge takes place on December 10 and 11, 2014 at the Moratuwa Universty.
To register visit the following site http://www.mrt.ac.lk/ competitions/slrc/.