Developing the varied resources of the Eastern Province
View(s):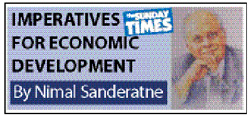 The potential for developing the Eastern Province's varied resources is immense. As in the North, a political solution to the ethnic discontent is an essential precondition for sustainable economic development of the Eastern Province that has the most diverse ethnic and religious composition.
Regaining peaceful conditions has provided an environment for economic development. New economic activities and modes of production have to be designed and effectively implemented for development of the province. This is a challenging task as vast amounts of investments, public and private, domestic and foreign, are needed. The Government requires facilitating private sector investments in agriculture, industry and services that are vital by offering land and other resources and developing physical infrastructure. Foreign investments are vital for a big push in development.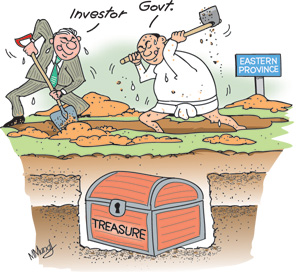 Agriculture
The 9,996 square kilometre Eastern Province with a population of about 1.6 million depends mainly on agriculture and fisheries. More than 70 per cent of its people derive their incomes and livelihood from these. It is one of the most fertile regions that produces about one fourth of the country's paddy. During the conflict the cultivable paddy land fell to only about one half due to serious security conditions. Since the end of the war additional extents of land have been brought under cultivation and paddy production has been high when not affected by drought and floods.
Although the region has some of the highest yields in paddy, there is potential for increasing paddy productivity from an average of about 5 metric tonnes to about 8 metric tonnes per hectare. This requires use of more high-yielding seed varieties, fertilizer availability and appropriate farm mechanisation to reduce the cost of production and overcome labour shortages at peak periods.
Agricultural diversification
Agricultural development of the East must be diversified. There is much potential for expanding maize cultivation due to its demand as the major ingredient for animal feed. Large scale maize cultivation with hybrid seeds and contractual marketing has increased production significantly.
The target is for the Eastern Province to produce 25 per cent of the country's maize requirement. The provision of irrigation facilities is vital for development of agriculture in the East. Although irrigation facilities have been improved through the renovation of tanks, there are many minor tanks that await rehabilitation.
Agribusiness
Large extents of lands should be given on long-term lease to private companies for cultivation of cash crops such as cashew, mango and other perennial crops. These companies would have the capital and technology to develop these lands and cultivate new crops. Several agriculture companies have been successful in growing dragon fruit and other crops that were unknown in Sri Lanka. In addition to traditional crop, there should be a large-scale expansion into new crops such as cashew, coconut, fruits, maize, and mustard.
Livestock development
The Eastern Province is an important milk producing region. Nearly 15 per cent of the national cattle population and about 15 per cent of the total milk production is in this province. Suitable farmland and water are available, but during the war milk collection was disrupted and there was a significant loss of animal stock thereby resulting in a decline in livestock production.
Inadequate veterinary services that are a severe constraint to livestock development must be improved. The productivity of local animals could be enhanced by importing high-yielding cattle and goats and the animal stock improved by artificial insemination services. If these improvements are effected, milk production could be doubled in the next five years.
Fisheries
Fishing is a significant economic activity in the coastal area of the East. "Now we can fish at any time and we catch much more", was the refrain of several fishermen. Many varieties of dried fish are on sale and transported to other areas of the country. Fisheries harbours have also been constructed. Investments in advanced fishing boats could increase the output and reduce the country's dependence on fish imports. The possibility of large companies exploring the high seas and harnessing fishing more effectively should be investigated.
Industrial development
The Eastern Province is especially suited for large industrial ventures for export markets owing to the Trincomalee harbour. The improvement of roads and bridges would assist transportation of goods. The establishment of new viable enterprises by local entrepreneurs and foreign investors is needed to develop industries in the region.
New export industries by the private sector should lead the development effort in the East. EPZs such as the proposed Trincomalee-Kilinochchi EPZ could be modelled after the existing ten EPZs in the country. They could attract both FDI and local investments and provide much-needed employment opportunities and export earnings. Foreign direct investments would transfer technology and skills and bring in assured markets. One of the constraints to the development of hi-tech industry would be trained and skilled workers. This implies a need to develop scientific and technical education rapidly.
Tourism
The boom in tourism in the East has resulted in an expansion of hotels, but there is a demand for good accommodation owing to the popularity of the beaches in the area. The East is attracting domestic and foreign tourists but hospitality services have to be improved considerably by way of better and more accommodation and ancillary services for tourists. Apart from the beaches, there are very few other attractions and facilities in Trincomalee. Just as Galle has been transformed into an attractive city, Trincomalee should also be developed, with good restaurants, entertainment and cultural attractions for tourists. Incentives must be provided for private sector participation in this area.
In conclusion
Peace provides the backdrop and environment for the pursuance of appropriate economic policies for the development of the East. However, vast amounts of investment, proper implementation of development programmes and the need to design new economic activities and modes of production for the region are vital. Government support to encourage private sector involvement and foreign investments are imperative to achieve a dynamic economy in the East.