Second exhibition: 'A pictorial journey of surgery'
View(s):

'A Pictorial Journey of Surgery' – the second exhibition of medical photographs through the lens of well-known Consultant Surgeon Dr. Gamini Goonetilleke will be held on October 6 and 7 at the Sri Jayawardenapura General Hospital, Nugegoda, to coincide with the hospital's 30th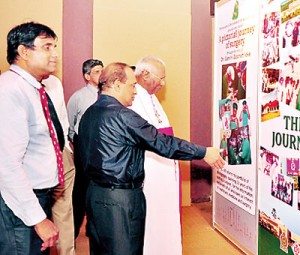 anniversary celebrations.
Dr. Goonetilleke who himself has worked at the Sri Jayawardenapura Hospital for 21 long years, first showcased his work appropriately at the auditorium of the College of Surgeons at No. 6, Independence Avenue, Colombo 7, on September 12-14.
The photographs range from hernia types to surgery complications; diseases of the gullet; goitre complications; corrosive burns; gall bladder stones; bowel and breast cancers; two killers – road traffic accidents and alcohol; to rare conditions including Rapunzel Syndrome and war-time images. They are of interest and educational value not only to medical personnel but also to the public and schoolchildren.