Richmond rugby rejuvenated
View(s):

Although the game of Cricket has taken deep root in the southern province especially in Galle and Matara districts, Rugby yet remains out in the cold with a little following and lackluster enthusiasm. It is surprising to note why Rugby could not muster 'even admiration' like in Colombo, Kandy and Kurunegala districts where this game handed down by our colonial masters has ever since developed in tandem with Cricket almost enjoying equal status in terms of popularity. Beside the fact that this phenomenon was an exception in this part of the country, the game of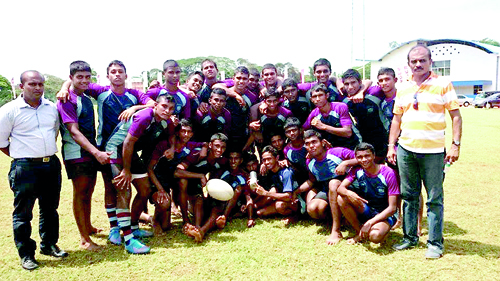 Rugby is now making steady headway, thanks to the untiring efforts of SLRFU and Carlton Sports Club which were instrumental in hosting some power packed Rugby in Galle district. This had given the much needed impetus and the popularity is evidently on the rise. It is also believed that Southerners lack nothing in comparison to their counterparts in other Rugby playing districts when it comes to body stature, stamina or intelligence to step into big time Rugby.
Richmond College, Galle, with a proud history of 138 years, has chosen to lead the way in igniting the rugby fever in the school circuit of the district. Still playing in B-Division, Richmond XV has so far recorded some exciting and impressive wins to remain unbeaten in the current season and thus emerged to be a force to reckon with, in no uncertain terms. Having started the season's fixture with their arch rivals Mahinda College, Richmond 1st XV tasted its first blood beating them convincingly. Following this success, there was no turning back for Richmondites who went on to win all matches in the first round routing Zahira College of Mawanella, Vidura College and Veluwana College of Colombo in succession. Richmond lads continued their winning streak pulling off thrilling victories over Eheliyagoda MMV and Devapathiraja MMV of Rathgama in the second round. A confident Richmond outfit now looks forward to meet St Aloysius College, Galle 1st XV on 10th October 2014 in a decisive encounter to claim regional Rugby supremacy. Richmondites are full of confidence to wind up this whirlwind season on a high note conquering this last battle too in style.
E.M.S Ekanayake, Principal of Richmond College who is apparently pleased with the performance of 1st XV team, is of high praise for their sheer courage and dedication. Ekanayake firmly believes that the team has all the ingredients to live up to its full potential in future if right logistic support is given at their disposal. He however laments the fact that Rugby does not receive the deserved support from a prospective sponsor or other stake holders of the college as Cricket did, may be due to an eclipsed popularity of the game in the region. Nevertheless, Richmond Principal is optimistic that Richmond Rugby could find a long standing sponsor in near future which he asserts, would help the team to graduate to A Division, being the first southern school to do so.
Richmond Rugby is now coached by Wing Commander (Retd) Palitha Abeysiriwardene, former Sri Lanka Air Force and Kingswood College, Kandy first XV skipper who has indeed gone an extra mile in instilling killer instincts in youngsters to settle for nothing but victory while still upholding the spirit of the game. Somewhat elated by the consistence performance of young ruggerites, he is overwhelmingly determined to create a rugby culture similar to what is prevalent in Colombo and Kandy circles. Coach Palitha is ably supported by Master in Charge of Rugby Mr. Adihetti. 'Truly, he is the pillar of strength behind our recent successes and we all are greatly indebted to him' said Coach Abeysiriwardene with gratitude.
Mohomed Fahim Fairooz, number 8 and the captain of 1st XV who is brimming with confidence, has already done an elaborate game plan for forthcoming match against St Aloysius. He believes that team seniors like of Props Sahan Samarasinghe, Kushan Jayasundera, Centre Kamesh Yasasiru, Second row Chamod Dilshan and Winger Salman Rikaz will spearhead the campaign against St Aloysius on 10th of October 2014 at Koggala FTZ Grounds. Meanwhile, Richmond 83 Group, a live wire arm of Old Richmondites based in Galle hopes to promote 1st XV team through social media, in a bid to attract as much old boys as possible to be present at the venue to cheer the boys to victory.
Richmond 1st XV now contemplates to take part in under 18 tournament organised by SLSRFA in October this year as well. Coach Abeysiriwardene is also looking at the possibility of forming 7s team to give more exposure to lads in a wide spectrum. In addition, Richmond Rugby also plans to organise a coaching clinic at the year end and play some friendly matches with some prominent schools where Rugby is played as a major activity. With a range of programs in the pipeline, the Richmond fans could hope to see the game of rugby prosper at the college with vast prospects in the horizon and it is no longer a distant dream that Richmond will pose a threat to traditional rugby playing schools in time to come.
-Lasitha Mendis
The writer is the present Manager-Human Resources at Sri Lanka Cricket and can be reached on m.lasitha@yahoo.com