Lankans on the lookout for consultant
By S.R. Pathiravithana
Chandrishan Perera to train the squad for the time being
View(s):
The Lankan new head coach Marvan Atapattu has indicated that he would prefer to work with a high profile consultant if and when necessary.
Atapattu who met the SLC's coaching committee along with the national cricket captain Angelo Mathews opined that the SLC should look at obtaining the service of a high profile personality in the calibre of former Australian captains Ricky Ponting, Steve Waugh or top order batsman Dean Jones to help the Lankan team during their World Cup quest coming up shortly.
"It is the World Cup that is our focus. Our morale is high. We have had a good run in the past six months and obviously the challenge for me is to sustain the success and build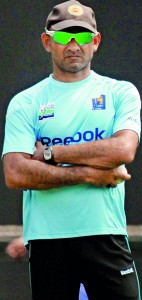 upon it. I have a team of players who are willing to listen and learn. Even te world's number one batsman (Sangakkara) always wants to learn something new to add to his game." Atapattu said when he met the press on Friday morning.
However on Friday it was decided to obtain the immediate help of former Lankan rugby captain and well known trainer Chandrishan Perera on a short term basis after Atapattu pointed out that training is the most important immediate need.
Perera has worked with the Lankan team even on a prior occasion.
At the meeting a matter also discussed was the post of assistant coach. The English county coach of Durham, John Lewis, who was shortlisted by SLC along with Atapattu, had also indicated that if the job is offered he would be an aide and or understudy to the Lankan coach. However a section of the coaching committee feels that the head hunt should continue.
Now that Atapattu has assumed the duties of head coach the position of a batting coach has also surfaced. Names to this position would be shortlisted soon. They will seriously look at a person who could handle the problems of younger stars like Dinesh Chandimal and Lahiru Thirimanne who are going through a rough patch at the moment.
The name of Ruwan Kalpage had reappeared in the fielding coaches list along with Englishman Richard Halsall and South African Alan Walker.
However the coaching committee has given Marvan the mandate to choose his working team. They will meet next week for a further discussion
The name of former Lankan coach Dav Whatmore is still in the air. However it is learned if he gets into the Lankan system he would be absorbed to handle a squad like the emerging.