Stream flowing with milk: No miracle, but curse
Pix and text by Ranjith Rajapaksa
View(s):
We have heard of water being turned into wine and the Holy Land described as a land flowing with milk and honey. But there are no such miracles when Hatton Oya's water turns into milk.
Instead it is a curse for residents downstream.
They allege that milk that failed quality tests at collecting centres is dumped by dairy farmers and as a result several times a day they see spoilt milk flowing down the stream.
The collecting centres run by both state and privately owned milk companies reject milk supplied by farmers if it is found to have been diluted with water or contain baking soda, sugar or similar substances which some farmers add to preserve the milk.
Milk such rejected is usually discarded. However, a resident said the culprits were middlemen.
"Middlemen buy milk from poor dairy farmers and add about two litres of water to 10 litres of milk before selling it to collecting centres. If the adulteration is detected and the collection centres refuse to accept the milk, the middlemen try to sell the milk to businessmen involved in the manufacture of milk-based products. But often, a large quantity of adulterated milk is discarded," the resident, K. Sena, said.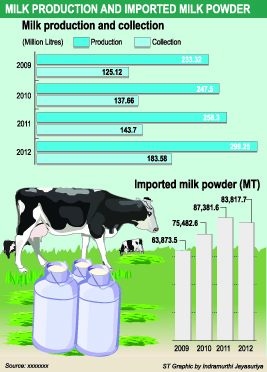 Road construction workers near the Hatton bridge also complain of a rancid smell emanating from the spoilt milk in the clogged part of the stream.
M. Tennakoon, Assistant Superintendent of Hatton Police Division, said measures were being taken to stop the practice of dumping the spoilt milk in the stream and nearby estates.
Livestock Development Ministry Secretary Leslie Tissera said the ministry was creating awareness among the dairy farmers and collectors on the need to supply fresh and unadulterated milk to collecting centres.
He said two years ago dairy farmers threw hundreds of litres of milk on the roads of Hatton due to lack of demand from milk companies.
"Now there are 2,400 state-run milk collecting centres and the demand for fresh milk has also increased. Farmers and collectors should be more responsible, as milk rejected has to be discarded," he said.
According to the Livestock and Rural Community Development Ministry, local production, especially milk and milk products, is sufficient only to meet 33 per cent of the country's requirement at the current consumption rate.