Outrage prods broadening of Moneragala handout
By Nadia Fazlulhaq
Businessmen in posh cars received drought handout, claim farmers
View(s):
Amid growing complaints from other districts over the distribution of Rs. 2,500 for families in Moneragala district during campaigning for the Uva provincial elections the government has earmarked Rs. 20 million in drought relief to people in eight districts.
The severe hardship being suffered in some areas will continue until the end of the year, the Meterological Department said.
And despite government assurances that food-for-work programmes and dry rations were available for all those in need, reports from some areas show little sign of this assistance.
More than 1.6 million people or close to half a million families to suffer from the prolonged drought, with the worst hit districts being Batticaloa, Hambantota and Polonnaruwa. Moneragala and Jaffna too are drought-stricken.
Vavuniya, Mannar, Mullaitivu, Kilinochchi, Puttalam, Kurunegala, Trincomalee, Ampara and Anuradhapura are other areas struggling with a shortage of drinking water and dried-up paddy fields and water sources, with thousands of farming families left without income.
Chief Government Whip Minister Dinesh Gunewardena this week put forward a supplementary estimate of Rs. 200m for drought relief and for development programmes to improve livelihoods and strengthen communities in future times of drought.
Mannar, Vavuniya and Anuradhapura districts are to receive Rs. 50m each, Batticaloa and Moneragala Rs. 30m each, Ampara Rs. 25m, Polonnaruwa Rs. 40m and Badulla Rs. 10m.
Disaster Management Minister Mahinda Amaraweera said all districts affected by the drought have a cash-for-work programmes that pay unemployed farmers and others in need Rs. 6,000 for 12 days of work, and that the Rs. 2,500 distributed in Moneragala had been given to farmers as compensation.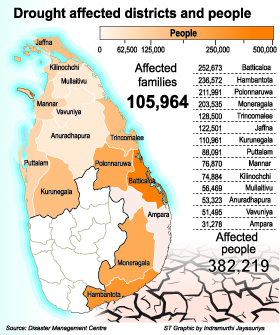 The All-Ceylon Farmers Federation's head Namal Karunaratne said farmers in Hambantota, Kurunegala, Batticoloa, Ampara, Badulla, Anuradhapura and Polonnaruwa were also severely affected but had not received compensation.
"Being compensated and cash for work are two different things. We are not against the giving of compensation to Moneragala farmers, but other district farmers are suffering too," he said.
He claimed not only farmers in Moneragala received compensation but also businessmen who could afford luxury vehicles and private and public sector employees.
The farmers' federation submitted a petition to the Supreme Court, requesting compensation for all affected districts.
The People's Action for Free and Fair Elections (PAFFREL), an election monitoring body too filed a motion in the Supreme Court over the drought relief programme.
The Elections Commissioner Mahinda Deshapriya, prior to the election, ordered the halt of drought relief money to Moneragala residents but following a petition from area residents the Supreme Court ordered the Ministry of Economic Development to continue with the Rs. 2,500 disbursement with the stipulation that it be done only through the District Secretary and not politicians or election candidates.
An official at the Economic Development Ministry said the ministry intended to provide assistance to all drought-affected rural communities but that due to budget limitations it had been able to give money only to Moneragala. The official said there were plans to give aid to other districts.
Despite scattered rains, the drought continues to haunt many northern, south-east and eastern areas. Batticaloa has had no rainfall at all.
In Kurunegala, District Secretary H.M.P. Hettisekare said cash-for-work and other monetary relief programmes had not yet commenced.
"Tanks in the district are being de-silted. We are now receiving dry rations which will be distributed in the coming days," he said.
Additional Government Agent of Batticoloa, Srinivasan Giridaran said the Water Board was supplying treated water and that the Disaster Management Ministry had provided three water tractors to distribute water to rural areas.
"Cash-for-work is occurring only in a few areas such as Vakarai and Kiran where the renovation of tanks is taking place. There is no provision of dry rations as such. The district is in need of continuous drought assistance as there has been no rain for months, leaving farmers in severe hardship," he said.
Meteorology Department Director of Forecasts, S.R. Jayasekera said current conditions would provide a few showers, some heavy but that this would not continue.
"Hambantota, Pottuvil and Batticaloa will experience the drought until the end of the year. There have been few showers in Polonnaruwa, Anuradhapura and Moneragala areas but not over 50mm and not enough to fill the dried-up tanks. There should be several days of continuous 100mm rains," he said.