The Master of Camouflage
Text & Pix by Naren Gunasekera
View(s):
If you are lucky when diving or sometimes even wading in the shallows of the sea, you will see what appears to be a rock change colour. If you are quiet and careful when you see this and move slowly, you will be rewarded with a close up encounter with one of the ocean's most bizarre and interesting creatures, the octopus.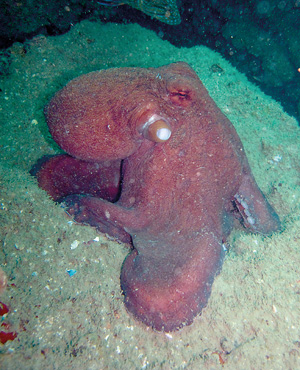 The octopus is an invertebrate so has no bones in its body. It belongs to a sub-group of mollusks called 'Cephalapods' which means "head to foot" since the octopus' feet are directly attached to its head as you can see in the photo. With a huge head, eight arms and large eyes, an octopus could be mistaken for some sort of alien. To add to its odd appearance it also has blue coloured blood and not one or two but three hearts! One heart pumps blood through its body while two pump blood to its lungs.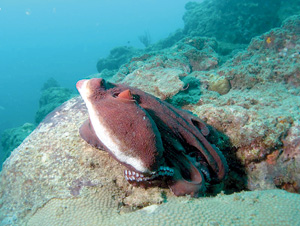 Octopuses have been found to be very intelligent and can learn to solve problems including removing a lid from a jar to get to its contents. They have also been seen using tools such as coconut shells to hide from predators so are pretty unique creatures. My favourite thing about an octopus however, is its amazing ability to change colour and often even the texture of its body to match its surroundings. It does this using special cells called chromatophores that cover its skin.
Look closely at the photograph below, can you spot the octopus? I'll give you a hint; it is slightly darker than its surroundings.This talent and the fact that it can squeeze into the smallest gaps in the reef helps the octopus avoid being eaten by predators. Octopuses also change colour according to their mood and you can often see them turn white as you get closer and they become nervous. The octopus below is just changing colours from its usual red to white with the white line down its body.
If the octopus' cover is blown, it has another trick up its sleeve. The octopus can move quite quickly by funneling water through its gills at the top of its mantle through jet like siphons. It streamlines its body and can reach speeds of up to 40km/h over short distances. If there is an immediate danger such as a fish trying to eat it, the octopus will also send out an ink cloud to confuse the predator.
There are around 300 species of octopus in the world some being especially unique like the North Pacific Giant Octopus that can grow to 16 feet long and the Mimic Octopus that impersonates other sea creatures by changing its body shape. What we usually see, with a bit of good fortune, in Sri Lanka is the Day Octopus or Octopus cyanea as it is the most common out of the three or four species that have been recorded here.