Kids world
View(s):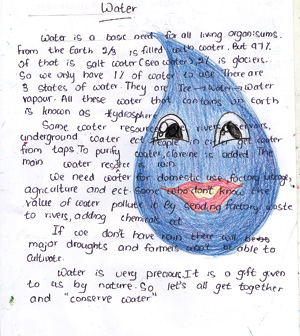 Water
Water is a basic need for all living organisms. From the earth, 2/3 is filled with water but 97% of that is salt water (sea water), 2% is
glaciers. So we only have 1% of water to use.
There are three states of water. They are ice, water and water vapour. All the water contained on earth is known as the Hydrosphere.
Some water resources
are rivers, reservoirs, underground water etc. People in cities get water from taps. To purify water, chlorine is added. The main water resource is rain.
We need water for
domestic use, factory usage, agriculture, etc. Some
people who don't know the value of water, pollute it by sending factory waste into rivers, adding chemicals etc.
If we don't have rain, there will be major droughts and farmers won't be able to cultivate. Water is very precious. It is a gift given to us by nature. So let's all get together and 'conserve water'.
Sanandhi Hikkaduwage (10 years)
Musaeus College
---
Ten reasons I get late to school
There are many reasons I get late to school
Some are ridiculous, some are really cool
One, my brother goes to the bathroom at the last moment
with a 'How to bathe' instruction manual and a 'healthy wash' deodorant
Two, my pretty mommy, a champion at squash
takes ages to have a wash
Three, my father can't find his socks
This is the time I worry and glare at the clock
Four, My grandma takes ages to come down the stairs
She's always late for the 'Grandmothers
reunion meeting (Though she never cares)
Five, my grandpa, he cannot hear
We all have to yell in his ear
Six, my sister takes time to feed her
naughty dog,
her blue bats, her stinky skunk and her bad warthog
Seven, my cook (the one in the pink frock)
At night she always forgets to set the
alarm clock
Eight, my nanny, she thinks it's disgusting to cook meat
and wipe cobwebs, makes us wear dresses too neat
Nine, my driver he gets me so late
He's off at five in the morning on a horribly long date
Ten, eh… well… mmm… you see…
The one who gets late to get up is me!
Anitra Perera (Grade 7)
Ladies' College
---
Earth's mightiest heroes
There are so many super heroes in this earth. There are two super hero teams. They are the Avengers and the Justice League.
The Avengers are Hulk, Ironman, Captain America, Thor, Hawkeye, Black Widow and a new
member who is coming to the Avengers, named Ant-Man. In the Justice League there are up to a thousand super heroes. The main heroes are Batman, Superman, Green Lantern and Wonder Woman. There are many powerful villains too.
They are Loki, Joker, Steel, Rhine, Sandman, Electro, Green Goblin and others.
There are superhero
cartoons and films. Avengers are Marvel films and Justice League is a DC film. There is another team too. They are the Young Justice League. Super heroes are the earth's mightiest heroes.
Ahamed Falih
(12 years)
D. S. Senanayake College
---
My pet
My pet is a parrot. It is green in colour. It has a red curved beak. It likes to eat fruit and nuts.
It has a red chain around the neck. Its name is 'Parakeet'.
It has a cage. It can fly. It talks with me very kindly and softly. When I come from school, it shouts "Baba baba!" Every evening I play with my parakeet. It repeats everything that I say. When I open the cage, it soon flies and sits on my mango tree. At night I bring the gage and keep it inside my house.
I like my pet parrot very much.
Shaheer Sadath
(6 years)
Zahira College
---
Why I like to be a Philanthropist in the future
Philanthropist is a term used for people who contribute part of their facilities for their country and for other people. They don't think of categorizing people into groups. They improve themselves by helping others. Philanthropist are the ones who are born to love and care for ones in need.
These facts force my mind to be a philanthropist in the future.
My ambition is to be a computer engineer. Helping others is a  great job. We mustn't divide the people of the world as poor.
We must understand and clearly study what they need and then we must help them step by step. The main error in this case is the division from the beginning as it causes problems. The people who properly understand this are the real 'philanthropists'.
So my hope is to be a  philanthropist. I think it will be a great service for the people in the future.
Ammaar Moondhu (15 years)
Asoka Vidyalaya
---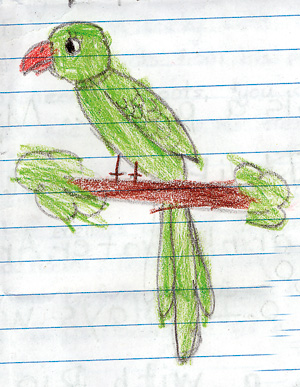 My pet
My pet is a parrot. My pet is green in colour. It likes to eat mango. It likes to drink water.
My pet's name is Rio.
It plays with me. I love playing with Rio. Its beak is sharp and red. Rio has a long tail with many colours. It tells my name well. Also it eats rice.
My parrot can understand what I say. For me my
parrot is the hero as it can do everything. Rio is a very intelligent bird. If I try to do something cunning, it will complain to my mother. So
I love my parrot very much.
M. Althaaf (8 years)
Uva College, Badulla
---
My favourite game
My favourite game is
volley ball. It is a very
popular game. It is an
interesting game. There are six players in a team. It is a team game. We need a ball and a net to play volleyball. It is the national game of Sri Lanka. Both men and women can play the game.
Volleyball is played all over the world. Our school has a good volleyball team. We get good exercise by playing volleyball.
Chanuli Malmuthu
(11 years)
C.W.W. Kannangara M.M.V.,
Matugama
---

Meet Lucky Luke
Among all cowboys in the Wild West – America, Lucky Luke holds a special place. First of all,
Lucky Luke is a cartoon. Lucky Luke's specialty is that he shoots from his pistol faster than his own shadow. So once he shoots, you can only see his pistol smoking. You don't see him move his arm.
Luke rides his horse Jolly Jumper and helps people whenever needed. His greatest enemies are the Dalton Brothers. They are Joe, William, Jack and Averal Dalton. The eldest, Joe is shorter than his brothers. And Averal the youngest, is taller than the
others. They always stand in the order of their heights.
Joe Dalton is very hot-tempered. Jack and William aren't very
popular. Averal is completely out of his head. He always annoys Joe and Joe jumps onto him, holds his neck and shakes his head. Most of the time, William and Jack prevent it from happening.
Lucky Luke is also friends with the Indian tribes. They live in the desert part of the west, so if you have Internet, go straight to it and type 'Lucky Luke' in English – It's sure to come.
Zaid Bin Hussain (Grade 6)
St. Anthony's College, Katugastota
---
Sri Pada at Samanala Kanda
Sri Pada is a sacred place in  Sri Lanka. This mountain is  situated in the Ratnapura district and is about 7,500 feet in height.
Sri Pada is very significant for Buddhists as the Gauthama Buddha visited on his second visit to  Sri Lanka and impressed his left foot on the peak.
After that, a large number of  devotees made pilgrimages to this sacred place Ancient chronicles point out that King Vijayabahu I and King Nissankamalla of Polonnaruwa recorded their pilgrimage to Sri Pada. Geographically, there are a few routes to Sri Pada. Among them, are the ones from Ratnapura and Maskeliya.
The pilgrimage season when many devotees climb Sri Pada, begins from the full moon poya day of Unduwap (December) until the Vesak festival of May. It takes long hours but the devotees don't tire on this holy  journey. Every devotee bathes in Seetha Gangula near Sri Pada before climbing. Most people climb Sri Pada to see the footprint of Gauthama Buddha and to see the sunrise from the top of the mountain called  'Ira Sewaya.'
Today unfortunately, Sri Pada is polluted by waste and plastic thrown away by those who climb it. It is our duty to protect this place.
Ravishiya Malithi (Grade 7)
OKI Int. School
---
My holiday
During this holiday I went to my grandmother's place in Kandy. I got my little sister Amna in Kandy.
I helped my mother to look after her.
My father took me and my brother to the Children's Park. We enjoyed a lot there. I played and watched TV during the holidays. I enjoyed my holiday so much.
Anaaya Ashik (6 years)
Royal Int. School, Kurunegala
---
Deadly Ebola
Ebola is a fatal disease in humans caused by the virus named Ebola.
The symptoms start two days to three weeks after
contacting the virus.
The symptoms are fever, sore throat, diarrhoea and
rash follows, and
functioning of liver and kidneys decrease. In this time affected people may bleed both internally and externally in the body.
It may spread upon contacting with blood of infected animals and by fruit bats who carry this virus. Still it is not found that it's spread through air. Yet, there is no
specific treatment for the disease available.
This virus was first identified in Sudan and the Republic of Congo. But it has spread to Guinea, Sierra Leone, Liberia and Nigeria too.
To prevent spreading
this disease, we must avoid the areas where this
deadly disease is spread, wash hands frequently, avoid eating bushmeat, avoid contact with infected
people, wear protective clothing such as gloves.
Pay attention to this deadly disease and try your best to prevent spreading it to our
motherland Sri Lanka.
Chathil Chanuka
(Grade 9)
Bandarawela C. C.