Health union threatens more of the same bitter medicine if demands not met
By Kasun Warakapitiya
View(s):
Trade unions affiliated to the Joint Council of Professions Supplementary to Medicine (JCPSM) warned yesterday that they would resume their strike in two weeks if the government failed to meet their demands.
The strike that crippled national hospitals islandwide was called off on Monday following discussions with Health minister Maithripala Sirisena. It was launched on August 26.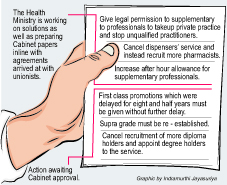 JCPSM General Secretary Saman Jayaskara said trade union action ended after they held a discussion with the minister pertaining to their six demands. He said the minister assured that three of the demands were to be taken up by the Cabinet last Thursday and he hoped they would be implemented by Friday (September 12).
The group's demands included the implementation of promotions stalled since January 2006, establishment of a Supra Grade, recruitment of more degree holders instead of diploma holders, granting of legal permission for supplementary professions to carryout private practice, the cancellation of the dispenser service and instead the recruitment of more pharmacists and a hike in after hour allowances.
Health Deputy Minister Lalith Dissanayeke confirmed that three main demands had been forwarded to the cabinet and they were to be taken up last Thursday.
He said more degree holders would be taken in to the service and there would also be vacancies for diploma holders. However, he said, that the dispenser service would not be cancelled as it was especially required in rural areas.
Mr. Dissanayake said the cabinet was also to take up the issue of allowing the members to do private practice.