Feeding the Yala animals: More people join the Thera's initiative
Text and Pics by Janath de Silva
View(s):
Animal lovers have now joined hands with the Chief Incumbent of the Sithulpawwa Rock Temple in Yala to aid animals in their search for food
and water.
Though rain is experienced in many areas of the country, the Hambantota District of the Southern Province remains dry without any rain. The dire drought has continued for over nine months leaving reservoirs, ponds and pools waterless.
Yala National Park, which is nearly 97,000 hectares in extent, was also affected by the dry weather. This left thousands of animals in and around the park vulnerable to dehydration.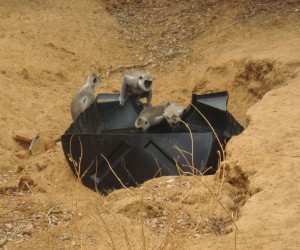 In a bid to help these animals in their plight the Sithulpawwa Rock Temple Chief Incumbent Ven. Mataramba Hemarathana Thera initiated a novel project. With the help of residents holes were dug in the forest and covered with polythene. These holes were filled daily with water.
These water holes attracted animals such as deer, leopards, elephants, wild boar and bears.
"Our temple is situated in the centre of Yala. There are various species of animals living here. Seeing these animals dying without water saddened me. I wanted to help them and started the project," Ven. Hemarathana Thera said.
He said there were problems in providing water to the animals because deer and buffaloes damaged the polythene sheets with their horns. To overcome this situation plastic tanks were cut in half and the bottom portion filled with water for the animals to drink.
After seeing the articles published in the Wijeya group of newspapers generous animal lovers arrived daily in Yala to help us in our project. They brought food and water tanks that are most wanted these days, he said adding that
now he is seeing true humanity in society. However the water and food provided are not enough to feed all animals, especially those deep in the forest which cannot be reached. Two elephants, 50 deer, buffaloes and wild boar were found dead in different parts of the Yala forest reserve.
The Katagamuwa wewa in Kataragama, where the largest crocodile population in South Asia is found, has completely run dry.
Meanwhile buffaloes that are suffering from severe thirst fall dead as soon as they drink water provided to them. Experts say that this happens when the dehydrated buffaloes drink water in large quantities.
S. U. Saranga, the Wild Life Director in Yala, stressed that the animals should be provided with natural foods.
Making a kind request, Ven. Hemarathana Thera requested all those providing donations to avoid bringing oily food such as 'kevun' and also not to bring plastic and polythene bags.
"These animals are very hungry and they would eat the plastic and polythene," he said.
He added that as well as the animals, people in the area are also in need of water. He requested a bowser or a mobile storage tank be made available to supply water to the villages.
Ven. Hemarathana Thera has arranged lodging in his temple to persons who wish to go to Yala and help the animals and the villagers.
Wild Life Dept. now steps in to supply waterThe Wild Life Conservation Department has taken steps to supply water to wild animals with President Mahinda Rajapaksa taking a keen interest in the matter, the Sunday Times learnsAccordingly the Water Supply and Drainage Board had given an 11,000 litre bowser and a tractor-drawn 4,000 litre bowser to draw water from two tanks. This water is used to fill small dried up tanks and water holes in rocks for the animals to drink.
In addition bowsers belonging to the Lunugamvehera and Yala National Parks will also be used to transport water to the affected areas.
Meanwhile, Sisira Kumar de Silva, Wild Life Assistant Director of the Uva region, said that the Menik Ganga would be blocked at Thalgasmankada as this would help to pump water from there to the small tanks.
Amarajeewa Liyanage, the irrigation engineer in charge of the Weheragala reservoir said that the water was released from the reservoir to the Menik Ganga only for drinking purposes of the people in the Kataragama area and for the wild animals, despite the water level of the reservoir being very low.

He said that the full capacity of the reservoir was 60,000 square acres but only 4,000 square acres were now filled with water.
Mr. Liyanage said that the water should not be used for cultivation and officials in charge of controlling the water in the Kataragama area should see that there is no misuse of scarce water.
He pointed out although that some parts of the country experienced rain there were no rains in the upper reaches of the Lunugamvehera reservoir.
Mr. Liyanage said Tracts 5, 6 and 7 in Yala have about 3,000 acres under paddy which require water for another two weeks and therefore water should be used sparingly.
(MNP)