Dengue drive fails to prevent sharp rise in infection
By Joshua Surendraraj and Kasun Warakapitiya
View(s):
Despite an islandwide anti-dengue drive the number of dengue cases showed a significant increase this year compared to the corresponding period last year.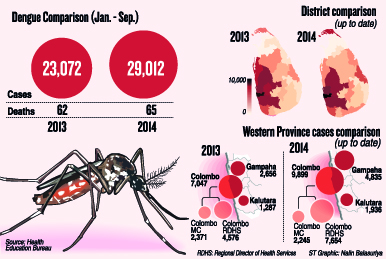 Health Ministry figures show the total number of cases reported for July this year was 5,574 as against 2,924 cases last year while in August this year, 3,556 cases were reported as against 3282 cases 12 months ago.
Health ministry officials argue that though the comparative figures are high they have been able show a gradual reduction since June this year where the number of cases were 6,736 followed by 5,574 and 3,556 in the two subsequent months.
This year, so far 65 people have died of dengue while last year 62 persons died during the corresponding period.
To date, this year 29,012 cases were recorded while during the corresponding period last year there were only 23,000 cases – an increase of 6,000 cases, and health officials fear the rains expected in the latter part of the year will result in more cases.
The Heath Ministry has declared National Mosquito Control Week commencing next Wednesday (September 10).
Environment Police Director Quintus Raymond said his officers, attached to 442 police stations, are finding that most schools as well as and state and private institutions are contributing largely to the breeding of the deadly mosquito.
"We located a massive dengue mosquito breeding site at Vilasita Niwasa, Kirulapone," said Colombo Municipal Council (CMC) Chief Medical Officer Dr. Ruwan Wijayamuni.
The building, currently occupied by the Police Organised Crimes Division is a condemned building. "We found millions of mosquito eggs in ground floor of this building," Dr Wijayamuni said.
"In the last five years we had a lot of cases from this area and we have identified this building as the source.
"We issued them with a notice and I have written to the Inspector General of the Police," he said.
"A swimming pool located in an international school on Duplication Road in Bambalapitiya was also found to be a colossal dengue breeding site," Dr. Wijayamuni added.
Officials also found several potential dengue mosquito breeding places in the Lumbini College primary section and the Science and Arts Faculties of the Colombo University.
Health Ministry Director-General Dr Hasitha Thissera said 20 per cent of schools in the Western Province had potential mosquito breeding sites.
The Health Services Director Dr Palitha Maheepala said the dengue eradiction programmes saw more than six million houses checked, 14,094 red notices issued and 2,810 court cases filed against offenders.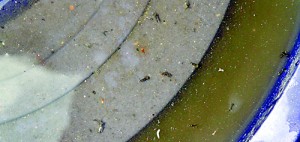 A World Health Organisation (WHO) conference examining the links between health and climate change has warned of the risks of infectious diseases such as malaria and dengue, which are strongly influenced by climate.
Higher humidity and temperatures mean mosquitoes can survive longer, increasing the likelihood for transmitting diseases and being able to travel to a wider geographic range, the WHO said.
CMC brings in the infantry to fight disease
The Colombo Municipal Council (CMC) is to pay 200 children from low-income families to find discarded cups and bottles which, collecting rainwater, become breeding sites for mosquitoes.
CMC Chief Medical Officer Dr. Ruwan Wijayamuni said the children would be selected and trained.
For each small container found a child would receive Rs. 1, or Rs. 5 for a large container.
Dr. Wijayamuni said annually a child could expect Rs. 40,000, which would be placed in a bank account.
The move would make the CMC's waste collection easier as well as helping in dengue eradication and also protecting the environment in providing plastic waste for recycling.
A pilot programme will begin next month.
New chemical to be used on marshes
In a pilot project, the Medical Office of the Colombo Municipal Council will be spraying several marshes in Colombo North with the chemical, Aquatain AMF, a unique silicone-based liquid for mosquito control.
Aquatain AMF spreads across the surface of standing water; even large water bodies and forms a very thin film. As silicones have a very low surface tension the film prevents pupae and larvae from coming to the surface to breathe, thereby causing them to drown.
The product has a purely physical action and does not contain any toxic chemicals, officials said. Its strong spreading action ensures it will move around vegetation and other obstacles on the surface, and it is highly resistant to wind or wave action. It is also unaffected by rain falling on the surface.
Trials have shown that Aquatain AMF is effective for up to four weeks.
"The chemical costs Rs. 3,248 rupees per litre, and one millimeter is sufficient to cover one square metre. It is also an environmentally-friendly method of control," Colombo Chief Medical Officer Dr. Ruwan Wijayamuni said.