Baby-sale brokers ruthless in exploiting parents' hardship
By Nadia Fazlulhaq
Thrown from hand to hand, infant caught in racket now lacks any parent
View(s):
At just eight days old, little Achini*, sold by her mother and father to buy a roof over their heads, has lost both birth and adoptive parents.
Today, she is under probationary care at a state home in Panadura following the arrests of her parents and the couple who bought her for Rs. 50,000. Two women involved in the baby-selling deal are also under arrest.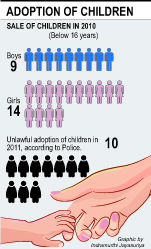 The infant's parents, Renuka, 39, and Dudley Silva, 48, sold her in order to buy a wooden shack in the Lellama area of Mutwal at a cost of Rs.18,000. They had been living rough on the roads for the past two years, sleeping inside boats, on doorsteps and with neighbours, especially during Renuka's pregnancy.
Inspector Pradeep Wickremaratne of the Mutwal Police said the arrests of Achini's parents, the adoptive parents, Nalika and Ranjith from Uswetakeiyawa and brokers RoseKumari and Sujeewa Fernando from Mutwal, were made on a tip-off that the illegal deal had taken place at Ragama Teaching Hospital.
He said Dudley Silva had once been a fisherman and was now a drug addict. He and his wife live in a fishing village off Rock House Road in Mutwal. They are now out on bail.
"The brokers have been arrested several times over drug dealing," said Inspector Wickremaratne.
He said brokers wait for opportunities to exploit poor parents.
Residents in the area told the Sunday Times that the mother underwent hardship while expecting the child, with no food or shelter.
"People in the area fed her and allowed her to sleep on their verandas. No government official came to check on her wellbeing," alleged a resident.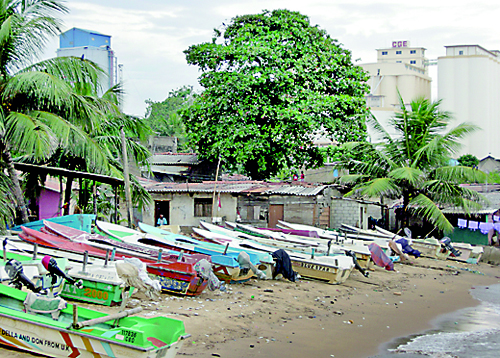 Growing poverty, tempting offers by brokers, a long list for legal adoptions and unwanted pregnancies fuel the baby-selling trade.
Last month, two women were arrested by Sapugaskanda police over the sale of a six-month-old baby for Rs. 30,000.
Four persons, including two hospital attendants from the Avissawella Base Hospital, were arrested for attempting to sell a newborn for Rs. 200,000 last year.
The 21-year-old single mother had been given Rs. 35,000 while the attendants had tried to obtain Rs. 200,000 from the couple wishing to adopt the child.
In another incident lastyear, Pussellawa police arrested five people including the mother of the baby during an attempt to sell a three-day-old infant for Rs. 35,000.
The parents had confessed that arrangements had been made to sell the baby to a 57-year-old female broker in Negombo to settle a loan. Police said the broker had planned to sell the baby to a person in Italy.
There is a lack of up-to-date information to counter this miserable trade. The latest statistics available from the Probations Department are for 2010 when there were 23 reported complaints about the sale of children under the age of 16. Fourteen of the 23 were girls and nine were boys.
The police too are far behind with their statistics. The latest are from 2011, when 11 complaints were lodged against the sale of children.
Probation Commissioner Yamuna Perera said that there was a long waiting list for adoptions, especially in the Western Province and for foreign couples wanting children.
"There are 13,000-15,000 children in volunteers' homes, remand homes and state receiving homes (orphanages) but there is a shortage of adoptable children and the waiting list is growing," she said.
Given the reports of sales of children for adoption, university-qualified children's rights promotion officers had been appointed to assist divisional secretaries, Ms Perera said.
"Facilities for probation officers are really low especially with regard to travel. Most of them have to handle legal issues as well. These 380 graduates are deployed as field officers to look and monitor children in vulnerable areas and propose care plans," she said.
E. Illeyapparachchi Fernando, Secretary to the Child Development and Women's Affairs Ministry, said each divisional secretary division had five field officers tasked with the welfare of women and children.
"Divisional level mechanisms are being strengthened by providing transport facilities, and grassroots-level officials such as grama sevakas should ensure that Divi Neguma and Samurdhi programmes reach needy families," Mr. Fernando said.
Professor Nawaratne Banda, senior lecturer at the Faculty of Social Sciences of Kelaniya University, said the state had failed to adequately recognise the problems of poverty despite Samurdhi and other economic development programmes.
"Fishermen from small fishing communities receive meagre pay and they earn only in one season and idle the other. This results in narcotics addiction or drug dealing, Prof. Banda said. "Social service officers should visit these communities and draft concrete programmes for them," he said.
Senior lecturer in Sociology, Dr. Harini Amerasuriya, said a social security system was not in place in the country and childcare had not reached vulnerable groups such as coastal settlements and urban slums.
"There should be a strong social protection system and state-facilitated day schools and childcare centres to ensure the children's safety. A mere Rs. 250 per month is not what is needed in order to eliminate poverty," she said.
The sale of children comes under the charge of child trafficking and can attract punishment of up to 20 years of rigorous imprisonment and a fine decided by the courts.
Police spokesman SSP Ajith Rohana said a special unit within the Criminal Investigation Department handled human trafficking, including that of children.
The National Child Protection Authority (NCPA)'s Deputy Chairman Sujatha Kulathunga said most reports of child trafficking received by the authority involved children brought from estates to work in houses.
She said the NCPA's special police unit is deployed when complaints are received.
*Name changed for privacy