Documentary films on Anuradhapura and Namal Uyana on DVD format
View(s):

Following the success of capturing, preserving and presenting historically, archaeologically and culturally important Sri Lankan sites through audio-visual medium, well known film and teledrama producer, Ranjith Perera has added two more sites to his Sri Lanka Travel Directory on DVD format series. The latest sites highlighted are Anuradhapura- Eternal Sacred City and Jathika Namal Uyana- the Largest Ironwood forest in Sri Lanka and the largest pink quartz mountain range in Asia.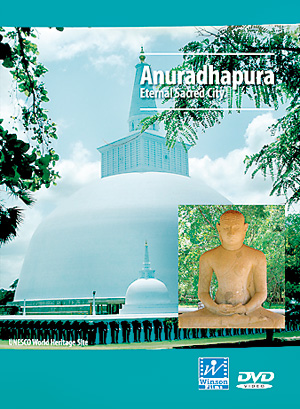 Using the enormous experience he has on making similar documentaries on various sites, two complete documentary films were screenplay written, produced and directed by Ranjith himself.  Tittled Anuradhapura- Eternal Sacred City, the 42 minute length documentary film focuses on all the Buddhist Shrines in Anuradhapura. It portrays the most famous places in Anuradhapura like the Sri Maha Bodhi, Loha Pasada, Ruwanweliseya, Thuparama Stupa, Abhayagiriya Vihara Complex, Lankarama Stupa, Jetavana Vihara complex, Mirisaveti stupa, Isurumuniya, Royal Pleasure Gardens,Vessagiriya Monastery and Avkana.
Script was written by Prof. K.D Paranavithana, it shows how the city of Anuradhapura carries the reputation of being the hub of the present Sri Lankan civilization which has a growth of over 22 centuries. Archaeologists and historians consider that the wisdom enriched by Buddhism at Anuradhapura is the cradle of the national heritage. This historic city and the vicinity is a depository of archaeological and religious remains of Sri Lankan heritage.
As the first Kingdom, Capital and Centre of Buddhism in the island, Anuradhapura has seen the reign of more than 100 kings over 13 centuries, epitomizing the stature of the culture of Sri Lanka.  Its magnificent array of stately architecture, art and shrines are monuments second to none in the world. Considering the multifaceted factors the UNESCO declared Anuradhapura a world heritage city in 1982. The documentary is available with Sinhala, Tamil and English narrations.
The other documentary in DVD format revolves around the 'Jathika Namal Uyana' which is considered to be the largest Ironwood (Na) forest and Pink Quartz Mountain in Asia. Situated in Galkiriyagama in the Anuradhapura District, this unique natural haven was brought to the attention of the world by a Buddhist priest, Ven. Wanawasi Rahula Thero and today it has become a focal attraction for tourists, environmentalists, artists and researchers.
Scripted by Duminda Sanjeewa Balasooriya, it is available with Sinhala and English narrations. Ranjith has earlier released a similar documentary on the ancient cities of Sigiriya' and Polonnaruwa, Golden Temple of Dambulla', old town of a comprehensive digital travel directory with details of all the tourist destinations in the country.