Strangling the goose that lays the golden eggs
By Charundi Panagoda
Is there a lukewarm attitude by authorities to sex offences against tourists?
View(s):
Each year, numerous cases of sexual offences against tourists are reported in the local and international media. Yet the authorities drag their feet in addressing a serious issue affecting an industry that makes up nine percent of the country's Gross Domestic Product.
A couple of weeks ago, a 13-year-old Norwegian girl, who was touring with her family, was bathing at the Polhena beach when a fisherman approached her asking for help to drag his boat ashore. Once she helped him, the fisherman wanted her to go with him for a 'king coconut drink.' She didn't want to, but he kept on insisting, and ended up sexually harassing her, according to the police complaint filed by the teen's mother.
Earlier this year, The Sydney Morning Herald reported that an Australian student on an academic excursion in Ambalangoda had been raped by a tour guide. Around the same time, two police constables were arrested in Ella, Badulla for sexually harassing a German tourist. Two months ago, police arrested an employee at a Hatton guest house for attempting to rape a tourist.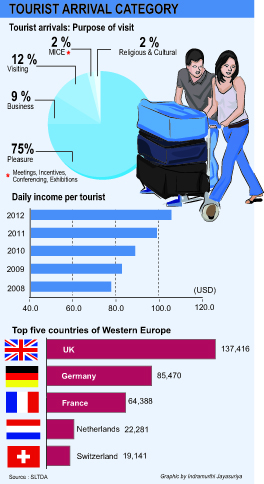 The police maintain that such cases of sexual offences committed against tourists are few; only 'one or two cases a year,' according to Police Media Spokesperson SSP Ajith Rohana.
Victims, in general, can be reluctant to come forward with their stories, and might even leave the country without filing a formal complaint. Some, however, choose to convey their ordeals loudly and explicitly on popular online tourist review sites such as TripAdvisor.
One reviewer, a British police officer in her forties, who had vacationed solo in Kalutara, wrote a detailed account of how a hotel employee had attempted to rape her. (See box story.)
"…he held me down, bit my neck and breasts, and when I tried to call out, placed his hand on my throat, preventing me from calling for help," she wrote. "I was genuinely frightened … I fought against this male, and eventually got him off me, and ran from my room…"
For another tourist resort in Tangalle, among complaints of 'terrible' food and bad service, are reviews warnings 'ladies please stay away.' One reviewer wrote, "Beware what you drink at the restaurant, the owner Indy and his team are known to put knock out pills in the drinks of unsuspecting female travellers."
There are 'so many' cases where female tourists have been taken to hotels, drugged and then sexually assaulted, said Attorney-at-Law Jeewani Kariyawasam, who has appeared in several such cases.
The majority of the country's tourists come from Western European and North American countries. The increasing number of sexual offences committed against tourists has led some of these countries to issue travel warnings, especially for female tourists visiting Sri Lanka. Last June, the U.S. Embassy issued a travel advisory to U.S. citizens raising awareness of 'both verbal and physical' incidents of sexual harassment occurring in Sri Lanka. The Australian government warns travelers of "increasing number of reports of sexual harassment in Sri Lanka," and the Canadian government advices female travellers to 'exercise caution' because "women are often the target for unwanted attention."
Dr. D. S. Jayaweera, Director General of the Tourism Development Authority, was not available for comment on the issue despite multiple attempts. Neither did he reply to an e-mail query.
Tourist Police Director Senior Superintendent Cecil de Silva redirected all questions to SSP Rohana.
"This year there were only about three cases reported," SSP Rohana said. "However, we would like to keep the numberto zero cases. So we have intensified the patrols in tourist areas and also strengthened the tourist police by increasing its cadre."
Despite the laws, the courts and police personnel existing to address the issue, why these incidents continue to happen is the question, opined Ms. Kariyawasam, who is also a government-party member of the Chilaw Urban Council.
"The institutions nicely exist to take the complaints and prosecute but the incidents keep occurring," she said.
"In my opinion this is because the core values of the law have now broken down. Whether we like it or not we have to accept that the political power in this country is concentrated on one side. So offenders are not afraid; they know they could get a pardon from somewhere."
"In the past they've spent lot of resources building hotels," she added. "Likewise money should be allocated to develop human resources, to change cultural attitudes of local men towards foreign, white women. I have friends from England who are astonished because local men stare at them when they sunbathe, and so on," she said.
Dr. Sepali Kottegoda, Executive Director of the Women and Media Collective said sexual offences against tourists are an 'extension' of overall violence against women in the country.
"There is an alarming number of cases of sexual violence in the last three years, and that it spills over to tourists is not something extraordinary because it's the female tourists who are affected," she said. "I think the Government has to take very seriously to guarantee the safety and security of women visiting from other countries, otherwise these cases would reverberate and discourage other tourists," she said.
If Sri Lanka is to develop its tourism industry, addressing this issue is crucial, said Ruwan Ranasinghe, a Uva-Wellassa University lecturer who has conducted research on tourism.
"We need to increase the amount of dollars a tourist spends in this country," he said. "Increasing the number of tourists visiting would not create much of an economic impact unless we target high-class tourists. In order to do that we need to ensure security and individual freedom for tourists, like in Sweden or France."
Graphic description of attempted rape
Excerpts from an e-mail interview with a British tourist who was sexually harassed while vacationing in Kalutara in 2009.
On this particular holiday, I'd travelled to Kandy for an overnight stay…. And the night this occurred was the day I had returned from the trip. [...]
The male entered my room via the only door. I had locked it, but he was able to gain access with a second key. He tried to rape me, he bit my skin, leaving teeth marks, he had strangled me when I tried to call out for help, as I genuinely thought my life was in real danger. Fortunately I was clothed and this I feel helped prevent the rape occurring. I recall clearly my thought process at the time, and my decision to fight rather than give in, and a struggle broke out. [...]
I had the very real feeling of being in a horror movie, with the bad guy being right behind you….like some sort of nightmare, and I recall thinking that any second he would grab me from behind. I broke out of the room, and ran to a neighbouring room, practically kicking the door off to get their attention.
The occupants were brilliant, and assisted me in reporting the matter immediately.
An identity parade was held by police in the foyer of the hotel and all staff on duty were bought in. … and the offender was picked out. I was taken to the police station, where I have to be honest, I was treated appallingly, left from approx 2 a.m. to 7a.m. alone. I was given a blank A4 sheet of paper and told to 'write my complaint'. I had to ask around for a pen…. I felt totally worthless. 
At around 7 a.m. the managers/directors of the hotel came to the station, and took me to hospital, where my injuries were assessed…I was told by the doctor as I left not to let the matter 'ruin my stay in Sri Lanka'. [...]
The hotel sent me a bottle of wine to my room, and a form asking that I sign it so that I would not take any action against the hotel. Oh, they also waived the phone bill I created, whilst organising myself an emergency flight home….
What was even more appalling was that the manager admitted that they had had previous issues with this same male … and yet they had done nothing about it.
On the next day, a police officer finally took my statement. It was written in Sinhalese, so I had no idea what it said! I was told that the male was to spend 2 weeks in prison, which would give me time to leave the country.
I can only say I was glad to leave.
I should have returned for the trial in the December of that year, but I was offered no protection from this male … and I did not feel I could return and remain safe, so I chose not to…. I had never been to Sri Lanka and up until this incident occurred I was enjoying the island very much.
I had no assistance from the [British] High Commission either. Despite numerous calls to them, whilst in Sri Lanka and in Britain, my calls and e-mails were never responded to. … I've never returned to Sri Lanka following this. I doubt I ever will in all frankness. It completely put me off altogether.