Smothered by cartels, squeezed dry by drought
By Chathuri Dissanayake and Aanya Wipulasena
Paddy industry is crying out for rescue
View(s):
As morning dawns, the sleepy villages around the historic city of Polonnaruwa come to life. Brooms in hand, shop owners clear the
dust outside their doors and spray turmeric water. Women on wooden benches sip tea, licking at the sugar held in one hand.
But tragedy runs under the surface of this placid rural life.
In the paddy-farming village of Dalukana, the mood is dark. Just a week ago, a small-scale paddy mill owner committed suicide.
His sad story reveals the appalling status of the paddy industry in Sri Lanka's rice bowl, the Polonnaruwa District.
Persistent drought, pressure from a powerful paddy buying cartel and, believe it or not, the large-scale purchase of rice for beer and alcohol production have all contributed to the area's woes, an investigation by the Sunday Times has revealed.
Paddy Marketing Board (PMB) Chairman K.D. Jayasinghe says paddy production has dropped by 40 per cent during this season due to the drought.
"We have even gone to the paddy fields to buy paddy this time. But farmers prefer to sell it at a higher price to private buyers who offer Rs. 42 upwards per kilo," said Chairman Jayasinghe.
"Many private buyers buy paddy even with 17 per cent moisture levels. But the PMB has a condition that the moisture level of paddy should be lower than 14 per cent so we can't just buy paddy straight from the fields. It has to be properly dried," he said.
In contrast to the PMB, large-scale mill owners are going into the fields and purchasing low-quality paddy for a high price amid claims by small-time millers that part of the production was ending up for beer and alcohol production.
A number of beer and alcohol producers are competing with the large-scale rice producers to buy paddy straight from the fields as the harvest comes in.
Paddy with moisture levels of 17 or 18 per cent now fetch a price of Rs.45-46 a kilo. Some of the small and medium-sized paddy mill owners in Polonnaruwa allege that a brewery in Naula, Matale is buying wet paddy at very high prices as raw material for alcohol production.
Excise Commissioner-General D.G.M.V. Hapuarachchi also confirmed that his department had received confirmed reports of breweries and alcohol manufacturers using rice as the base.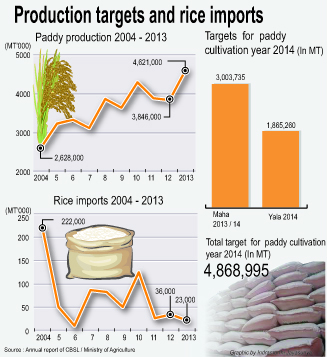 He declined to name the companies involved and said the department needed to carry out further investigations.
A small-scale mill owner and Assistant Secretary of the newly formed Polonnaruwa Rice Mill Owners Union, Gamini Kumarasinghe, claimed millers were being pushed out of business by alcohol producers.
"A considerable amount of paddy is purchased by beer companies. This is the situation today in the country. Is beer what people want? We can see that the government has stopped taking responsibility for this issue," Mr. Kumarasinghe said.
All Ceylon Farmers Association National Organiser Namal Karunaratne alleged that a company owned by a powerful politician in Matale area was buying wet paddy at extra ordinarily high prices directly from paddy fields to be used in beer or alcohol production.
"The company also has a rice milling company called Laksahal that is used as a front to cover its excessive buying – behaviour that has artificially increased the paddy prices, pushing medium and small paddy mill owners out of business," he said.
Laksahal, a subsidiary of Hingurana Agro Pvt Limited, owned by parliamentarian Lakshman Wasantha Perera, offered to buy a 64kg paddy bag at Rs. 2750 a bag (Rs. 43 a kilo) from a trader who offered his paddy for sale this week.
Hingurana Agro Pvt Ltd and Hingurana Distilleries Pvt Limited operates under the same umbrella. The board of directors of Hingurana Distilleries Pvt Limited is comprised of V.A.D. Nalin Pushpakumara Perera and V.A.D. Ranjith Roopasinghe Perera, two brothers of MP Lakshman Wasantha Perera.
Hingurana Agro Pvt. Ltd opened a large-scale rice mill in Matale last year that was declared open by President Mahinda Rajapaksa.
Mr. Perera denied allegations of using rice in beer production.
"We do not even produce beer in my operations. We buy large quantities of paddy for the new mill which is the largest in south-east Asia," he said.
Small-scale millers in Polonnaruwa and Marandagahamulla say they cannot match the prices offered by some of the big-time millers and some said they are being forced to close their mills, leaving them without any source of income.
"Drought has affected paddy production but since some mill owners have dominated the business we are not able to buy whatever paddy is available," said U.R. Chandrasiri, 55, who owns the Chandrasiri Rice Mills in Katukeliyawa, Polonnaruwa.
Although the state price for a kilo of paddy is Rs. 32 the big millers offer up to Rs. 50 to the farmers, he says.
"Medium and small-scale millers can't buy paddy for this amount and sell rice for Rs. 68. If they sell their rice at profit that is higher than the government control price, they are taken to court," said Mr Chandrasiri.
Mr. Chandrasiri also said the big millers were controlling prices by hoarding. He said this could be controlled if the government made all farmers sell a portion of their rice into state storage.
Around 12km from Katukeliyawa is Gallella, where out of 10 rice mills, only one operates now.
P. L. Niyaz, 42, a father of two, runs the New Azmath Rice Mill down School Road with his brother. Their mill has been closed since June.
"We are even struggling to pay our employees. We sent almost all of them home," he said adding that if this situation continued there is no possibility for small mill owners to stay in business.
Mr. Niyaz's brother and owner of the mill told the Sunday Times over the phone from India that he was purchasing rice from India because he has to ensure supplies to his buyers. He said buying rice from India was cheaper than buying from the Sri Lankan farmers at the current rate.
It was this situation that led to the formation of the Polonnaruwa Rice Mill Owners Union last month, Mr. Kumarasinghe said.
He said that the union was seeking to extend itself islandwide because millers around the country were equally affected.
"The rice market has collapsed," he said adding that the drought was only one reason for this.
"Paddy is being hoarded by large-scale millers such as Nipuna, Laksahal and Araliya, and a considerable amount is purchased by beer companies," he said.
Mr. Kumarasinghe said that the government had stopped taking responsibility for the issue and therefore small-scale millers were struggling to keep up with the changing rice market. In his town, Unagala Vehera, 12 small mills had closed this season.
A spokesman for the Nipuna Rice Mills in Katukeliyawa, Polonnaruwa, owned by a son of Deputy Minister Siripala Gamlath, claimed that only 40 per cent of the company's mills were in current operation due to the shortage of paddy.
He said big millers such as Nipuna found it hard to purchase enough rice to run their mills because the rice business had become very competitive. Farmers had four to five agents vying to purchase paddy from them.
"This is not a problem for small millers because they have enough paddy in the market. Egollan dela dala okkama allagannawa. (They have captured all the farmers). Because of this our mills are facing hardship and in future the paddy price will increase more," he said.
Polonnaruwa District Secretary Nimal Abeysiri said many small millers had large loans in repayment arrears.
"These millers have to learn how successful millers work," the District Secretary said. "They can't always blame them for the situation. Rice production in Polonnaruwa has become computerised. They have to compete in this business now," he said.
(Additional reporting by B. Wijeyasiri)
 Monopoly sends millers to the wallJust 10 to 15 of the 113 small and medium-sized millers in Marandagahamula in the Divulapitiya electorate, are currently in business in this town, where paddy from all parts of the country are offered on the open market.

The President of Maradagahamulla Eksath Welada Sangamaya B. K. Ranjith, said the mills were victims of a monopoly.

"A couple of businessmen who own large-scale mills purchase large amounts of paddy for a high price and hoard them without putting the produce on the market.

"These businessmen, just themselves, have purchased 75 per cent of the paddy harvest in the country," he said, predicting that at this rate the price of rice will increase in a few months.

The Vice Chairman of the Divulapitiya Multipurpose Co-operative Society Ltd I.A.H. Chandrasoma said most co-operative societies were retreating from the rice business because they could not buy rice and sell it to consumers at a low price.

Millers in Maradagahamulla complained that they were forced to buy wet paddy at high prices from farmers. They said that they rarely found quality rice in the market now

"This is because large-scale millers buy paddy this way. They have enough recourse to dry the paddy at a low cost. We don't. If we dry it this will cost us more than the profit we get," said one medium-scale mill owner, sixty-year-old P. Chandradasa of in Henpitagedara Road, Maradagahamulla.

In the markets the consumers have already felt the impact with some varieties of rice out of stock.

Helpless young miller lies down to die

Dileep Rohan, 23, the youngest mill owner in Dalukana, Manampitiya, drank poison and died last week because he could not buy paddy at current prices to pay off his debts.

"He could have done well in this business," said H.R. Jagath Palitha, his 55-year-old father, after the funeral on August 17. "Millers like my son are struggling to buy paddy at these prices."

Dileep had requested a loan from the Polonnaruwa Bank of Ceylon (BOC) to settle a debt of Rs. 1.7 million owed to a paddy businessman. The bank refused it.

He had had a conversation with his father the night before he died, after returning from the bank. Nothing had seemed amiss, Mr Palitha said.
Dileep had gone to bed in the mill, which is behind Mr Palitha's house. The mill had been first owned by Mr. Palitha and later handed over to Dileep. The young man slept in a room inside the mill.

His father checked on him at 6am the next day. "Putha, putha," he called out. "I thought that he was asleep," he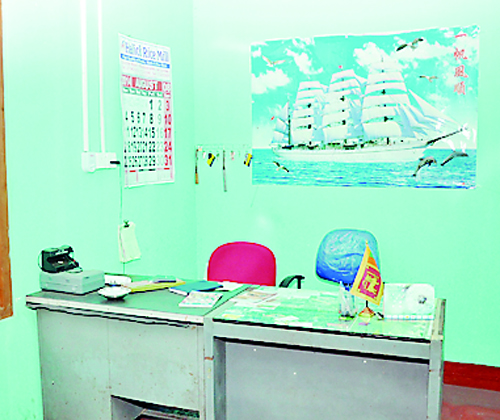 recounted. Not wanting to disturb him, he had gone to the mill of his other son.
When Mr Palitha returned an hour later, the businessman to whom Dileep owned money was also there, shouting for him to come out.
"I told him that my son was probably embarrassed to come out because he did not have the money. I asked the mudalali to go. He did. I called my son again but there was no sound."
Worried, Mr. Palitha ran home, brought a knife and used it to open the window of the room where his son usually slept.
"He was lying face down. I panicked. With some people I broke the office door open and took my son out. He was limp in my hands. He had drunk an entire bottle of weedicide," he said. In Polonnaruwa District Hospital, Dileep was pronounced dead.
"He had held great hopes that the bank would grant his loan. The officials there had said that they will give Rs. 500,000 and to purchase paddy for Rs. 32. Are these people from Polonnaruwa? A kilo of paddy is Rs. 45 to 50 these days. There is nothing he could do from the money they were prepared to give," Mr. Palitha said.
Farmers face uncertain future as crops fail
The drought has forced some farmers into changing the old routines of cultivation, with lacklustre results.
Farmers in Sooriyagama, Moragaswewa have not cultivated paddy this season because of the water shortage. They said the drought had also
destroyed their other crops.
G. Wijerathne Banda, 56, from Sooriyagama grew thith batu (bitter eggplant) and says the trees are taller than six feet but fruitless. She said that it was this had been the case for three growing seasons.
She struggles to earn a living by selling the drumsticks she is growing in her former paddy fields.
Fifty-five year-old Jayasena Godage from the Kuda Wewa area in Galewala has given up hopes about a good yield.
He and his family tried to grow paddy in 20 acres but 75 per cent of this was destroyed.
"We get water to our land from the Kuda Wewa but it dried up this time. If it does not rain for two months the wewa dries up. As a result only 20 acres from the 50 acres on paddy land in our area was cultivated this year," he said.
Polonnaruwa District this week received a meagre 15.4mm of rain by Friday. It needs at least 100mm of rain over two or three days to overcome the drought conditions – a slim hope.