JVP hits out at ruling party gimmicks
By S. Rubatheesan
Uva Provincial Council polls
View(s):
With less than four weeks for polls political parties have stepped up their campaigns for the Uva Provincial Council elections amidst fresh incidents of violations and violence.
The failure to remove cutouts and posters of selected UPFA candidates in the Monaragala district, an attack on two Democratic Party candidates and distribution of goods and consumer items by candidates to voters were among a string of violations reported in the Badulla and Monaragala districts, set to go to the polls on September 20.
The JVP has raised objections to a plan to distribute bicycles during the Sri Lanka Freedom Party (SLFP) annual convention to be held in Badulla next month.
JVP MP Vijitha Herath said that President Mahinda Rajapaksha was due to distribute over 100,000 motorbikes to government servants at the convention.
"He may be able to do that using his presidential powers, but it is not ethical. During the election campaign some ministers are not only giving housing loans but they are also distributing animals too. Minister Arumugam Thondaman distributed cows and goats to the people. How can such acts be lawful," he questioned.
"This is not a free and fair election. The ruling party started violating election laws since nomination day. They have used Presidential Security Division vehicles and ministerial powers illegally in this election campaigning," he said.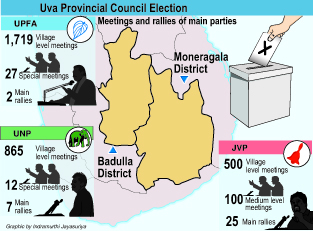 "The JVP is not violating any rules. We are not saying we are 100 per cent perfect. There are some minor incidents like issuing leaflets and putting party symbols on trees, but all parties are doing this," he said.
Democratic Peoples' Front (DPF) president Mano Ganeshan said they are extending their support to the United National Party (UNP) for the Uva elections.
"We have a long time relationship with the UNP, therefore we are supporting them. The president promised 50,000 houses to Indian origin Tamils living in remote area in the Uva Province last year. but so far what has happened?" he asked.
He termed as 'political stunts' the Government's act of allocating millions of rupees for infrastructure development and granting the appointment of 3000 teaching assistants during the election period.
United Peoples Freedom Alliance (UPFA) candidate for Badulla Vadivel Suresh charged that the Uva Province was in a bad state because of inexperienced councilors who were holding the posts since 2009.
"The government has significantly improved the province in many ways, by way of its infrastructure, housing projects, welfare centres,, but the opposition parties are attacking us saying we haven't done anything else in the province." he added.
In Monaragala district, 20 election related complaints have been lodged to the election monitoring office in the district secretariat, said District Secretary A. Patthinathan.
People's Action for Free and Fair Elections (PAFFREL), an election monitoring body said they have received 40 election complaints from two districts in the province.
Ravindra Samaraweera, chief UNP candidate from Badulla said UNP stalwart Sajith Premadasa will participate at the upcoming annual convention of the party, to be held in Bandarawela.
Meanwhile of the 42,037 applications for postal votes in the two districts 11,380 have been rejected.
Deputy Elections Commissioner M.M. Mohamed said they were rejected on the basis of not being properly filled or sent after the closing date.
He added that around 12,500 election officials will be deployed on election duty.
"Tomorrow the postal vote applications will be handed over to the postal department to issue to the respective departments." he said.
Last Thursday a UNP office in Galahagama, Uva – Paranagama, was attacked early morning.
Campaign for Free & Fair Election (CaFFE) Director Keerthi Tennakoon said police have started to remove illegal propaganda material in the province.
However, the Centre for Monitoring Election Violence (CMEV) said according to reports from its field officers the government was making use of public servants for campaign work.
"Government politicians are trying to make use of the service of public servants who were recruited recently as management assistants. Some officers attached to the Ministry of Economic Development have been called for a meeting of graduate appointees on the pretext of an economic census to be conducted. Another meeting had been called for Samurdhi officers from September 7 to 9," a statement from the group said.